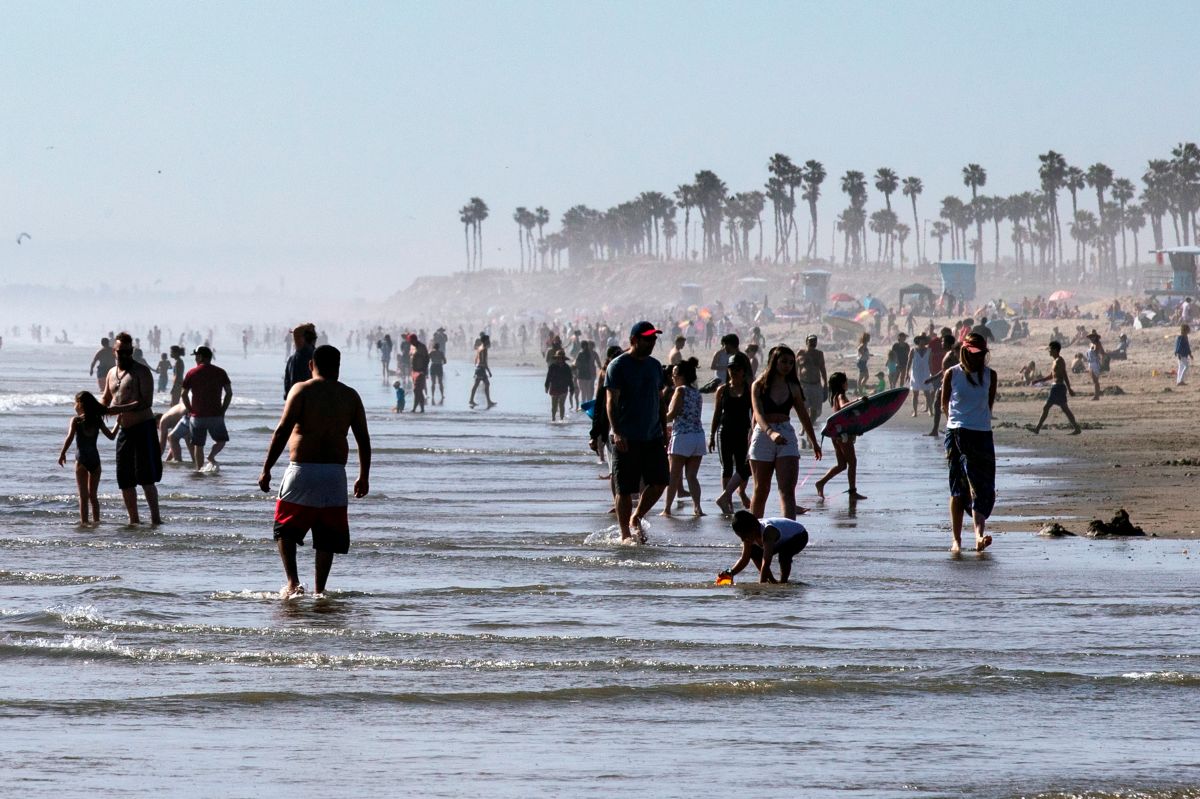 Photo: EPA / ETIENNE LAURENT / EFE
With hundreds of wildfires, a devastating drought, and a summer marked by a unique heat wave, too More than 20 million Americans in the West are on alert before another historic heat wave.
"We've had two excessive heat alerts this summer, I don't recall having two in the same summer," Dana Felton, a meteorologist with the National Weather Service (NWS) in Seattle, told CNN.
It is not just the Northwest that will have "the feeling that temperatures" will skyrocket above 100 degrees. More than half of the United States is under heat alerts this week.
Northwest braces for another round of record temperatures
A massive area of ​​high pressure is strengthening across the Pacific Northwest and will set the stage for another classic "heat dome."
This will make temperatures rise 20-25 degrees above normal, possibly breaking more records.
The National Weather Service in Portland, Oregon, issued an excessive heat warningAs temperatures in the city are forecast to reach the upper 90s by Wednesday and possibly eclipse 100 degrees on both Thursday and Friday.
Forecast confidence continues to increase for an intense heat wave beginning on Tue. or Wed. and lasting through at least Friday. Fairly poor overnight relief is also expected, so heat exhaustion and heat stroke will be a real concern for those without access to a cool building. pic.twitter.com/YOJdtjzcQa

– NWS Portland (@NWSPortland) August 8, 2021
In total, more than 100 record temperatures could be set by the end of the week.
According to Joe Zagrodnik, an atmospheric scientist at Washington State University, the next heat wave it would be considered a "once in a decade" event if the decade was not the most recent, the 2010s.
The heat spreads across the country
It is not just the West that will bake with the heat wave August, much of the entire nation will be too.
"Much of the 48 states will be stuck in abnormally hot conditions through the middle of the week," said the Weather Prediction Center (WPC). Heat advisories have been issued from the Central Plains and the Mississippi Valley to the lower Great Lakes and northeast.
Over half of the population is under either a Heat Advisory or Excessive Heat Watch / Warning this evening. Heat indices up to 110 will affect the Mississippi Valley tomorrow, while in the PNW and Northeast highs into the upper 90s and low 100s will persist into the early weekend. pic.twitter.com/2HiW4hJTBc

– NWS Weather Prediction Center (@NWSWPC) August 11, 2021
Warm temperatures combined with high humidity will make temperatures feel up to 15 degrees higher than they actually are.
Near New York City, Thursday and Friday highs will be between the 90s and mid-90s, with heat indices between the mid-90s and 104.
"In the Northeast New Jersey urban corridor and parts of New York City, heat indices can briefly reach 105 on Thursday afternoon and possibly again on Friday," said the NWS in New York City.