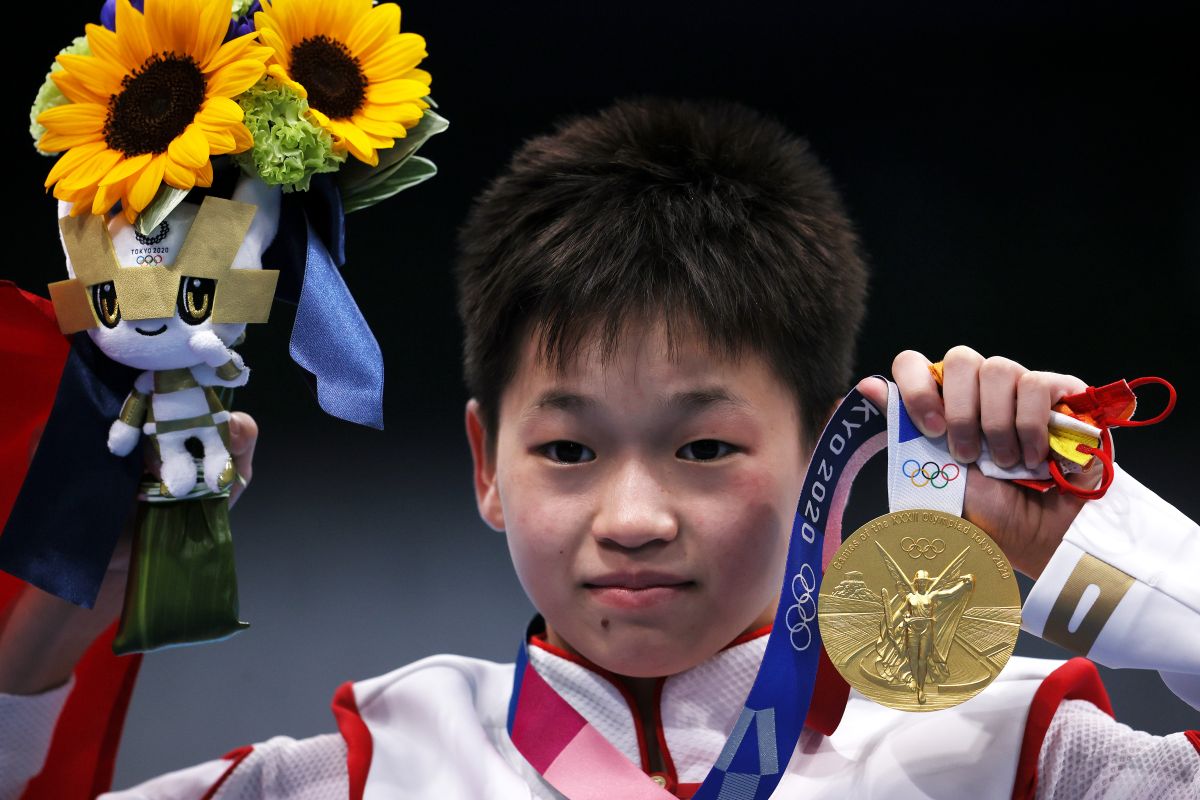 Photo: Tom Pennington / AFP / Getty Images
The Tokyo 2020 Olympics they keep delivering big surprises during competitions. A young diver from China, Quan Hongchan, dazzled on the 10-meter platform and wore the gold medal comfortably. The really relevant data is that this athlete he is only 14 years old and is positioned as one of the most dominant figures in the discipline.
On his second and fourth dive, the judges were in awe of Quan Hongchan's perfection. On both occasions the young athlete received the perfect score in the discipline. According to information from AP, the Olympic champion He dedicated his achievement to his mother, who is ill. "I want to earn enough money to keep it (…) I listen to my coach with great attention and I follow his instructions very carefully, "said the new jewel of world sport.
"Remember this! You may never see anything like it again."

After receiving two perfect 10 scores, 14-year-old Quan Hongchan from China is the Olympic CHAMPION in women's 10m platform diving.#TokyoOlympics | #OlympicHERstory pic.twitter.com/B7uHvnMEpB

– #TokyoOlympics (@NBCOlympics) August 5, 2021
China dominated the competition
Quan Hongchan wasn't the only one who made a difference to the competition. His partner, Chen Yuxi, he was comfortably left with the silver medal, although he was far behind his compatriot. Hongchan achieved a final score of 466.20 points, while Chen took second place with 425.40 points.
A PERFECT DIVE‼ ️

14-year-old Quan Hongchan from China receives 10s across the board on her dive in the women's 10m platform final. #TokyoOlympics

📺 USA Network
💻 https://t.co/FmEtvutDRA
📱 NBC Sports App pic.twitter.com/PiozFgJy7u

– #TokyoOlympics (@NBCOlympics) August 5, 2021
Youth is a more than outstanding trait in both divers. Chen Yuxi is not far behind and is only 15 years old. However, the world champion said that they do not have a preparation that escapes from the normal, which is still surprising due to the superior level they showed on the platform. "We don't really have great training techniques (…) it's more a matter of jumping and jumping, and practice makes perfectChen stressed.
The Olympic medalists for the Women's 10m Platform Final are:

🥇 Quan Hongchan
🥈 Chen Yuxi
🥉 Melissa Wu# Tokyo2020 | # 7Olympics pic.twitter.com/mUfTtFC4QR

– 7Olympics (@ 7olympics) August 5, 2021
You may also like:
From exile to glory: Cuban Pedro Pichardo gives Portugal a gold medal at the 2020 Tokyo Olympics
Videos: Weightlifting says goodbye to Tokyo 2020 with a faint and a world record
Gold and prizes at Tokyo 2020: Indonesian athletes will be rewarded with cows, money and coffee for life