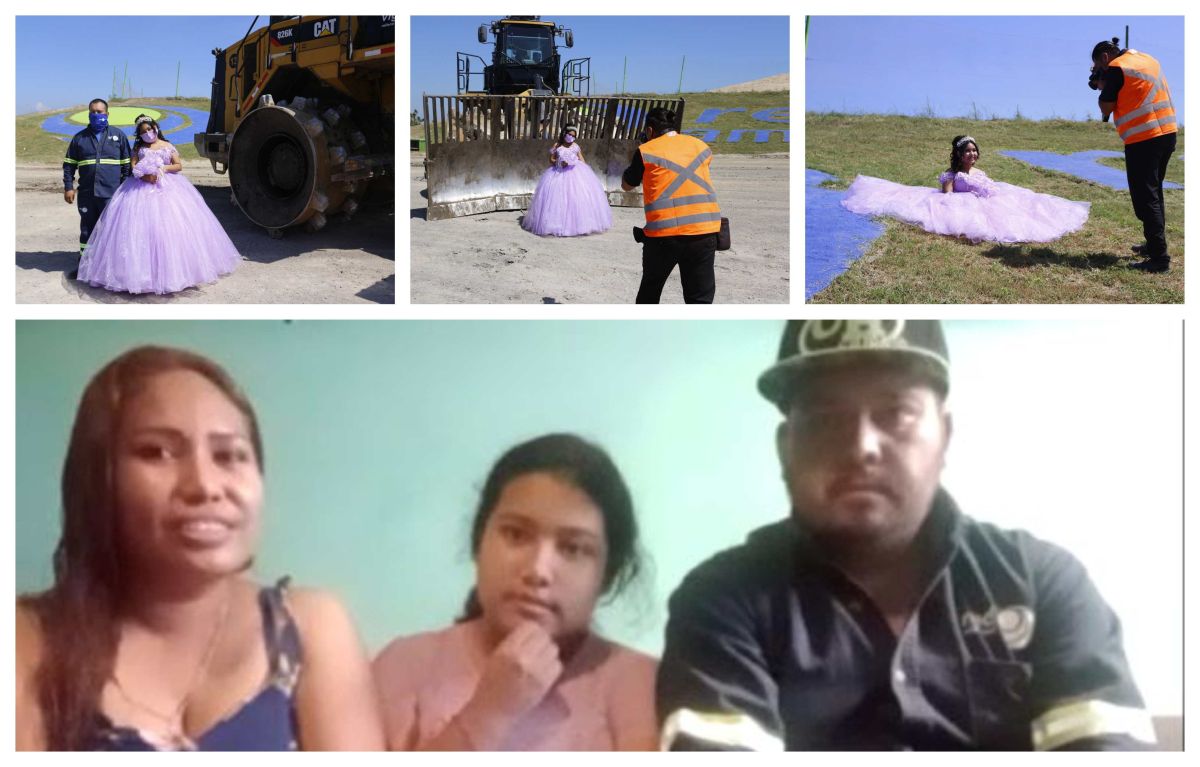 Photo: Lucía Mares / Courtesy
Some days ago, a fifteen-year-old from Monterrey, Nuevo León, in Mexico, named Diana García, made the news, not only in the country's media but also in other countries Due to the idea that both she and her mother had for their photoshoot of their XV Years.
It turns out that Diana's mother, Lucy Mares, talked to her daughter some time ago about the idea of ​​taking the quinceañera's photo shoot right where her father works: a garbage dump.
Diana accepted without question her mother's proposal, since for her the figure of Juan, her father, has been fundamental in her life and She knows that the work she does is as worthy as others and has been essential in supporting her and her 3 siblings.
It was then that Lucy spoke with the people who run the company called Red Ambiental, for which her husband works, for to allow her to take photos of her daughter and thus give her husband a big surprise.
A few weeks ago, Diana arrived at the garbage dump in her lilac XV Years dress, while her father operated a waste compactor machine, something that was not expected.
In the photos you can see the celebrant posing next to the machinery, as well as next to her proud father and also with her co-workers from Jorge.
The images reached more than 8000 interactions.
In El Diario NY we had the opportunity to interview this young woman and her parents, who have become a great example to follow for many adolescents and families, not only from Mexico but from the whole world, by showing how proud she is of her father and of the work he does every day to support his home.
Lucía Mares, the mother of the quinceañera, assured in our talk that for a year, she and her family had been preparing the party for the XV Years of Diana, the first-born of her marriage to Jorge Rojas, who has worked for the Red Ambiental company for a long time.
It was Lucía who came up with the idea that her daughter's photo session could be exactly where her husband works with the intention of paying tribute to the head of the family and as a sign of gratitude for all the effort he makes every day to raise his children.
Then, the mother of the quinceañera contacted the directors of the company to tell them about your idea, which they not only approved but also decided to sponsor the original photo shoot.
"I didn't think about it (to do the photo session like that) but I did. We were just waiting for the day the photos would be taken … It is very important to me because he is my father ", the quinceañera proudly commented.
For its part, Jorge, the father of the quinceañera, indicated that everything that happened was a great surprise, He never thought that the company would accept the proposal his wife had in mind.
"A colleague called me to tell me that he was already famous and that he wanted to cry," said Rojas.
"I was surprised, I never thought that the photos of the girl would go viral. When I saw the news and the publications I said: 'well what happened?' and yes, all this has been a shock ", added Mrs. Mares.
Unfortunately, the coronavirus pandemic completely changed the plans that the Rojas Mares family had been drawing for a long time to celebrate the XV Years of Diana. At the last minute, they were forced to carry out a small family celebration in the mechanical workshop of one of their uncles last Saturday, August 28.
"I have been saying for a long time that I already wanted to turn XV years because I wanted my party but I thought we were not going to be able to do it because the Covid was very strong but thank God it could be done," said the celebrant.
Finally, Mrs. Lucía wanted to leave a message to adolescents about the respect and affection they should feel for their parents: "They should never be ashamed of what their parents do, because they take the bread to their houses and they do not lack anything. She (Diana) is not ashamed of her father's work and I think it was proven. Their parents make an effort for them to get ahead ".
You are interested in:
Surprise couple who took photoshoot of their wedding in a garbage truck
He dreamed of a great XV year party but his mother has given him something much more important
It moves the quinceañera who looked for her bricklayer father to dance the waltz