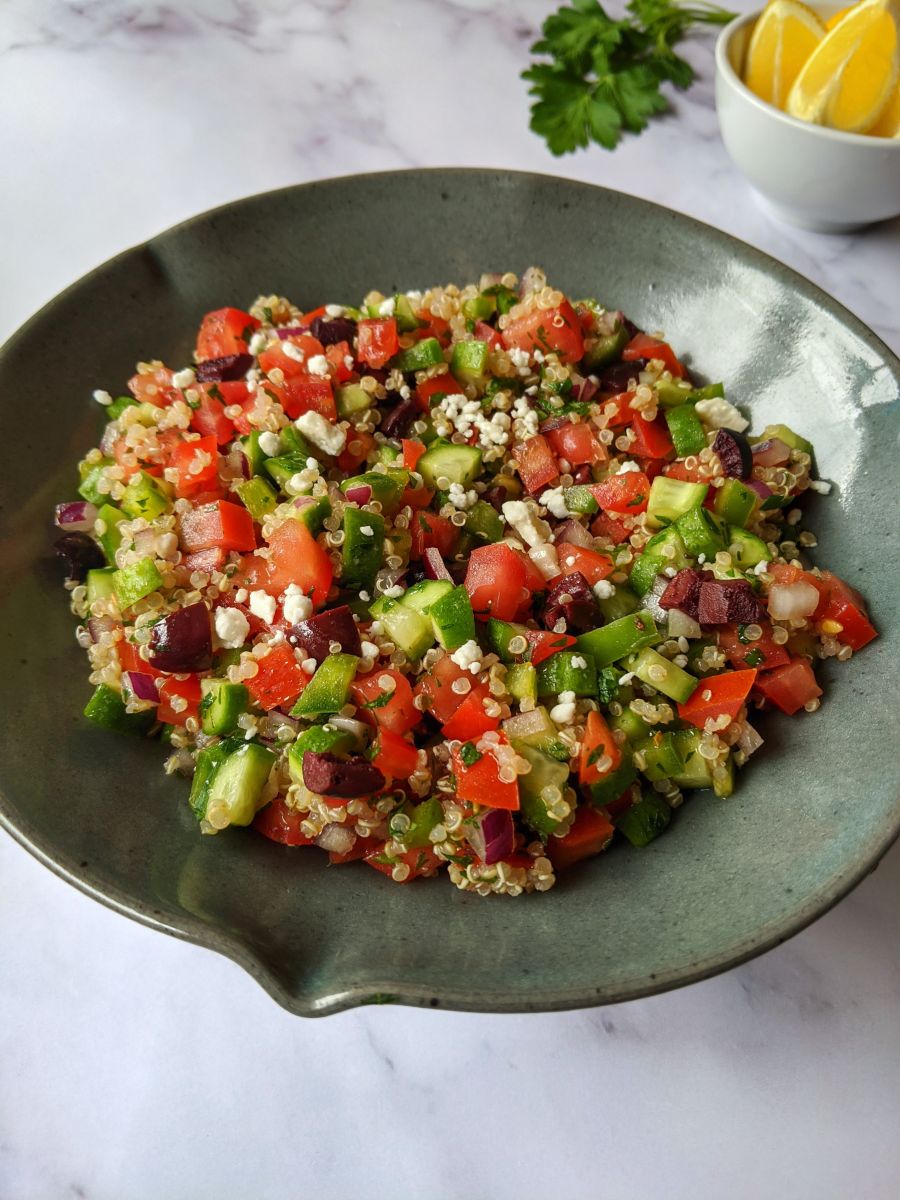 Tasty, fun and refreshing. If you like Greek salad, this will become your favorite version. Cut all the ingredients into small pieces, as if you were making a pico de gallo, then combine with the quinoa and serve.
What about will taste even better the next day! You can always add a small portion of protein on top or make it with pasta instead of the quinoa.
You have many options to enjoy it! Try it and you will see!
What you need:
1/2 cup heirloom or tricolor quinoa, cleaned (important)
2 medium tomatoes (heirloom cherry or pear style)
1 cucumber, cut into small cubes
1 green bell pepper, cut into small cubes
1/2 medium red onion, cut small
8-10 Kalamata olives, quartered
2 tbsp. Italian parsley (or more to taste)
1 tbsp. dried oregano
3 tbsp. extra virgin olive oil
Juice of 1 lemon
Splash of wine vinegar (1 tbsp.)
2 oz. Feta cheese
1 clove of garlic, minced very small (optional)
What you have to do:
Add the quinoa and 2 cups of water to a medium saucepan over high heat. When it is about to boil, lower the temperature to minimum, stir, cover and cook for 13-14 min. Heirloom and tricolor quinoa generally takes 2 to 3 minutes longer than regular pearl quinoa. Once cooked, remove it from the heat and if there is water left, strain it and let it rest on a plate for 5 minutes. This will help prevent overcooking.
Meanwhile, chop the rest of the ingredients. Combine all the ingredients gently, add the oil, lemon juice, vinegar, salt, pepper, mix and serve or refrigerate so that you can enjoy it cold and the flavors come together more.