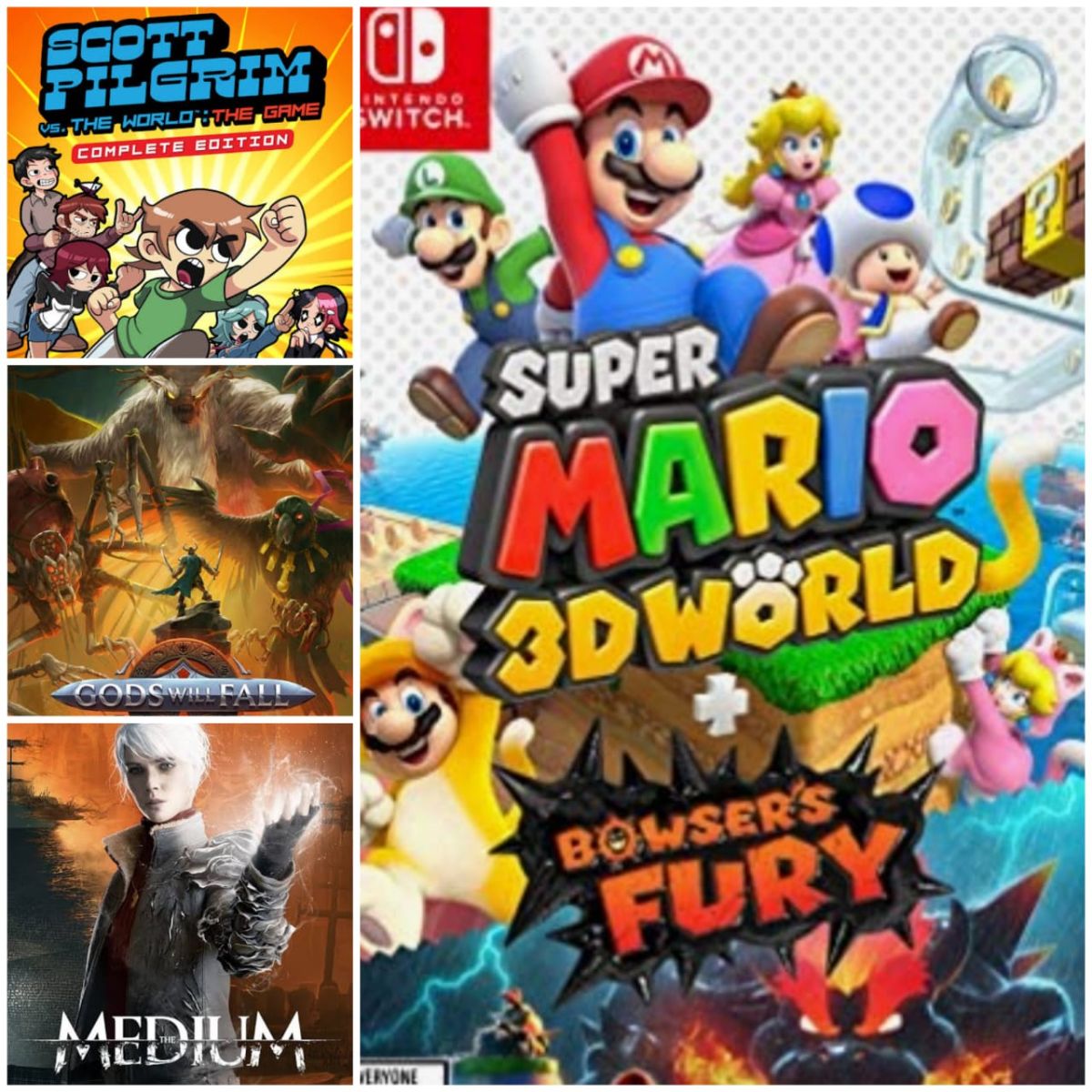 Super Mario 3D World + Bowser's Fury, The Medium, Gods Will Fall Y Scott Pilgrim vs. The World: The Game – Complete Edition These are the titles we are talking about this week, they are the bests titles no matter which console video game you have or what genre you prefer because we review games for all tastes and with which you can spend hours of fun in your home.
Super Mario 3D World + Bowser's Fury
It's the takeout version of the game we saw a couple of years ago for him. Wii OR, with some visual improvements, as well as new content in which we see Mario turn like never before to face your Bowser.
Four people can play at the same time in what becomes a much more dynamic and fun adventure, although of course it is only a plus, because if you do it alone you can also enjoy it to the fullest.
Unlike other titles of Mario, here we don't have to rescue the princess Peach, but to some fairies that will be throughout the 8 worlds we have to visit for it.
As for the additional content, it is completely independent from the main story, since our mission will be to save Bowser, in a gameplay that is more similar to what is seen in Odyssey.
Without a doubt it is a great adventure that you must play, especially if you did not enjoy the original, although you did, thanks to the additional content and that you can take it wherever you want, it gives you the enough pretext to pay for it again.
The Medium
This is a survival horror game in which we take the paper of a woman who has the skills of communicate with beings from beyond.
Although if what you are looking for is action, you will not find it here at all, since most of the missions are limited to looking for objects and solving riddles with one or another scare that you will take while you do it.
Graphically it looks good, but nothing we have not seen before, so we are still waiting for a title that exploits the qualities of the new Xbox.
If you like stories dramatic With a touch of terror, this could be a game that may interest you, but we reiterate that it seems more like a title in the style of graphic comics such as The Walking Dead from Tealtate Games. Is available in Xbox series X and S.
Gods Will Fall
It's a game of fantasy action dark where we take control of the few remaining Celtic warriors whose mission will be to overthrow the gods who have made life impossible for them.
The art design is very well achieved, although you will not see new generation graphics, you will enjoy very good characters and settings, although the truth is that the heroes look too caricatured and do not match the seriousness of the story.
Regarding the game play It is sometimes frustrating despite playing easy mode, so many will want to winnow the control in the first attempts to defeat the level bosses.
A recommended title if you like dungeon-type games, which is available on Ps4 and One.
Scott Pilgrim vs. The World: The Game – Complete Edition
It is a reissue of the game that we enjoyed a little over a decade ago in Ps3 Y Xbox 360, only with nicer graphics.
There is practically nothing new, it is just as we already saw it, spend the levels of left to right with the sole objective of eliminating all the enemies that we come across in front of us.
If you like classic titles or just want to give you an idea of ​​what these titles were like before we live nowadays, it's a interesting game but that the truth could have been saved, It is available for all consoles and has the possibility of being played in Ps5 YXboxSeriesX Y S.
You may also like: