"You know what happens, Rosa María, that I shouldn't be here judging you. We have welcomed you in this country and in return you have been in ground zero, in the most complicated moment in our country and on top of that your talent has helped our elders to get here ".
"For me this is the perfect number", The famous Spanish presenter Risto Mejide told Rosa María Martínez, a Venezuelan immigrant who participates in the talent show Got Talent Spain.
"You represent everything we have to be proud of. Our elders, our health workers, but you also represent the talent that survives and makes us survive ".
"This golden button is yours," he said before pressing it, along with another member of the jury, the singer Edurne.
In this way, Martínez, after his interpretation of "Adiós Nonino" by Astor Piazzolla, went directly to the semifinal of the contest, something that is not very usual in that reality show.
His participation, which aired on September 17, became a very emotional episode of the contest, especially when a group of older adultsHer "heroes" -as she calls them-, took the stage to accompany her.
This is the story of the 30-year-old nurse, a single mother, who was born in Maracay and whose voice has captivated many and not only in Spain.
"A very strong bond"
"As a child, I was always sickly, asthmatic. I very much admired my Aunt Miriam, who was a nurse. I wanted to be like her and like the nurses who took care of me. I also wanted to wear a white uniform ", he tells BBC Mundo.
Started to study music at age 12 and at 17 he began to specialize in lyrical singing.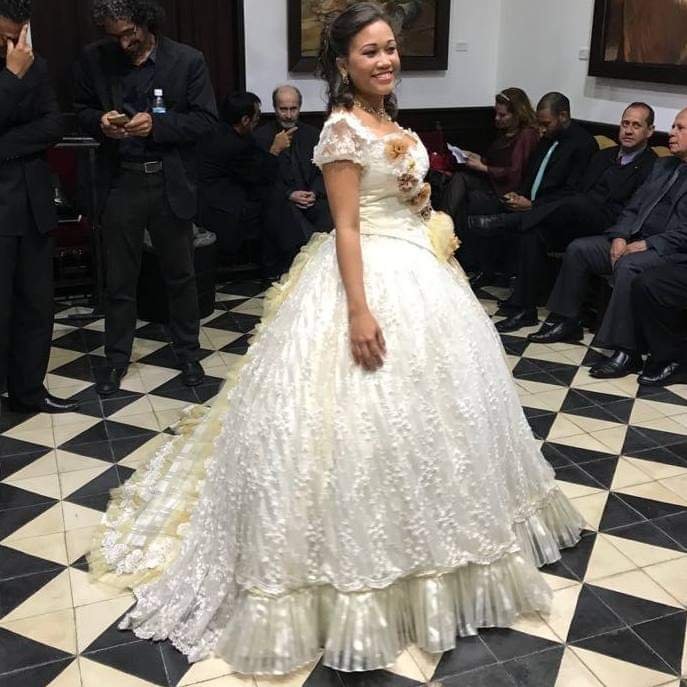 She fulfilled her dream and graduated as a nurse.
"I worked in a very tough area of ​​the Venezuelan health sector: oncology. Cancer patients have been greatly affected by deficiencies in the country ", especially – he explains – by the lack of specific drugs that are imported.
"When a person receives chemotherapy, they do not receive a single drug, but a set of them and if one fails, then the objective of another drug is somewhat restricted.
"So I had to constantly face the fact that lose my patients.
"I had to help many of them who had no resources. For example: they either ate or went to chemotherapy. Then I would tell them: 'Invest your money in coming to the chemo, I'll take care of bringing you the food.'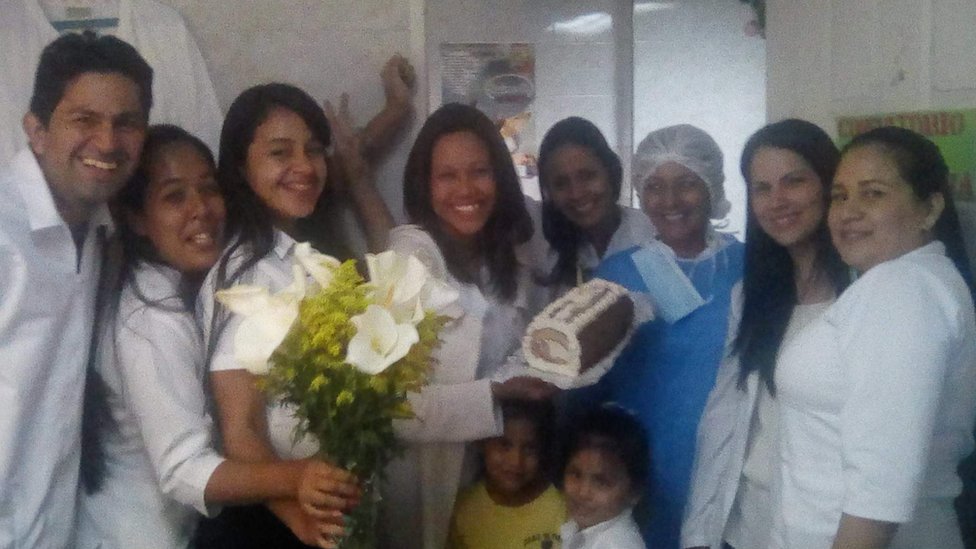 "Or teenagers who suffered from cancer, those strangers that they give to children, and their parents had no resources," he continues.
"They would even say to me: 'Nurse, I need a ticket to bring this sample, all I have is to pay for the laboratory, but I still need to move'. You helped them fill in what was missing.
"Why? Well in the end one has a lot of connection with your patient and he establishes a bond even if he doesn't want to, and the same happens to them with the nurse. And the breaking of that bond is very strong.
"When my partner called me from Caracas, where he was living at that time, I always found myself crying because one of my patients had died," he recalls.
He says that the situation began to affect him deeply: "you suffer a lot", He says. And he felt that it was necessary to stop and do something different for a while, "maybe to clear my mind and get away a little from that situation that has to do with illness and death."
The match
He went to work as a musician in Caracas and, as a soprano, he was part of the Coro de Ópera del emblematic Teresa Carreño Theater.
He made his way as a solo singer and, among several presentations, in 2018, he made one accompanied by the Philharmonic Orchestra of Venezuela.
He obtained the title of singer, but a decision became imminent: "Like many Venezuelans, I left the country in search of more stability."
"The most painful thing has been having to leave my daughter. He is 10 years old".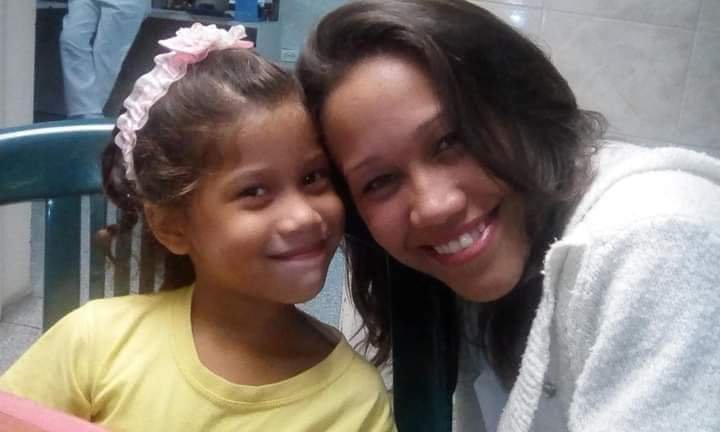 "Giselle is my biggest inspiration, my main engine", Expresses.
"She, my mother and my sister are completely dependent on me. All expenses for my daughter are at my own expense.
"I have had to raise her alone. I separated from his father ".
Martínez arrived in Spain in 2019, studied a master's degree in Spanish and Hispano-American Music at the Complutense University, did an internship in the Music department of the National Library of Spain and a few presentations.
But the new coronavirus turned everything upside down.
The hit of the pandemic
"As has happened all over the world, in Spain the need arose to recruit nurses who could work in the midst of the health crisis," he says.
"And for me it was a moral, ethical and professional duty to offer my services as a nurse, since I had the training and experience in my country, so I answered the call and began to work in nursing homes for the elderly."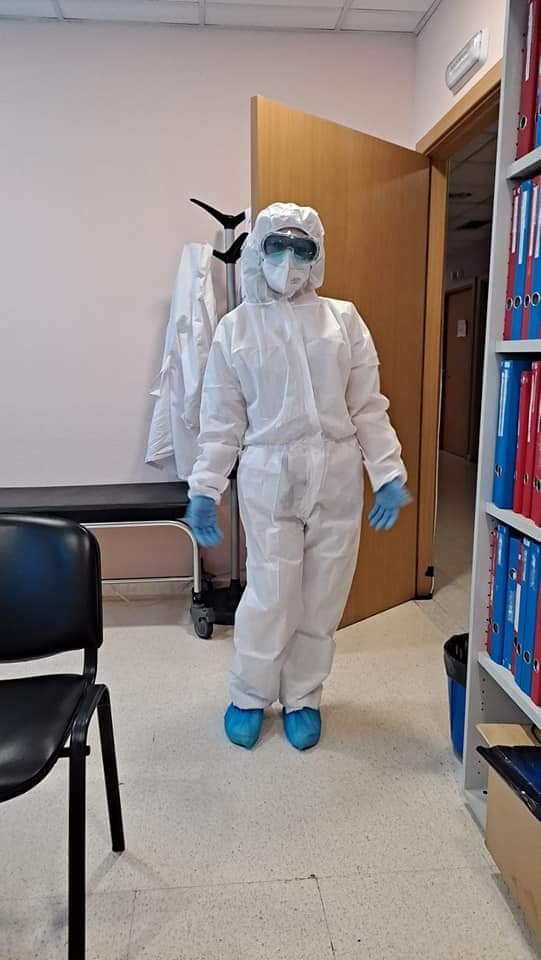 "I worked on one that was very affected," he recalls.
"There were several [los que murieron], one, two, three, four on the same day.
"The situation was difficult because at the beginning we had to attend to them without the necessary resources."
But everything changed and the situation improved. And it is that Spain was one of the countries hardest hit by covid-19 at the beginning of the pandemic.
"Today I see the death process in another way", He says.
"My experience with cancer patients had prepared me a bit and working with these grandparents and death has ended up showing me a different side of this life process, which is the end."
"Sing what you want"
"In one of the rooms of one of the first residences where I worked, a group of grandparents met to make the rosary."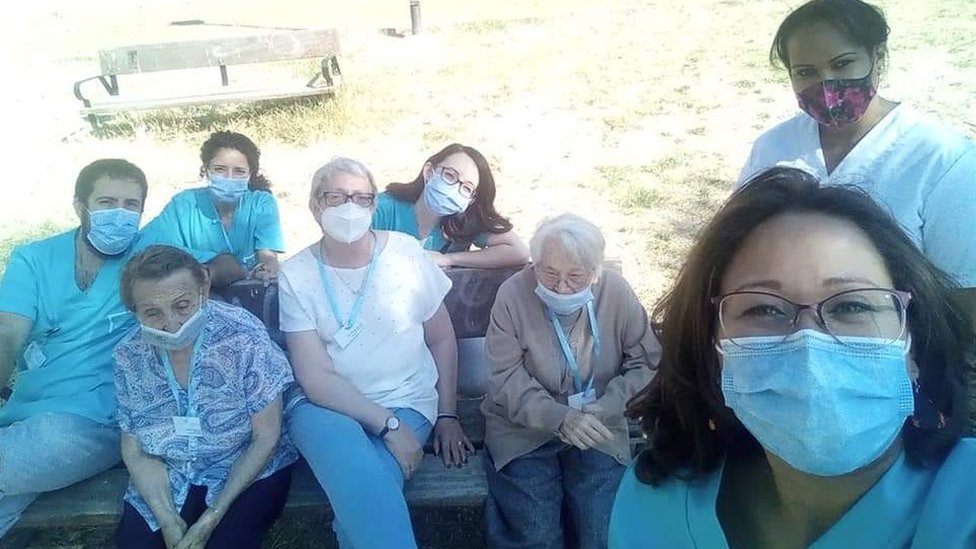 He asked them if he could sing to them and, "since they are so noble, they told me: 'Sure, daughter, sing whatever you want' and I sang the Ave Maria".
"They were so excited that it became a ritual for me to stop by at around 5:30 pm to sing.
"If she didn't show up because she was too busy, they sent me to call".
He always followed the strict sanitary protocol: "I started singing with all the diving suit, special glasses, gloves, double mask, plus the screen. Everything to protect them ".
After the toughest months of the pandemic had passed, the day centers for the elderly began to open and Martínez got a job in one of them.
There he not only monitored the health of the attendees but also participated in neurological stimulation activities for them.
In this process his passion for music took on a new dimension and he trained in music therapy.
"He had sung at the farewell party of the nurse that he was going to impersonate and, from that moment, the grandparents decided that he would sing to them on birthdays and in all the celebrations that arose."
And, little by little, he began to give them concerts, which they attended in full dress.
Under the bridge
Martínez says that he had no place to rehearse for these presentations. "In my house I couldn't, that's not usually done here."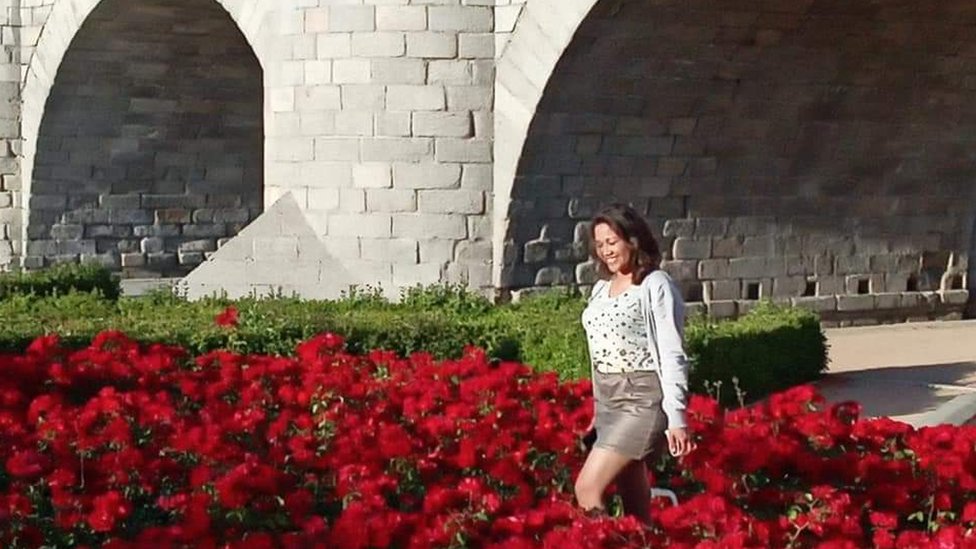 So together with her pianist, who emigrated with her and is her partner, they were looking for a place.
"Walking in the Madrid Río park, I passed under the Toledo Bridge and I happened to sneeze and realized that in the arches there was very good acoustics".
"I began to test with the voice and it seemed an extraordinary place to rehearse."
He had found the place he needed.
"One of the rehearsals was heard by a journalist who, like many of those who went to the park, stayed until the end."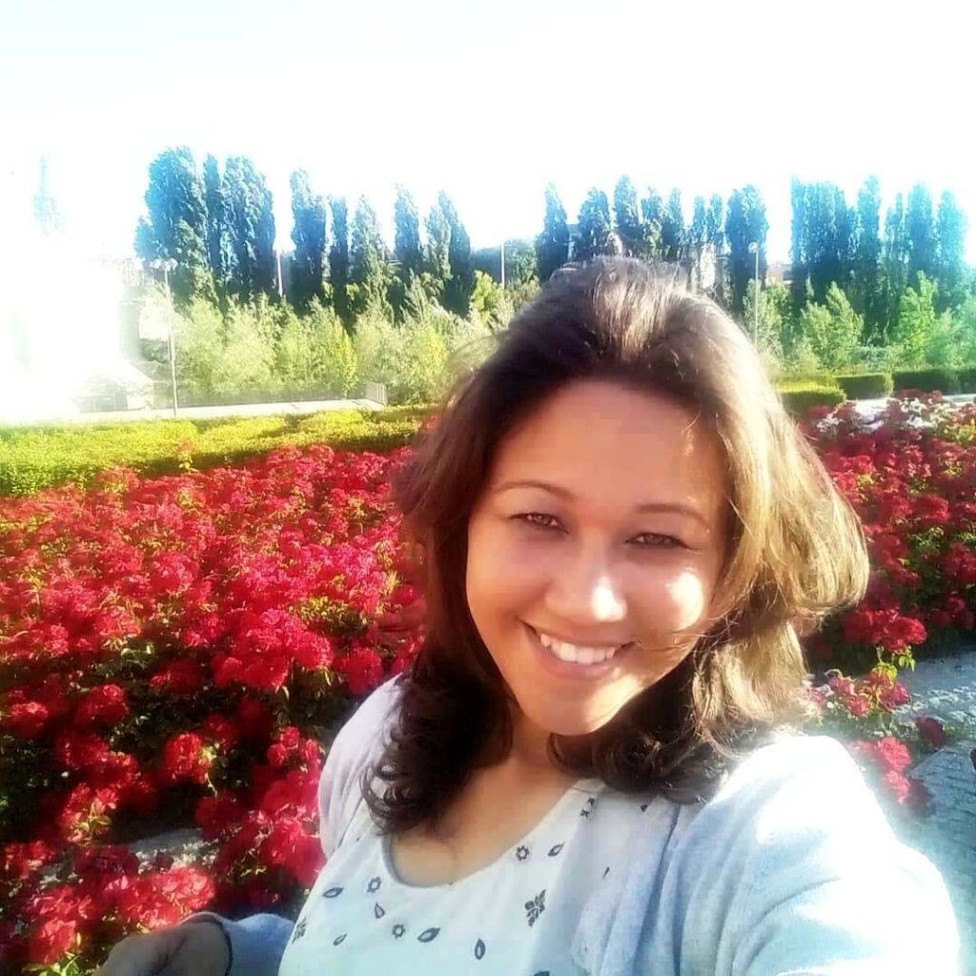 He came over, congratulated her and asked if she wanted to be interviewed.
They gave him a televised report one day when he was going to do a presentation for the elderly.
The report was seen by one of the producers of Got talent, who contacted her and asked her if she wanted to do the procedures to participate in the popular contest broadcast by the Telecinco network.
I did not expect
Martínez followed all the steps and was invited to sing in front of the three jurors and the audience that attended the theater on the day of her audition.
"At the last minute, it occurred to the production team that I could bring some of the grandparents. So we chose the most active, the most artistic, the most rumba and we took them with a team of ours to look after them ", he says.
SPEECHLESS

🔵 # GotTalent2 https://t.co/fenrUL3cxH pic.twitter.com/aOzBdt39Nw

– Got Talent Spain (@GotTalentES) September 17, 2021
"I could see them sitting in the theater and I dedicated a few words to them when he was on stage.
"But what I did not expect was that they would raise them and press the gold button being with my grandparents up there," she says very excited.
"I was in a kind of shock, especially when they said to bring up the grandparents, because there I stopped being an artist and I began to be a nurse and I said: 'My grandparents are going to fall out, I have to go find them' and then I calculated every step he took. I disconnected myself a bit from the moment to be aware of them because they are a very big responsibility ".
"Nor did I expect such beautiful words from Risto, because it was not only a recognition of me, but of all the health personnel, all the grandparents and something that they may not have realized is that it was also for all Venezuelans that we have emigrated and that we are scattered in a lot of countries to be able to support our families in Venezuela.
"It was a very nice recognition. For me, in fact, that was a great prize".
The former patients
Martínez says she is very proud of Venezuelans, of their solidarity and "their ability to unite and celebrate the triumph of others without pettiness."
She is aware that the "enormous sacrifice" of being separated from her daughter is repeated over and over again among her compatriots.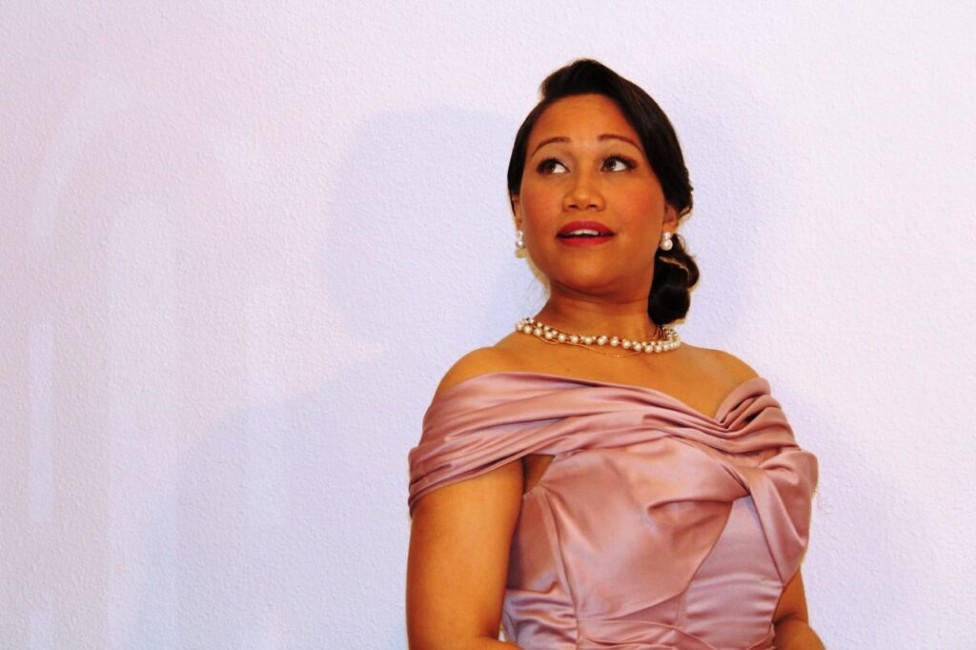 "It is something that parents do not want to do, but they have to know that we are going to look for them and that we will give them everything they deserve, especially the love that we have content ".
She is happy to know that her daughter has accompanied her from a distance in this experience, "because what I want most is for her to see in me an exemplary person, who wants to be like me."
Amid the great interest her audition generated on social media, many people have contacted her.
"Right now I am receiving cancer patient messages", He points out.
"I was wondering what happened to them, maybe they died and I haven't found out, but they are not alive!
"For example, the family of one of my leukemia patients managed to take him to Italy for a bone marrow transplant and he wrote to me: 'Do you remember me? You gave me a lot of chemotherapy. I'm still in Italy. ' I started crying with joy.
"I admire cancer patients. They are an inspiration, because no person is closer to death than a cancer patient, but there is no person who loves life more than a cancer patient. He loves her more than oneself who is healthy and has more hope and more will to live than one.
"For them, my respect and gratitude for having taught me to appreciate and love life and for having taught me that miracles exist."
While he waits for the semifinal, dreams of reaching the final and looks for a way to reunite with his daughter, Martínez continues with his three jobs: all three with older adults.
---
Now you can receive notifications from BBC Mundo. Download the new version of our app and activate them so you don't miss out on our best content.




Source-laopinion.com