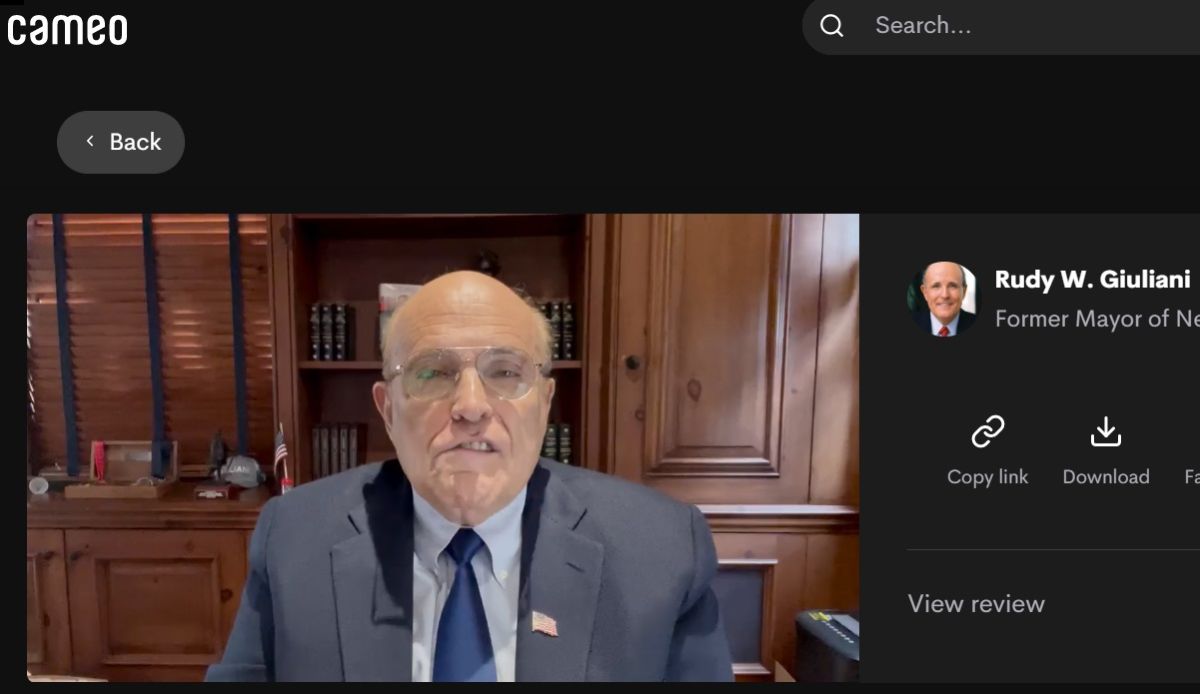 Photo: Capture Cameo / Courtesy
Although the former president Donald Trump has raised more than $ 100 million dollars has refused to help with the legal expenses of your personal former attorney, Rudy Giuliani.
The former mayor of New York faces several lawsuits, including one for more than $ 1,300 thousand with the Dominion company, which produces voting machines and was singled out in an "act of conspiracy" by Giuliani, which he has not been able to prove.
Now Giuliani joined the Cameo community, where celebrities charge to send personalized video messages.
"Hi, I'm Rudy Giuliani, and I'm in Cameo"Giuliani says in a video posted Tuesday. "If there is a topic that you want to discuss or a story that you would like to hear or share with me or a greeting that can lead to someone who brings happiness to their day, I would be happy to do so … We can speak through the magic of Cameo."
Although the cost per message is $ 199, according to The Guardian, the first medium to publish the story. This Wednesday it had increased s $ 275 dollars.
The Giuliani profile on that platform already has 199 "fans", and it highlights his work as mayor from 1994 to 2001.
On June 24, the President Trump's ex-lawyer was suspended from practicing law in New York, something that later also happened in Washington DC
Giuliani was at the top of politics in Washington, DC as a personal attorney for former President Trump, but is now in the midst of legal trouble and asking his former boss for help with his legal expenses.
The break between the two occurred in mid-January, after Giuliani's various legal failures to defend the former president, who faced two political trials, lost the elections at the polls – and in the courts – faces investigations into his finances.
The straw that broke the camel's back in the relationship between the two was that Giulini failed to prove in court his allegations of alleged "electoral fraud."
Two officials close to the former president told The Washington Post last May the president instructed his assistants not to pay Giuliani's legal fees.
"(He had) demanded that he personally approve any reimbursement for expenses Giuliani incurred while traveling … to challenge election results in key states," it was published.