Kane Duffy, originally from Edinburgh, started using heroin when he was 14 years old and was on a prescription for methadone until he was 30.
Today, 14 years later, he works as a specialist therapist in a Scottish rehab clinic and says he gives back to society everything they spent on him.
"All the time that the services dedicated to me, all that they prescribed for me, every time the police had to intervene in my life… All these things add up to a huge amount of money (…). So I give it back to society through the work I do, "he told the BBC.
His is a story of overcoming, but there are thousands of Scots with addictions who have not done as well as Duffy.
Just last year, more than 1,300 people died in Scotland from drug abuse, a record for the seventh year in a row.
Both experts and local leaders use the word crisis to describe the situation that makes Scotland the European nation with the most deaths from overdoses.
It has by far a higher drug death rate than any other country in Europe.
According to figures from the Scottish National Register and the European Monitoring Center for Drugs, it had 318 drug deaths per million inhabitants aged 15 to 64 in 2019. It was followed, far behind, by Sweden and Norway with 81 and Ireland with 71 ( see graph).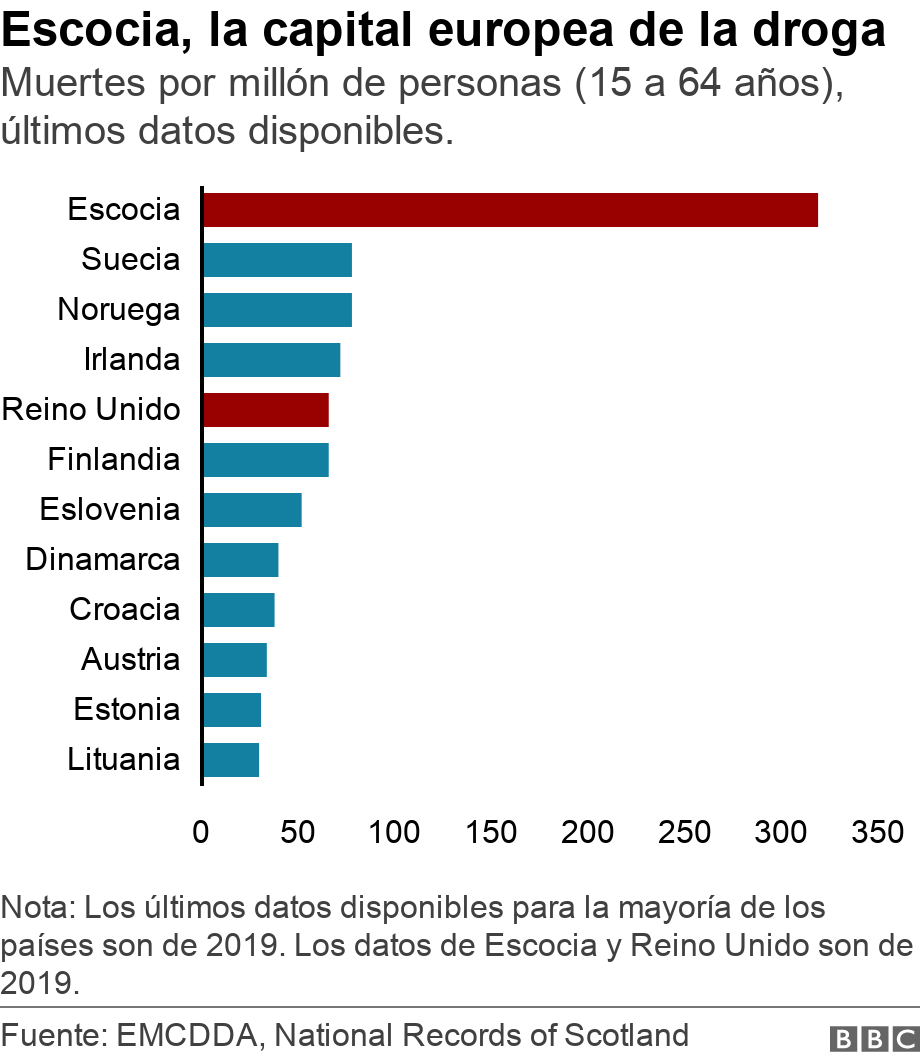 And the number of drug-related deaths in Scotland has not stopped rising over the last 20 years. Today it is almost three times greater than a decade ago, and the upward trend has accelerated since 2013.
Many wonder how this constituent nation of the United Kingdom, with economic indicators above the European average and an enviable quality of life, reached this critical point.
Deindustrialization
Anna Ross, a sociologist at the University of Edinburgh and an expert in studies on alcohol and drugs, points out that no one knows exactly, but she points to one of the consequences of the deindustrialization that the United Kingdom suffered in the 1980s under the government by Margaret Thatcher.
"Scotland has a percentage per capita highest in communities that were deindustrialized. We suffer and many communities never recovered of that ", he tells BBC Mundo.
"We have three or four generations that have lived with alcohol and drug abuse. You also have to take into account the Scottish psyche: they have more difficulties recognizing that they need help and asking for it ", he continues.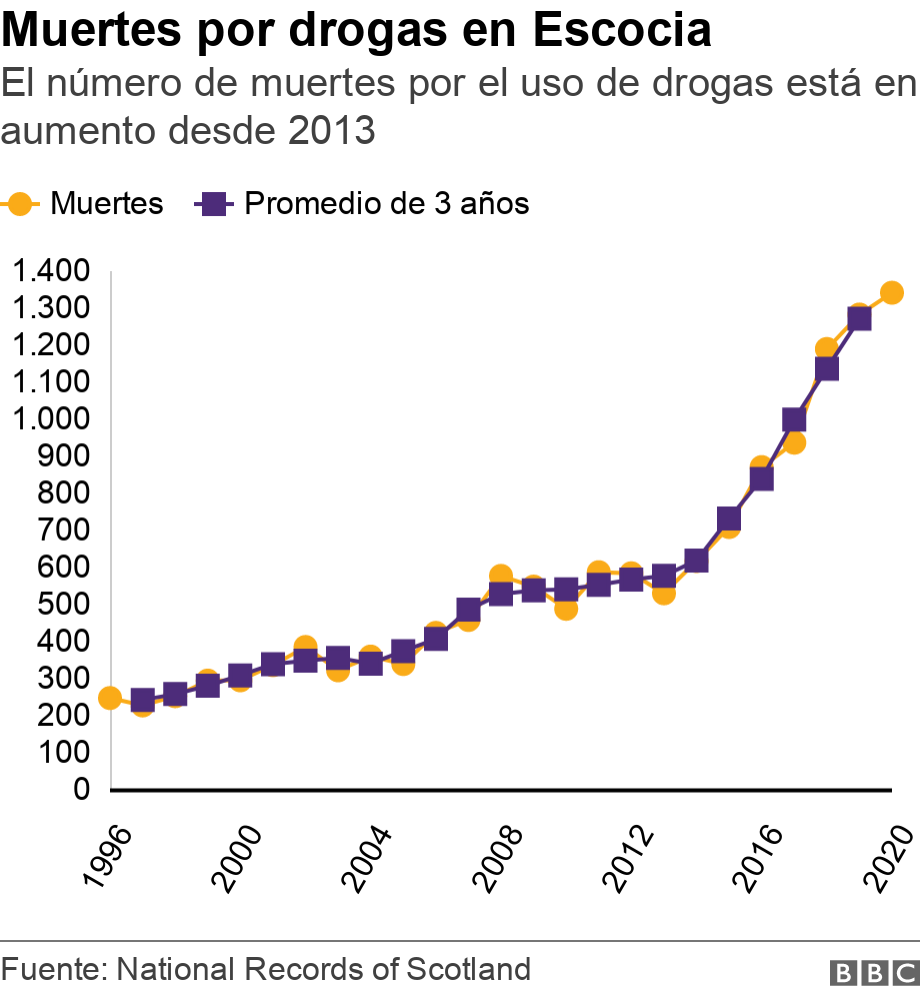 Scotland's drug death rate is more than three and a half times that of England and Wales.
According to official statistics, the Scots of the more areas marginalized they are 18 times more likely to die after using drugs than the least disadvantaged.
And it is a gap that has been widening. At the beginning of the century, the death toll was 10 times higher in the fringes of Scotland.
An "archaic" health system
Annemarie Ward, director of Faces & Voices of Recovery UK, a charity that deals with people with drug addiction problems, tells BBC Mundo that inequality, poverty and unemployment partly explain "the great Scottish drug problem" .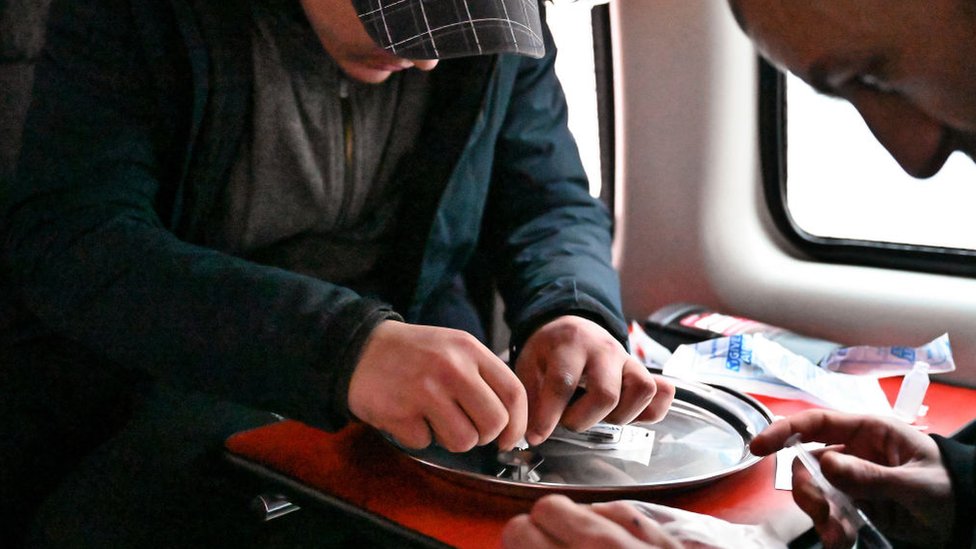 But he also blames the health system, which he describes as "archaic", and regrets that it has not advanced.
"Getting an appointment on Scotland's NHS (the regional public health system) can take three to six weeks," he says.
"The Scottish NHS does not offer substitute medication either, whereas in England they can give it to you the same day."
Ward also notes that in Scotland there are not enough beds for rehabilitation and investment in abstinence services has stopped.
The effects of "street valium"
And finally, we have a higher level of valium consumers, a drug whose use has spread throughout the Scottish nation, "he adds.
The vast majority of drug-related deaths in Scotland occurred in people who used more than one substance, according to the latest official report.
Although the use of opiates such as heroin and methadone are a constant in most deaths, users usually take a drug cocktail.
And it is increasingly common for it to include benzodiazepines, such as etizolam, psychotropic drugs with a sedative and anxiolytic effect that are also known as "street valium" and which are sold for less than US $ 1 a unit.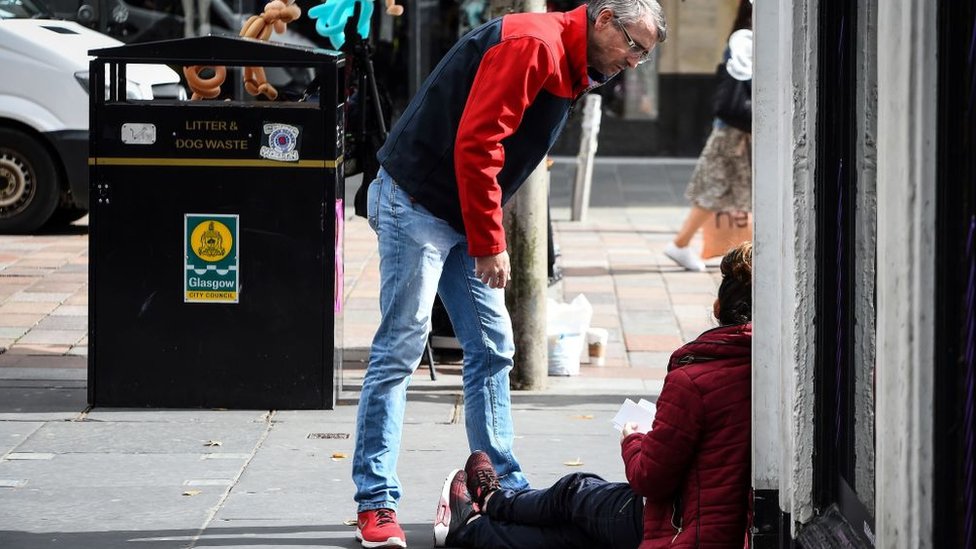 In 2019, there were 814 drug abuse related deaths in Scotland, 752 of them from people who used such a drug.
According to experts, there are those who self-medicate and consume them to treat symptoms of psychiatric disorders, emotional lows and withdrawal symptoms, and others do it to increase the effects of other drugs.
According to an official publication from the middle of this year, more than 90% of drug deaths that occurred in Scotland in 2020 were due to accidental overdoses, while 4% were considered deliberate self-poisoning.
Trauma
The sociologist Anna Ross, from the University of Edinburgh, believes that to solve the problem the Scottish authorities must invest more in prevention in less disadvantaged communities and focus on those affected in these areas.
But also, according to her, one should invest in therapies to heal trauma.
"There have been interesting studies that suggest that another reason may be that in the Scottish population there is a high level of trauma, which may be due to child physical or sexual abuse, poverty, deprivation or isolation," he explains.
"Trauma is one of the reasons people fall for drug abuse."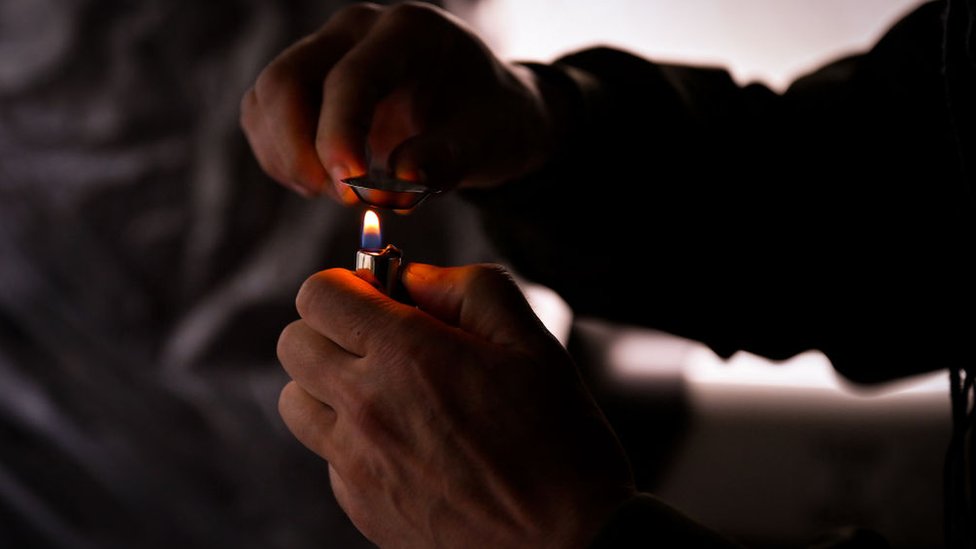 Annemarie Ward of Faces & Voices of Recovery UK believes that first of all there must be changes in the healthcare system.
"In England and Wales the services are more focused on recovery and rehabilitation, while in Scotland they focus only on managing people's condition and not necessarily on helping them get well and follow up," he says.
Minor offence
Some of the measures that the Scottish authorities have taken in the face of the death toll have caused a stir.
Last week Scotland's Chief Prosecutor Dorothy Bain announced that users of class A drugs (cocaine, heroin, MDMA, etc.) could now receive a police warning instead of being prosecuted.
The Scottish Conservatives criticized the measure and judged it to be a "de facto decriminalizationOf deadly substances.
But Bain insisted that the rising death toll represented a "public health emergency" and that this reorganization could help address the problem.
Ross, who has served as an expert witness in drug-related court cases, explains that the criminal element of drug use pushes people towards crime.
For her, the Scottish government's decision to classify class A drug use as a misdemeanor is "a step in the right direction, but it will not solve the problem": most drug users do not care if it is a crime or not, he says.
"But in the end it is the most disadvantaged who end up trapped in the criminal justice system and not middle class consumers".
---
Now you can receive notifications from BBC Mundo. Download the new version of our app and activate them so you don't miss out on our best content.


Source-laopinion.com