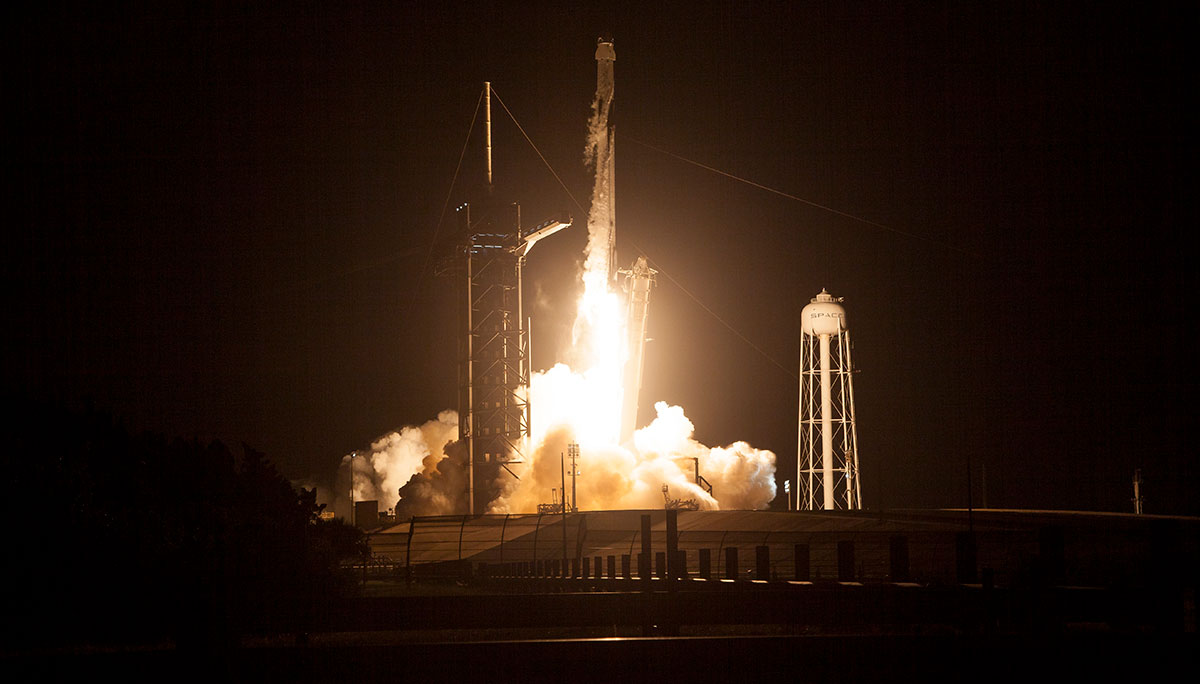 Photo: Joel Kowsky / NASA / Getty Images
The aerospace company SpaceX launched this Sunday from Cape Canaveral (Florida) the Falcon 9 rocket carrying the Dragon cargo capsule, which is planning to drop supplies on the International Space Station (ISS).
The takeoff took place at 3:14 a.m. local time (07:14 GMT) and is scheduled to arrive at the ISS on Monday at 11:00 (15:00 GMT).
Upon launching from the Kennedy Space Center and separating from the Dragon capsule, Falcon 9 returned to Earth and landed on a platform located in the Atlantic Ocean.
The capsule carries more than 4,800 pounds of science experiments, crew supplies and material for the ISS, NASA explained in a statement.
SpaceX's 23rd commercial supply mission, that this Saturday had to postpone its takeoff due to bad weather conditions, it is scheduled to dock at the ISS this Monday and will remain there for about a month.
NASA astronauts Megan McArthur and Shane Kimbrough will monitor the capsule's arrival at the space station.
NASA experts pointed out this Friday that there is a great variety of investigations with plants and animals, among others, that will be carried out with the new load that will arrive at the microgravity laboratory.
TAKEOFF! 🚀🚀🚀

NASA and @SpaceX launched the Falcon 9 rocket and Dragon capsule for the CRS-23 mission at 3:14 a.m. ET from Launch Complex 39A in @NASAKennedy.

Next stop: @Space_Station. pic.twitter.com/zQXAe5eXjE

– NASA in Spanish (@NASA_es) August 29, 2021
They highlighted a study on the prevention and treatment of bone density loss, research that will test diagnostic devices that could detect and mitigate vision disorders.
The capsule also carries materials such as "concrete, fiberglass composites and substances that can offer protection against radiation, to investigate how they respond to the harsh environment of space ".
It also carries the Puerto Rico CubeSat NanoRocks2 (PR-CuNaR2) satellite, developed by students from the Bayamón School of Engineering (INTER).
Dragon separation confirmed; autonomous docking to the @space_station Monday at ~ 11: 00 am EDT pic.twitter.com/w7k1TRNGKg

– SpaceX (@SpaceX) August 29, 2021
The interior of the satellite contains microparticles of stainless steel and silicon that emulate asteroids, which will be in motion while it is in space.
The movements and collisions of the microparticles will be recorded and photographed as part of a scientific investigation that aims to study the origin and development of planets and young stars.
Keep reading: Ida becomes a Category 4 hurricane and its threat to the United States increases.