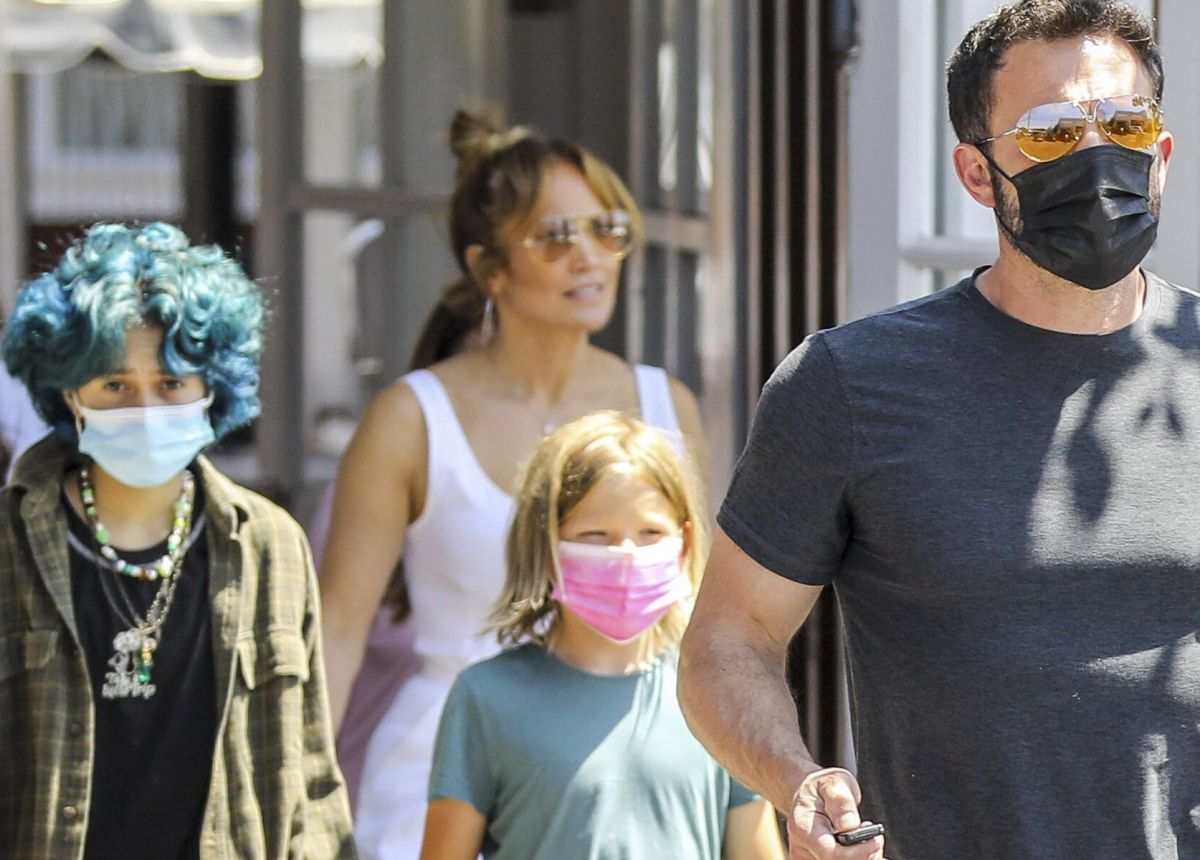 Jennifer Lopez and Ben Affleck went out to dinner again in the city of Los Angeles and this time they took JLo's daughter, Emme. Same that always monopolizes the glasses of the paparazzi, as well as the glances of many users of social networks. In this opportunity, Emme again received strong criticism for her appearance, which many catalog as male.
Recently Emme was singled out and harshly criticized for her short, blue-green hair and for his clothes. Many say that Jennifer Lopez's daughter It is not very feminine, but the truth is that it is very fashionable to wear clothes in larger sizes and that is how she likes Emme. Although he does not like the presence of the press at all when he is on the street, something that was also demonstrated recently when he was with his father Marc Anthony. While he greeted the paparazzi, she gave him an ugly: laughed wryly and immediately turned his back on the reporter. But this time He receives criticism again but his clothes when going out to dinner with his mother Jennifer Lopez and her boyfriend, actor Ben Affleck to a restaurant in Hollywood.
In a plaid button-down shirt, ripped gray jean shorts, and her hair loose and unkempt as she always wears it, Emme left the restaurant in the city of Los Angeles and behind her was Ben affleck. Apparently, Jennifer Lopez's daughter loves to be attached to Ben and they seem to have a more than good and close relationship. It is not the first time they have been seen together.
"What happened to his daughter? I bet he hates men after living with his mother and seeing the row of losers in his life, he looks like his son "," What about the clothes and hair of Emme? "," Emme looks like a child "," Emme's clothes should be checked first "," She looks sad! Too much instability and changes for the daughter! ", Were some of the strong Criticism received again by Emme, daughter of Jennifer Lopez with Marc Anthony.
The good news is that as well as many they criticize Emme, another is flattered by the fact that Ben is always so committed to the children of Jennifer Lopez. What's more Emme He almost always looks happy and laughing next to his mom's boyfriend. It is a long time that Emme share with the couple and that indicates the good relationship they have.
As for Max, he looks little less with JLo, but when it does it draws everyone's attention. His spontaneity and affection for his mother always speak for themselves. It was recently seen Jennifer Lopez with jeans that highlighted her tail and next to it was the funny Max. The images went viral.
There's no doubt Jennifer Lopez She is doing everything a good mother would do: being and sharing with her little ones as much as possible. The group has also been joined by the three sons of Ben affleck. Recall that not long ago a source close to the couple let it be known that Jennifer Lopez I would talk to Ben's ex to share with them and get permission.