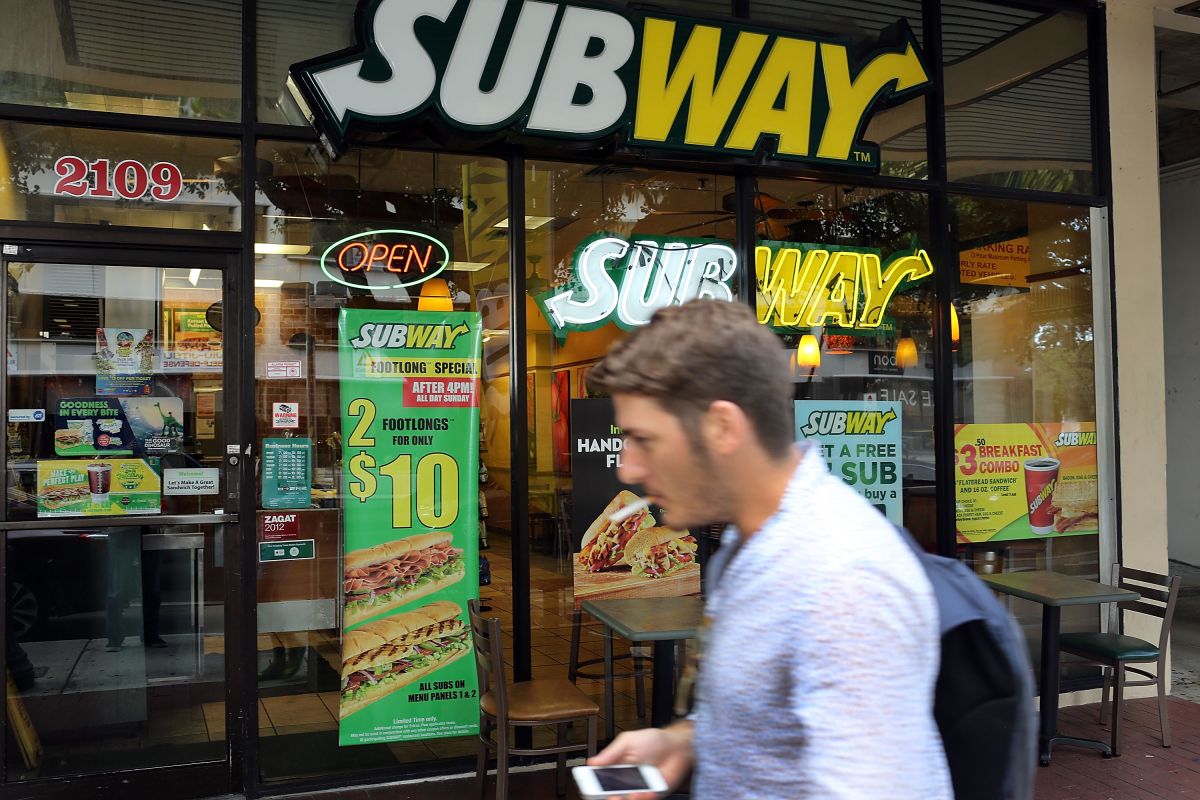 Photo: Joe Raedle / Getty Images
Subway is one of the most popular fast food restaurant chains in the United States. Specializing in the sale of submarine or Italian type sandwiches, sandwiches and salads by the serving, it is undeniable to say that Subway is everywhere. In recent months the popular sandwich chain eHe was ablaze by the growing rumors about the use of fake tuna in his iconic sandwichesHowever, despite this type of disreputable news, there are some elements that continue to be extremely favored by the public, such as its emblematic condiments. The sad reality is that some loyal Subway customers have noticed that certain sauces and dressings are suddenly disappearing from the sandwich assembly counter throughout the United States. As customers wonder what's up with the recent disappearance of their favorite sandwich toppings, insiders confirm that Subway is beginning to discontinue some of its more popular sauces.
Subway is in the third position at the business level, just after McDonald's and KFC (respectively), not surprisingly it has the most locations of all the fast food chains in the world. It is one of the best known and most accessible fast food options, whether you are traveling or simply are away from home.
Recently a conversation thread was started on Reddit, in which a user stated the following: "I recently tried to order my favorite sandwich and was told that the store did not have Caesar dressing … I was worried that it might be discontinued." This statement gave a lot to talk about as some users stated that it is not the only dressing that has been discontinued as they added: "I also miss my previous favorite with creamy Italian dressing very much."
In response to the conversation thread, a Subway employee said, "These are no longer mandatory sauces. They are optional from the store. Once we run out of stock, we will discontinue them at each restaurant. Therefore, if you have more than one Subway around you, you may find certain condiments in some establishments and not in others. "
Another employee stated, "Our store has not discontinued Caesar dressing, but we barely sell a sandwich with it per week, its usage volume is very low." In addition, it is worth mentioning that it is a bottled dressing that is often the only one that expires and is thrown away, so that in a slow week it is unlikely to be used and therefore does not seem worth it. make a new bottle just for a sandwich.
Finally, these types of decisions are remarkable since the renowned chain of sandwiches avoids the waste of food and supplies. It is also important to mention that the current trend in nutrition promotes the consumption of natural and free processed foods; in such a way that customers bet on dressing their sandwiches with healthy and low-calorie condiments: olive oil, vinegar, and mustard are the lightest alternatives.
The truth is that there are other sauces and dressings that some Subway stores are discarding. According to other statements from Subway employees in the United States in the same conversation: Subway Vinaigrette has been discontinued. "I have to tell people several times a day that we are discontinuing it. We replaced it with a parm vingerette, but it's not that popular. "
Other comments suggest that some stores' delivery trucks haven't been supplying chipotle establishments in a long time. For the lovers of spicy dressingsThe same goes for sauces like creamy sriracha, there are stores where it has never been available. This is why some customers have developed a taste for classic buffalo sauce.
Some users suggest that there is a possible alternative to the classic Subway Caesar dressing, one chain employee suggested that some Subway sandwich artists have discovered a trick to duplicating the Caesar dressing: "Honestly, it's a ranch-like dressing with a little more of oil." Therefore, many people who are looking for that creamy touch, bet on using ranch dressing, which in many cases often even confuses them. So now you know if you are lover of classic Subway dressingsPerhaps it is time to create new combinations since some of your favorite sauces are likely to be discontinued and renewed.
–
It may interest you:


Source-eldiariony.com