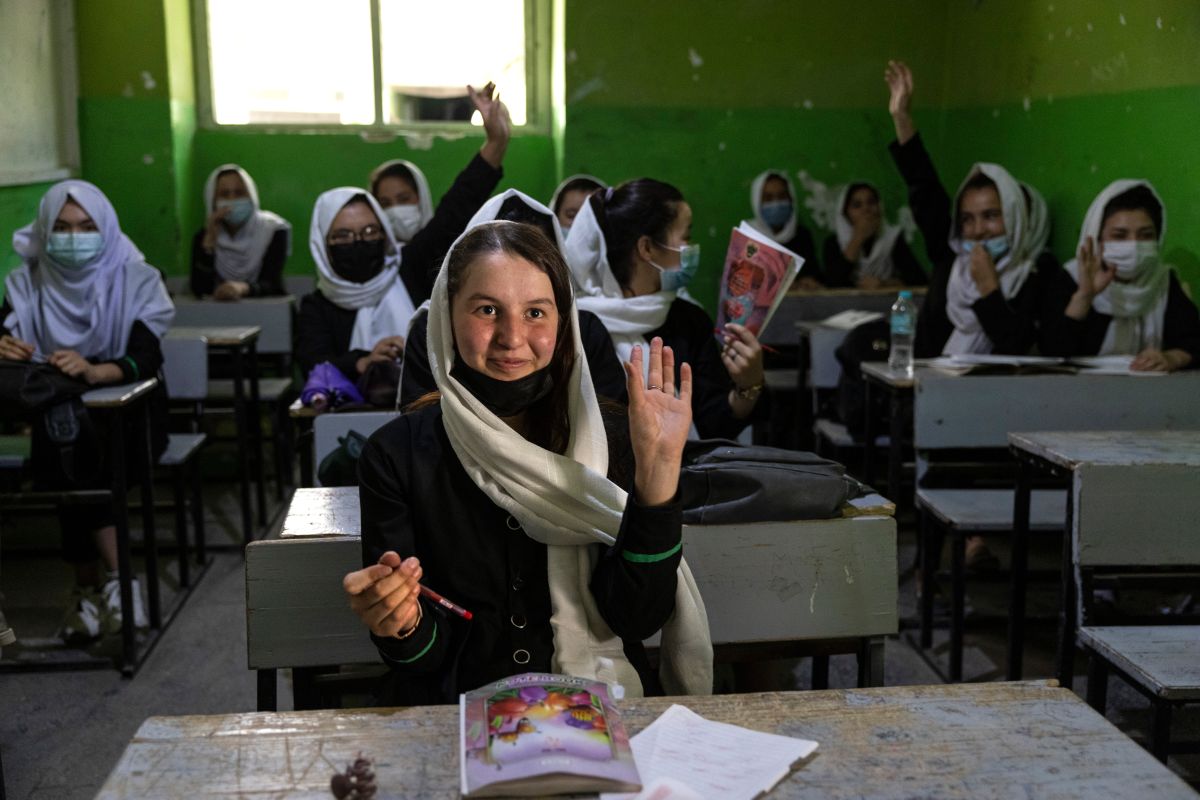 Photo: Paula Bronstein / Getty Images
Many affirmations have been produced around the rights of women in the new reality of Afghanistan that is taken over by the Taliban group, and that has already formed its system of government. Given the indications that the women will not be able to attend secondary schools, local authorities have denied that this is going to apply.
The Ministry of Education of the taliban had asked the boys (without specifying the girls) to return to the classroom, at the same time that they estimated that a "Safe transportation system" to allow the return to classes, a fact that raised suspicion, but that the Taliban spokesman Zabiullah Mujahid he took it upon himself to deny.
In statements offered to CNN, the spokesperson indicated that women will be able to study, but that they are working to create a transportation system that can be safe for girls from sixth to twelfth grade.
"There are certain rules during their class time that must be obeyed so they can be safe and sound. "stated Mujahid, adding that it would allow women to continue their studies in other age groups.
"We have women in universities who continue their education in both private and government-funded universities, but from sixth to twelfth grade we are trying to provide an opportunity for them to continue, and that is in progress.", he said.
This apparent delay in the start of classes for young people in these degrees generated concern in a student, who told CNN that this announcement by the Taliban group represented a "shock" for her, since she hoped to be able to resume her academic path immediately. .
"I was hoping to go back to school and get closer to my biggest dreams, but now everything is blurry"said Tamana, who only revealed his name. "If the Taliban do not allow us to go back to school, our future and our hopes will be crushed forever."
Inconsistencies in the guarantees of women's rights
Taliban leaders have repeatedly promised to respect women's rights and insist that they play a prominent role in society and have access to education.
However, during the onslaught against Kabul to have total control of the country, episodes of violations of women's rights and cold-blooded murders were evidenced, which has led to fears that they will not have guarantees of life in the future.
Also, during a demonstration by women fighting for their rights, Taliban leaders dispersed the protest with shots that caused the protesters to flee in terror.
In a more recent case, the military ordered the women to leave their workplaces, and in view of the discontent over this measure that was issued last week, members of the extremist group beat them with sticks and whips.
So far only university students have been able to access education, but under strict gender separation orders, the use of the hijab and the impositions of sharia law, which also applies to teachers and employees.
You may also like:
Taliban dispersed with gunfire protests of women demanding equal rights
Pregnant Afghan Police Killed In Front Of Her Family By Taliban
Taliban In Afghanistan Set Woman On Fire For Poor Cooking; send others in coffins to neighboring countries as sex slaves