MEXICO.- At the entrance of the Rosario Castellanos bookstore, the most important headquarters of the Fondo de Cultura Económica (FCE) publishing house, there is a sign that invites you to receive a free book. It is not mandatory to wear it but to welcome a new official strategy and particularly from the director, the writer Paco Ignacio Taibo II.
This writer and historian, author of works like Yaquis, has the conviction that Mexicans do not read more because of the cost of books, among other faults. According to data from the National Institute of Statistics, Geography and Informatics (INEGI) in 2020, Mexicans read an average of 3.6 books a year. The number of readers decreased, but those who read, do so more and more.
"Our idea is to open those doors that prevent them from reading to anyone who wishes," Paco Ignacio Taibo II repeats over and over as he goes from fair to fair of readings throughout the country and while dictating the policies of more than 103 bookstores of the FCE and its publishing house that also has traveling books.
Before 2019, the FCE only had the promotion of discounts applied by publishers to bookstores (which are still preserved) but not with their own low-cost editions.
The Rosario Castellanos bookstore is located in the Condesa neighborhood of Mexico City and is a busy cultural center through which thousands of readers interested in receiving free books from the editorial collection 21 para los 21 (21 titles by Mexican authors for the 2021) with one hundred thousand copies each that were paid for with money seized from the crime.
Twenty-one for 21 is one of the collections, but it is not the only one. With a circulation of around 2.3 million copies, the Popular Collection is a collection of classics of literature, novels, short stories and poetry, at a price of less than 100 pesos per copy (about five dollars), explains Luis Hernández, manager from the bookstore in an interview with this newspaper.
"80% of these books are worth 100 pesos or less, there are 60, 70 …", he details. "It has been so successful that there are even books that are already out of print and are in the second edition," he says with the enthusiasm of a good reader.
Among the sold-out titles is The rebellion of thinking by the Mexican author Oscar de la Borbolla, who has as a common thread an incitement to questioning and reflection that allows stopping the precipitation of the trial and the actions that are mere reaction. "Whoever doubts, considers and reconsiders, weighs and weighs".
Critical thinking is a common thread of the reading that is promoted by the government of President Andrés Manuel López Obrador, insists Paco Ignacio Taibo II and hence the incitement to reread classics such as Tarzán, by Édgar Rice Burroughs, with new eyes.
"Rice Burroughs is a display of white supremacy over blacks, or black supremacy over whites, or love for orangutans, who are the good guys in that movie. It is about opening the debate on literature and mentalities and putting books at a very low price ".
Another of the out-of-print titles – details Luis Hernández, who goes with a wheelbarrow full of works that splashes from one side to the other through Rosario Castellanos – is El Samurai de la Graflex, a novel that highlights the multiculturalism of Mexico, a subject little explored until now.
It tells the story of a peculiar character who on December 30, 1906 leaves his native Fukuoa, Japan, and arrives at the port of Salina Cruz, Oaxaca, where he begins an adventure that leads him to become the first captain of the revolutionary Pancho Villa, The Centaur of the North.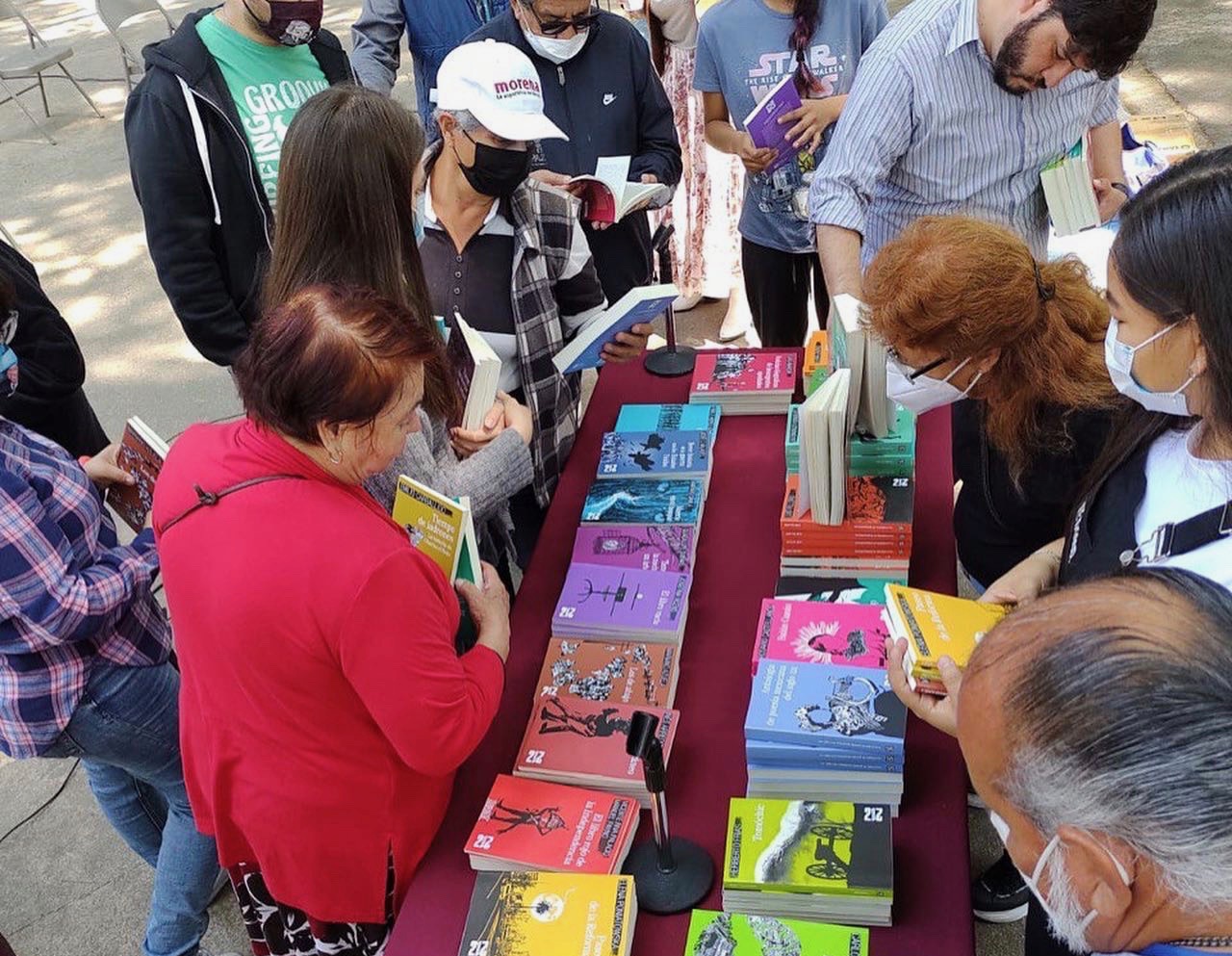 A few steps from the adventures of Japan, following in a straight line from the entrance of Rosario Castellanos, is the table of the pointer collection and starting point of the government reading campaign: Vientos del Pueblo.
In 2019, the FCE created the Vientos del Pueblo collection with low-cost classic novels, unpublished works and reproductions by international authors, from 10 pesos (0.60 cents, approximately). They are compact editions to bring readers closer to Mexican and international classics.
There is Chekhov, Dostoevsky, Shakespeare, Guillermo Prieto, Elena Poniatowska, Vicente Riva Palacio, Rosario Castellanos and many others jumping between all the bookstores in the background and even in the consulates and embassies where little by little they plan to take the collections to take advantage of the infrastructure of the diplomatic headquarters.
There in the FCE of Rosario Castellano was also Carmen Álvarez, a housewife who went to the Condesa bookstore in search of a very specific title: A Pact with the Devil, by Thierry Lenain, from Vientos del Pueblo.
They asked her 11-year-old daughter at the private school where she studies. He couldn't find it anywhere until one of the girl's classmates gave him the whistle and she ran to look for him: it cost 70 pesos (less than a dollar).
"We spend up to 1,000 pesos (about 50 dollars) on children's books every month and it doesn't weigh us down because they ask for it: they were taught since they were little and we prefer to take them to bookstores than to toy stores"Says Álvarez, who is married to a military man who the Army sent to Chile to do a master's degree and there his children took up the habit of reading.
"It would be necessary that here, in Mexico, the reading of a book per month in public schools became compulsory as there in Chile," he warns. "The good thing about Mexico is that the teachers are very
passionate people pay a lot of attention to children and if, in addition to cheap books, they are asked to read one book a month, we will be a country of readers ".
Luis Hernández, as manager of the Rosario Castellanos bookstore, observes that it is about captivating readers with works that arouse their interest. "No technical books that bore them", and this includes entertaining readings of all kinds like the one they have on the Breviarios table also for less than five dollars.
There even Heidegger, the German philosopher, is ready to conquer the most skeptical.
It may interest you:
· The cyclical love-hate relationship between Mexico and Spain
· They don't pay teachers and… they put Mexico in chaos!
The women behind the decriminalization of abortion in Mexico


Source-laopinion.com