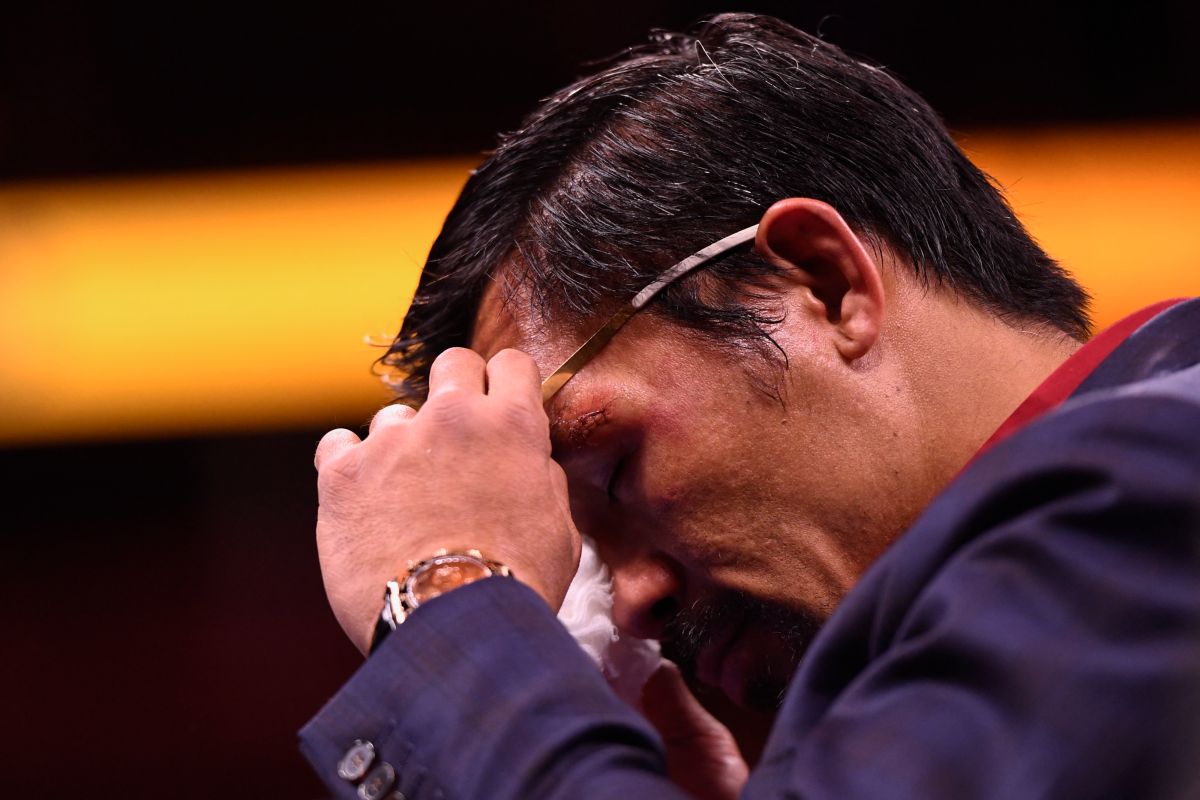 Photo: PATRICK T. FALLON / AFP / Getty Images
Maybe it's time to step aside. Manny Pacquiao has shown his unique abilities inside the ring, throughout his career. However, the last fighting has been bitter for the Filipino. "Pac-Man" lost a unanimous decision against the Cuban, Yordenis Ugás. Pacquiao showed how his beaten face ended up after the fight.
"Right now I'm probably thinking about retirement … 60/40."

After his loss to Yordenis Ugas, @MannyPacquiao told @OsunaESPN that he's leaning toward retiring. #PacquiaoUgas pic.twitter.com/cu5XeOx4YW

– ESPN Ringside (@ESPNRingside) August 22, 2021
The fight developed in the Las Vegas Strip He showed how time is an important factor in any athlete. The experience is there, but the body begins to play a race against it. This was shown by the 42-year-old Filipino.
"This sport is my passion that is why I continue to fight here at 42 years old. I enjoy it, but sometimes you have to think about how the body responds. My mind and my heart are at 100. But my legs were cramping ", Pacquiao expressed after his loss.
His track record and legacy will be flawless. Although Manny has not openly stated his desire to hang up the gloves, The seasoned fighter has shown signs that putting an end to the career of an eight-division world champion has crossed his mind.
Another reason why it could be considered a closure of his career would be his Political activism. The Filipino could focus all his forces on a political career that has been constantly on the rise and that undoubtedly represents an important part in the life of the legendary "Pac-Man".
"In my heart, I want to continue boxing, but the thing is, I also have to consider my body. I have to do many things. Especially when I return to my country there are many things that I need to accomplish to help people. I want to be an inspiration to the Filipino people in and out of the ring", He concluded.
PACQUIAO CHEERED IN DEFEAT👏

Despite his loss @MannyPacquiao's loyal fans chanted his name as he returned to the dressing room🙌 pic.twitter.com/DH2d2sPusc

– Sky Sports Boxing (@SkySportsBoxing) August 22, 2021
Thank you to the fans all around the world who were watching. Thank you to every Filipino that has ever supported me. I'm so proud to represent my country. I'm sorry I could not give you a win, but I did my very best. From the bottom of my heart, THANK YOU! God bless you all! 🇵🇭

– Manny Pacquiao (@MannyPacquiao) August 23, 2021
You may also like:
Manny Pacquiao has maintained his idolatry for Julio César Chávez through time
Yordenis Ugás: the Cuban Olympic medalist who could send Manny Pacquiao to retirement
"The drug made me a despicable human being, I became a devil": Julio César Chávez told how he acted because of his addictions