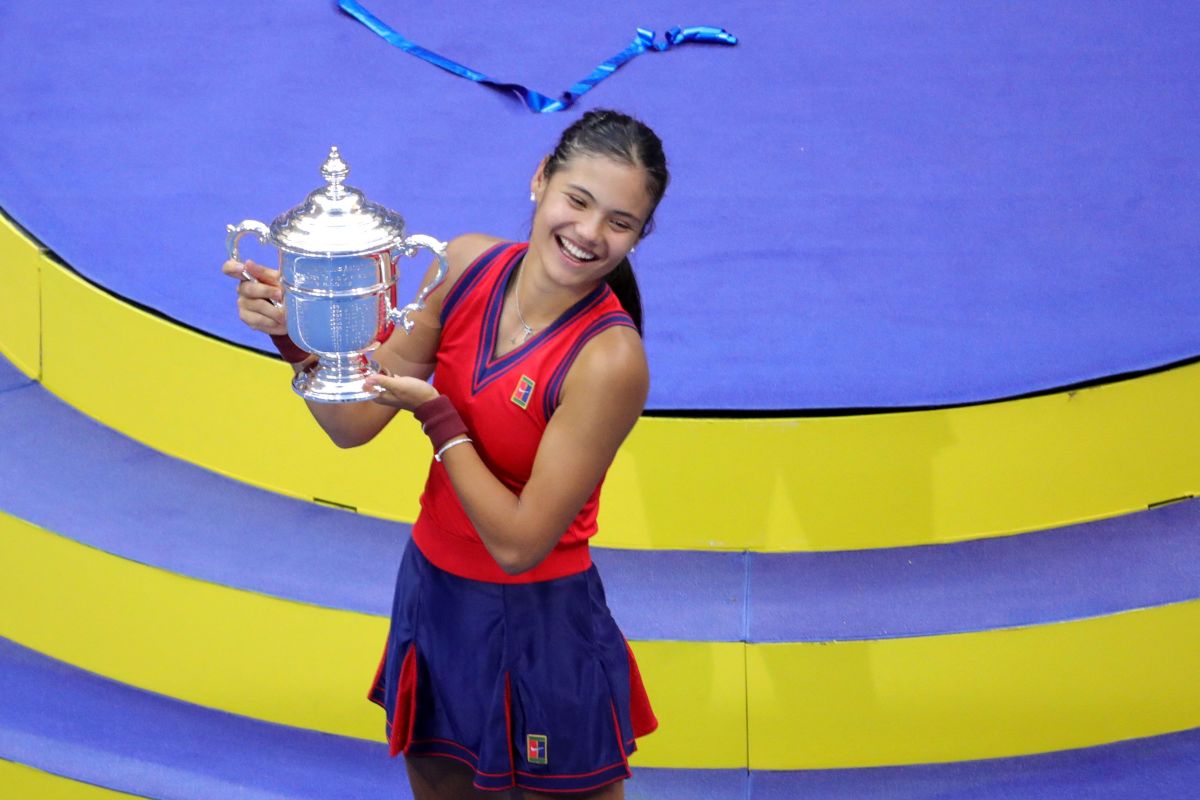 Photo: KENA BETANCUR / AFP / Getty Images
His name will always be remembered because what he has achieved this Saturday for tennis in the United Kingdom and the world is already historic.
Emma Raducanu, 18, defeated this Saturday at the US Open, in New York, the Canadian teenager Leylah Fernández, 6-4 and 6-3, in an exciting and high-quality final.
Although there are several qualities that led her to victory, it is noteworthy that this tennis player was located in position 150 of the world ranking and that in order to reach the US Open she had to enter through previous qualifiers, not automatically, as tennis players do in the positions 1 to 60 of the world ranking.
In other words, Raducanu is the first tennis player in history, between men and women, who enters through the previous qualifiers and wins one of the four Grand Slam tournaments.
He did, in addition, without losing a single set in the nine games he played (three in the qualifiers and six in the main competition). This It hadn't happened since Serena Williams won in 2014.

Raducanu will take home 1.8 million pounds in prizes. She will rise to 23rd in the world rankings and will become Britain's number one on Monday.
A wait of 44 years
Emma Raducanu was born in Canada to a Romanian father and a Chinese mother, and moved to the UK at the age of two.
Emma Raducanu ended the UK's 44-year wait for a US Open women's singles champion.
The young tennis player is now the first British woman to win at Flushing Meadows (home to the US Open stadium) since the legendary Virginia Wade in 1968.
But it is also from this Saturday Youngest Women's Slam Champion since Maria Sharapova at Wimbledon in 2004 and the youngest British woman to win a Grand Slam title.
Near the end of the match, Raducanu cut his leg and began to bleed, causing a medical time-out and Fernandez becoming irritated and expressing his frustration to the match referee.
Raducanu re-established himself and upon winning, he threw himself to the ground in disbelief as he fired his final shot to conclude what has been a remarkable adventure.

The two athletes shared a warm hug before Raducanu climbed the stairs of the Arthur Ashe Stadium to celebrate with his support box.
The final between Raducanu and Fernández, 19 years old and number 73 in the world rankings, is the first among teenagers since Serena Williams faced Martina Hingis in 1999. On that occasion Williams was the winner.
"A fairytale"
Raducanu's triumph caused an avalanche of praise from experts and fans.
Former Czech-American tennis champion Martina Navratilova highlighted on Twitter the importance of Raducanu's triumph and highlighted the qualities of her opponent Leylah Fernández.
https://twitter.com/Martina/status/1436824504072904704?s=20
"A star has been born. Emma Raducanu makes history. A qualifier has never won a men's or women's jackpot and she's just getting started. And you will never have to qualify again. Leylah Fernandez will return – they are both champions but Emma has the trophy – well done !!! ", he said.
For her part, BBC Radio 5 tennis commentator Gigi Salmon described the win as a "fairy tale in New York."
"I have never seen anything like this and I am sureor that I will never see something like this again "said Russell Fuller, BBC tennis correspondent.
---
Remember that you can receive notifications from BBC News Mundo. Download the new version of our app and activate them so you don't miss out on our best content.
You may also like:
Outrageous: Spanish journalist makes a racist comment about a Real Madrid player and did not realize it was live
Obama near the ring: the former president of the United States could be a commentator on the fight between Teófimo López and George Kambosos
"I miss Messi, Sergio Ramos and Cristiano, but we have Vinicius": LaLiga president puts a face on Spanish football