On July 11, Cuba experienced the largest protests in its recent history.
Thousands of people across the island took to the streets shouting "freedom" and "down with the dictatorship" in a country where anti-government demonstrations are prohibited.
Cuban President Miguel Díaz-Canel gave a "combat order" to go out to silence the protesters, many of whom, according to numerous testimonies and photographs, were arrested and harshly repressed.
A month later, hundreds of them are still in jails in the country.
According to data from Cubalex, an independent legal representation agency that has documented the arrests after the protests, more than 800 people were arrested on 11J, and above all, in the raids that came in the following days.
Of that total, the organization believes that at least 371 people are still in detention, although BBC Mundo cannot independently verify that number and the government does not report on the matter.
"We estimate that the number of people detained is much higher, taking into account that many cases, the police or defense attorneys have demanded or recommended to families not to report the cases. Family members have even written to us so that we remove people from the list, "says Laritza Diversent, director of Cubalex, to BBC Mundo.
According to the lawyer, the release has not meant the end of the legal processes for those who have been released: some face from fines, bonds and house arrest to waiting for appointments for trials or results of appeals.
The situation, however, is more critical for those who are still imprisoned in a country that is experiencing its worst moment in the coronavirus pandemic, with thousands of positive cases and dozens of deaths every day, collapsed hospitals, lack of essential medicines, lack of ambulances and insufficient health personnel.
These are the faces and stories of some of those still in prisons.
BBC Mundo contacted the International Press Center of Cuba to request an interview with Cuban authorities to find out the government's position on the protests and the complaints contained in this story, but did not receive an immediate response.
---
Rocío Brito Torres, 22 years old. Killings
Karoline Pereira Brito, a one-year-old baby in the province of Matanzas, in western Cuba, has not been able to breastfeed for almost a month.
His mother, Rocío Brito Torres, 22, was arrested while visiting a neighbor on July 20, nine days after the protests, as part of the raids that took place in the weeks after the marches.
"The baby is not breastfed because her mother was taken to prison. She is very affected because she was very attached to her, they had never been separated. And breastfeeding was a fundamental part of her diet, because she is still not very used to puree (porridge), Elizabeth Álvarez, Brito Torres' mother-in-law, tells BBC Mundo.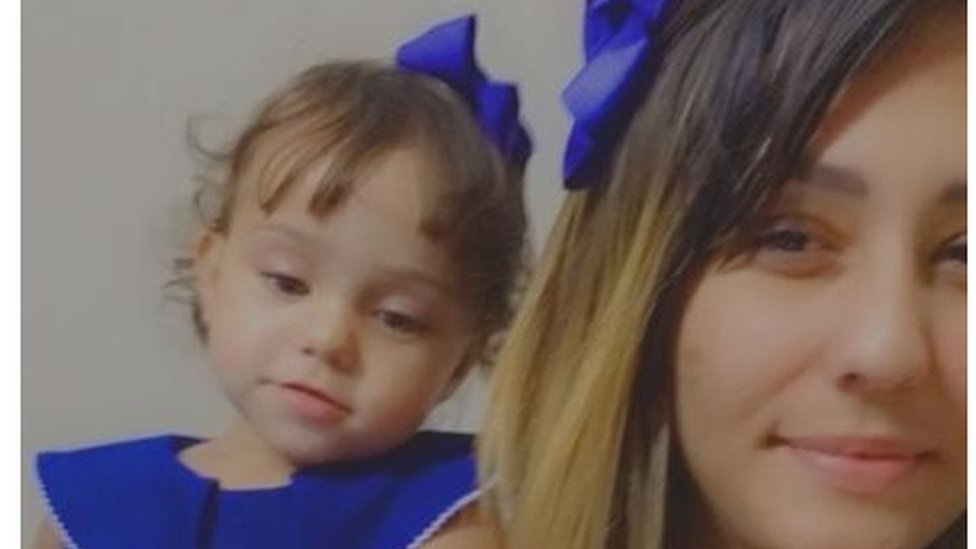 "Rocío is also very bad. The times he has been able to speak from prison, he has said that his breasts are bursting and in pain because his milk accumulates, "he says.
According to her testimony, which BBC Mundo verified with another person close to the family, Rocío was arrested for having participated in the chats in which the protesters were calling to take to the streets.
"When they arrested her, Rocío was with the girl at a neighbor's house. They take her away and leave the girl in the same house as the neighbor where she was, "says Álvarez.
Rocío's father died of covid while the young woman was in jail and she was not allowed to go out to accompany her family.
"We ourselves understand that she had coronavirus in prison and we do not know for sure her status. No one has been able to see it. The police tell us that it is fine, but if there are no medicines and treatments for those in hospitals, what will be left for those in prisons? "He adds.
Christopher Lleonart Santana, 14 years old. Havana
"My son's name is Christopher Lleonart Santana. She is 14 years old and since the age of 5 she has had psychiatric treatment because she has a mental disability, "Naika Rosa Santana tells BBC Mundo.
On July 17, the mother remembers that there was a knock on her door at around 3:00 AM.
"It was the police. They asked me to wake up my child. I woke him up. They looked at it. They compared it to a photograph and left. But a while later they touched me again and told me that they were taking him away ".
Santana says he was then transferred to a police station. They kept him there for 12 hours "under investigation" and then they took him to a juvenile prison called "el Combinadito".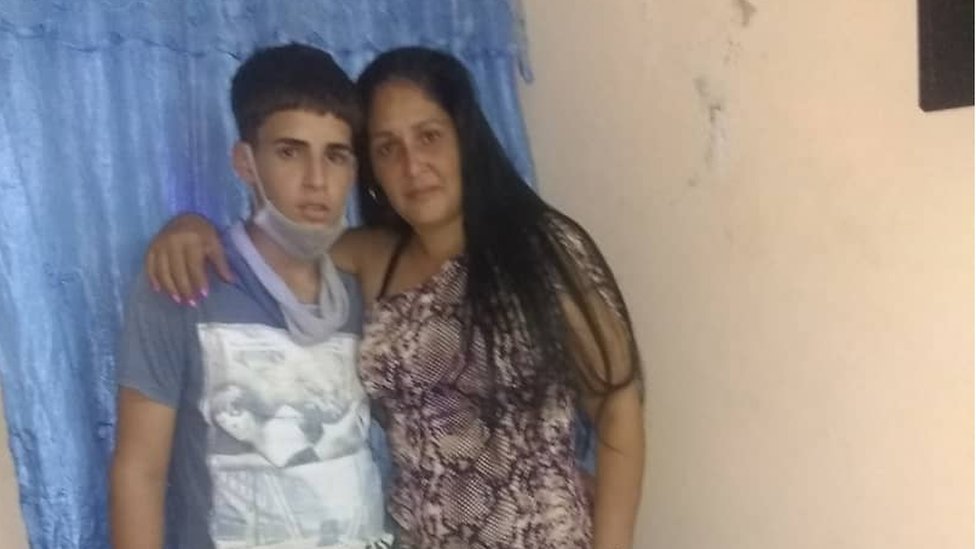 According to data from Cubalex, about a dozen minors are still in jail for events associated with the 11J protests. Christopher is the youngest of all that have been documented so far.
"Since then I have not been able to see him. He's only called me a few times on the phone. The first few days he told me that they were mistreating him, that they were beating him, and that made me very bad because I know that he would not invent something like that if it weren't true ", says the mother.
"Also, he had not been taking his medications until today (August 9), which was when they allowed me to bring him his medications and present the certificates of his mental illness, but I could not see him."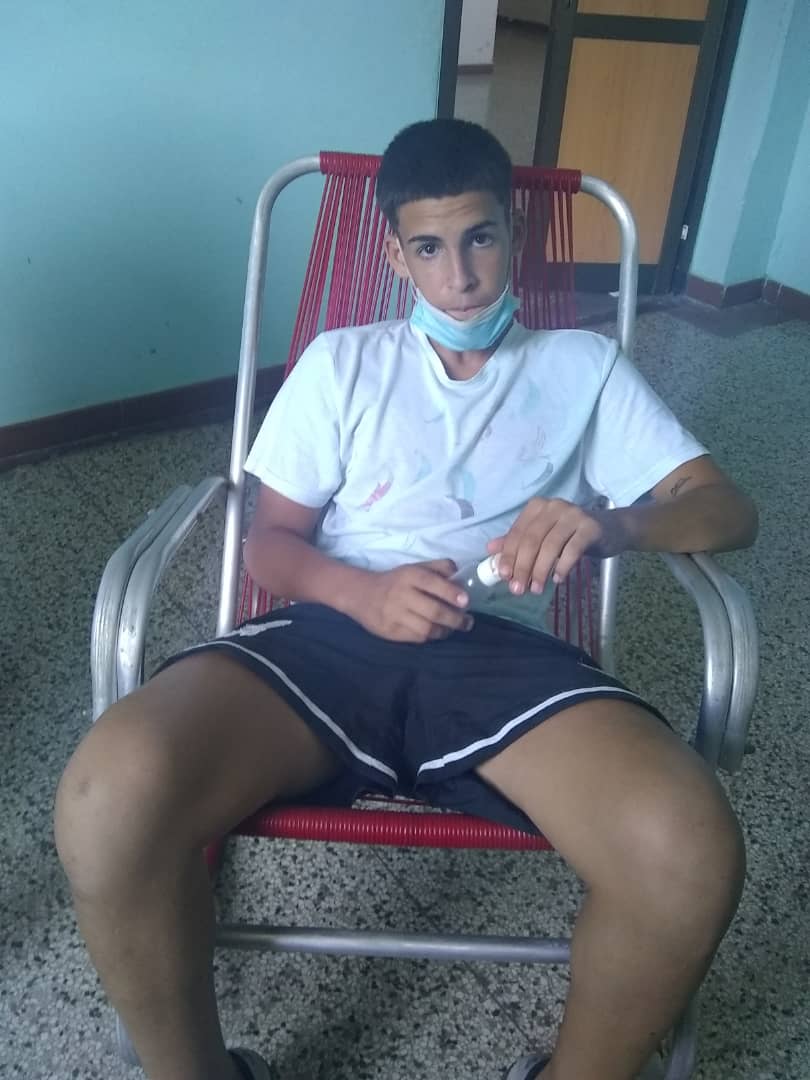 According to the mother, the authorities accuse him of having thrown a stone at a state store together with other minors, although it is not clear when this happened.
"They told me they were taking him away because things are very bad because of the protests. An officer told me that the boy signed a statement acknowledging that he did so. I don't know if he really did or they made him sign. But even if he did, he is a minor, and they can't treat him like that for throwing a stone, "he says.
Naika confesses that she fears for the physical integrity of her son, who has tried to take his own life on other occasions as a result of a crisis due to his different abilities.
"I am afraid that I can try again now in those conditions and away from me," he says.
BBC Mundo previously contacted Unicef ​​to find out its position on the detention of minors in Cuba after the protests.
In a response statement, the organization noted that "given the lack of official and reliable data, as well as the highly sensitive nature of the issue, it is difficult to quantify the exact number of children detained."
"Cuban criminal law establishes that only those over 16 years of age are imputable and recognizes a differentiated treatment to the commissioner of a criminal act who is between the ages of 18 and 20 years," the text indicates.
According to Diversent, for minors like Christopher, the situation is even more complicated, since the current legislation does not allow him even a lawyer.
"Cuba is part of the Convention on the Rights of the Child and there is a protocol on how detention should be, how an interrogation of minors should be. And Cuba is not complying with any of that. The minors have been held incommunicado, the parents are not allowed to see them and are being interrogated without the presence of the parents or a legal assistant, "he says.
Edelmer Góngora, 37 years old. Holguin
Dayamí Góngora says the last she heard from her brother is that he was in jail with a fever and feeling down. Since then, he fears that he is also with coronavirus.
"His instructor (the policeman who attends his case) and his lawyer are also with covid. And from what he told me he was feeling, it seems that he has it too and I am very worried because he is a sick person, "she tells BBC Mundo.
Edelmer Góngora, 37, is a charismatic street vendor from Holguín who suffers from a rare disease called multiple exostoses, a genetic disorder that causes serious motor problems.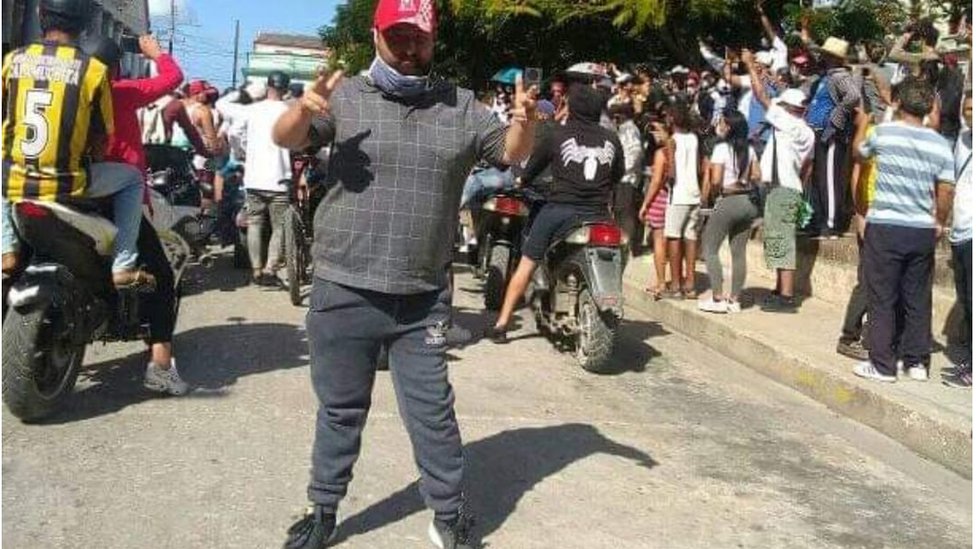 "They cannot tell him that he threw stones because he cannot move his hands or legs well, he has had several operations since he was a child. But they still took him to prison for going to the protests, "says the sister.
"We have only managed to talk to him a couple of times on the phone. There in jail he gave him scabies (scabies), his back is burned, and now that fever. To make matters worse, they denied him bail. It is a total lack of humanity what they are doing with my disabled brother ", he adds.
Dayron Fanego, 22 years old. Mayabeque
When Miriela Cruz Yanis learned that her 22-year-old son Dayron Fanego had been arrested, she made a desperate decision: she painted a T-shirt. She didn't show it to anyone and put it under her blouse.
"I was crazy. I wanted to know about him and I thought: if they don't tell me about my son, then let them take me to prison with him ", he recalls in dialogue with BBC Mundo.
Fanego had been arrested on July 13. According to the testimony of several neighbors, he was with a group of friends, also young, in a doorway, when a special police squad arrived and took them all prisoner.
But Miriela assures that her son was not at the demonstrations in her town on the 11th, although like many relatives she says that she faced numerous obstacles in order to find out the whereabouts of her family.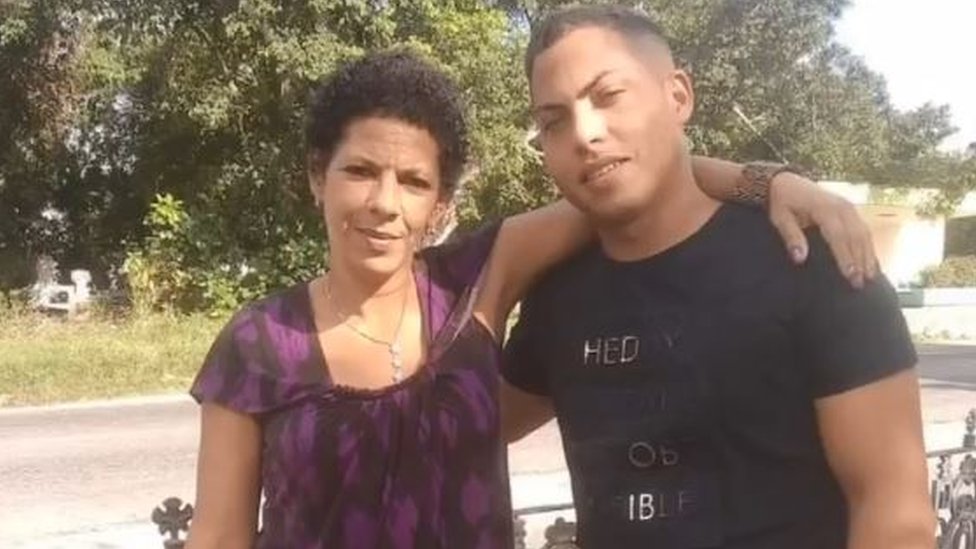 "I then went to the police station to ask about him and they didn't want to tell me anything about my son. I then asked them as a local to put me in jail with him and they told me they couldn't do that. Then I said to him: 'Of course they can. And that's when I took off my blouse. "
Underneath was the shirt and the strategy he had thought of earlier. He had written: "Killers." "Down with Díaz-Canel", "Down with the dictatorship", "No more hunger", "No more repression" …
"There they tore my pullover and handcuffed me. They left me in adjusters (female bras). They beat me mercilessly. They treated me like one more bitch. They hit me so badly that I defecated. They later transferred me like this to the prison and made me get off the patrol car and pass in front of the police men in adjusters and dirty ".
"I explained to them that I have lung cancer, but they didn't care. I was imprisoned for seven days, four of them without my medications. In those days I had to have a CT scan and get the lung cancer vaccine and I couldn't go because I was detained ".
She was released on bail of 8,000 pesos (about US $ 330) and charged with robbery with violence. He says he signed the release order without knowing what it said, because he couldn't see without his glasses.
However, Miriela says that what hurts her most of all is the confinement of her son.
"That's what keeps me from sleeping. My son told me that six of them had hit him. Something that one of those who was imprisoned with him also told me. That's what hurts me the most. I don't care about the blows they gave me, I don't care about my cancer, but a mother cannot think that they are doing that to a little boy of yours ".
---
Now you can receive notifications from BBC Mundo. Download our app and activate them so you don't miss our best content.