A video recently posted on social media shows a Taliban militant manning one of America's weapons icons: a powerful Black Hawk helicopter, stationed at the airport in the Afghan city of Kandahar.
Although this aircraft never took flight, the truth is that the video sent a message to the world: the Taliban are no longer a group of ragged fighters who fight armed with only Kalashnikov rifles and jeeps adapted as war tanks.
Since the fall of Kabul on August 15, Taliban militants have repeatedly displayed – almost as if they were showing off – American-made weapons.
Some of them appear dressed in combat suits in social media posts and it is almost impossible to differentiate them from other special forces soldiers around the world.
You don't see the characteristic long beard or traditional garb, and you certainly don't see rusty weapons.
All of these weapons were taken from Afghan National Defense and Security Force (ANDS) troops, who surrendered when the Taliban advanced on Kabul.
Some have even commented online that the Taliban is the only extremist group with an air force of its own.
How many planes do the Taliban have?
The Afghan Air Force was operating 167 aircraft, including strike-capable aircraft and helicopters, according to late June data from the office of the Inspector General for the Reconstruction of Afghanistan (Sigar).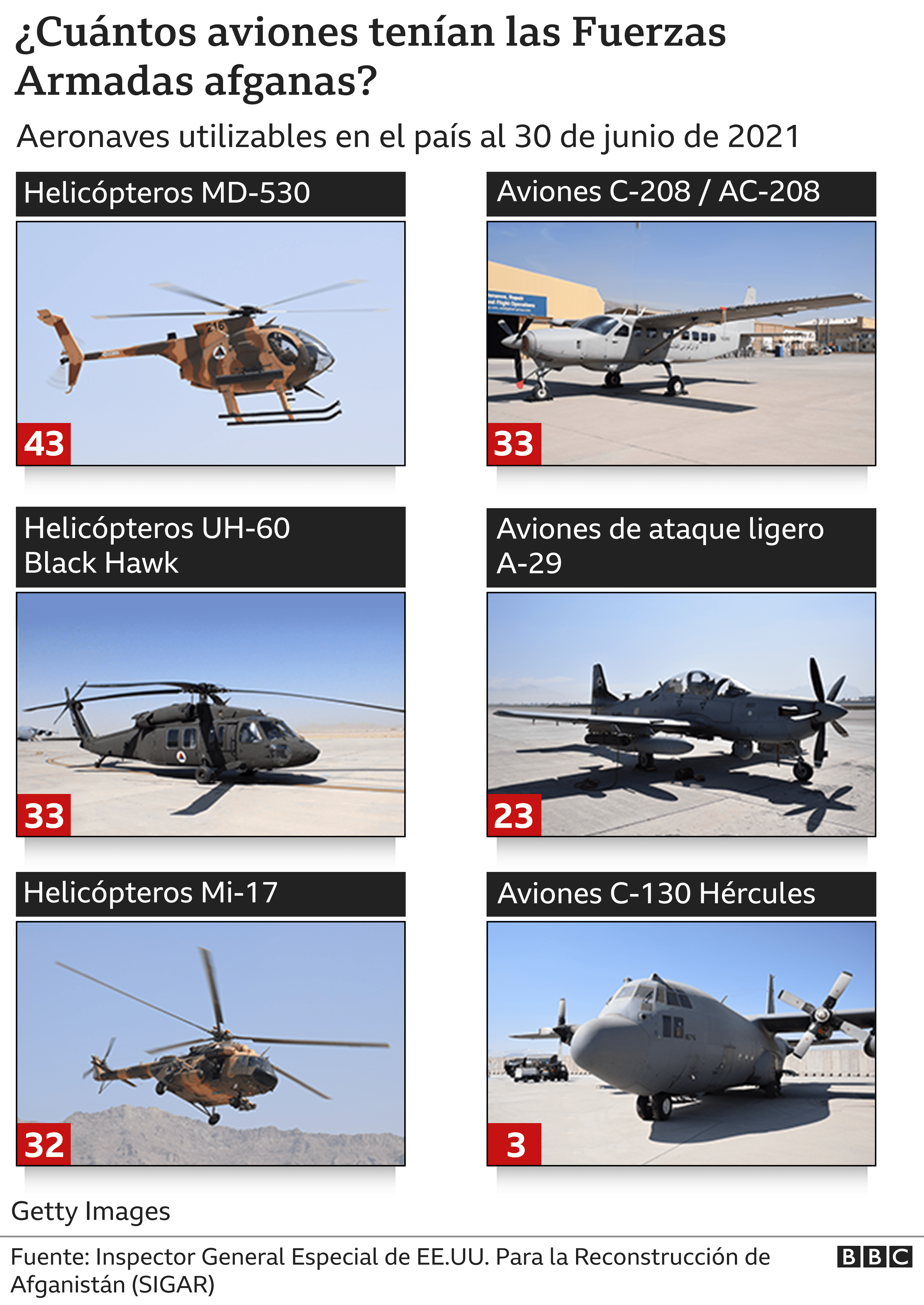 ---
However, it is unclear how many of those 167 were taken by the Taliban.
The images of the Kandahar airport, which were given to the BBC by the company Planet Labs, show many of those Afghan army aircraft parked on the runway.
An image taken six days after the arrival of the Taliban in Kandahar shows six aircraft: at least two MI-17 helicopters, two Black Hawks and a third helicopter that could also be a Black Hawk, according to Angad Singh, an expert in Military Aviation from the Observer Research Foundation.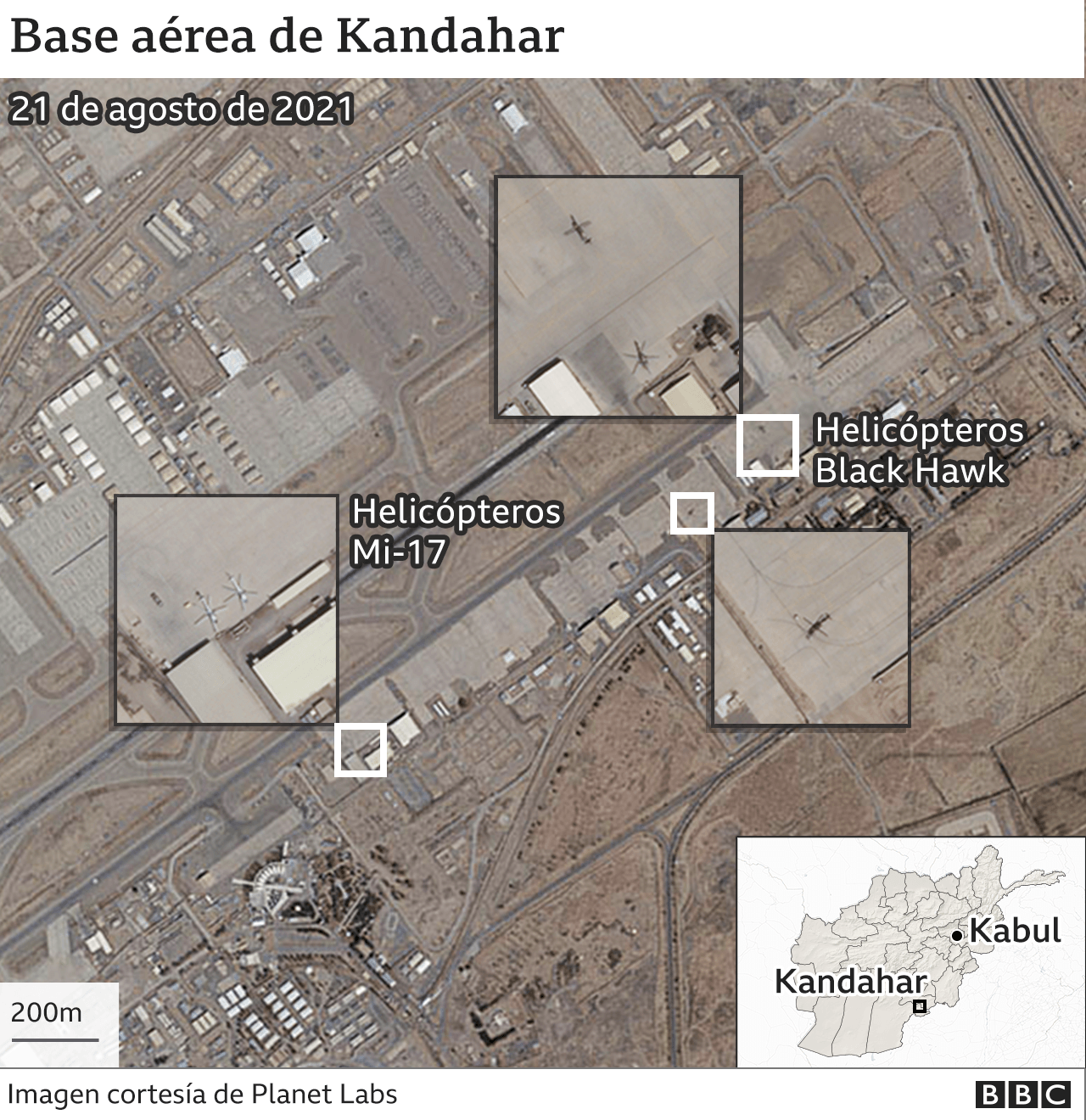 ---
In contrast, 16 aircraft – including nine Black Hawks, two MI-17 and five aircraft – can be seen in another satellite image taken on July 16.
That means that many of those aircraft they were taken out of the country or transferred to other air bases.
The Taliban also captured the other nine air bases, including those that were located in Herat, Khost, Kunduz and Mazar, but it is also unclear how many aircraft they managed to seize, as there are no satellite images available of those airports.
Taliban fighters and local media have published photos of aircraft and drones seized at these airports.
Some independent portals the internet have geolocated some of these planes.
But it has been suggested that several of these aircraft were taken out of Afghanistan before they could fall into the hands of insurgents.
An analysis of satellite images taken on August 16 over the Termez airport, in Uzbekistan, shows more than two dozen helicopters, including MI-17, MI-25, Black Hawks and also aircraft such as A-29 and C-208, designed for light attacks.
Security experts from the CSIS think tank pointed out that these planes and helicopters could be from the Afghan Air Force.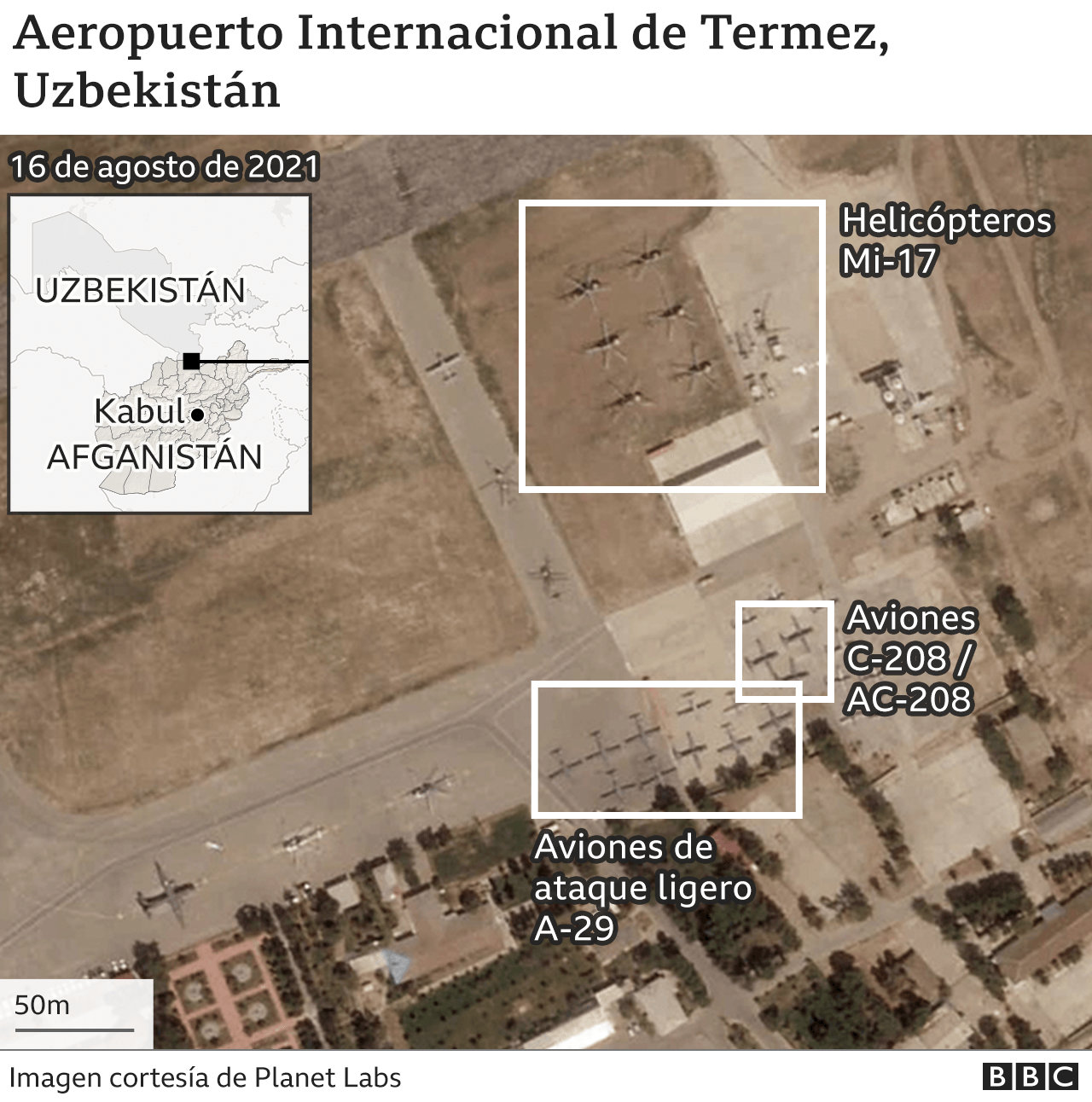 ---
What other combat equipment has the Taliban inherited?
While there are still doubts about the air power the Taliban now have, experts agree that they have experience handling sophisticated weapons, rifles and vehicles.
And there is a lot of that in Afghanistan.
Between 2003 and 2016, the US supplied the country with an enormous amount of military equipment for the Afghan forces: 358,530 different types of rifles, more than 64,000 machine guns, 25,327 grenade launchers and 22,174 combat trucks (known as Humvees), according to the report of the US government itself.
After NATO forces completed their work on Afghanistan In 2014, the Afghan army was tasked with ensuring the country's security.
But, as the difficulty of fighting the Taliban became evident, the US gave them more equipment with which they replaced the old ones they already had.
At that time they were handed over 20,000 M16 rifles. And in the following years, they continued to supply at least 3,598 M4 rifles and 3,012 Humvee pickups for the Afghan military, according to Sigar.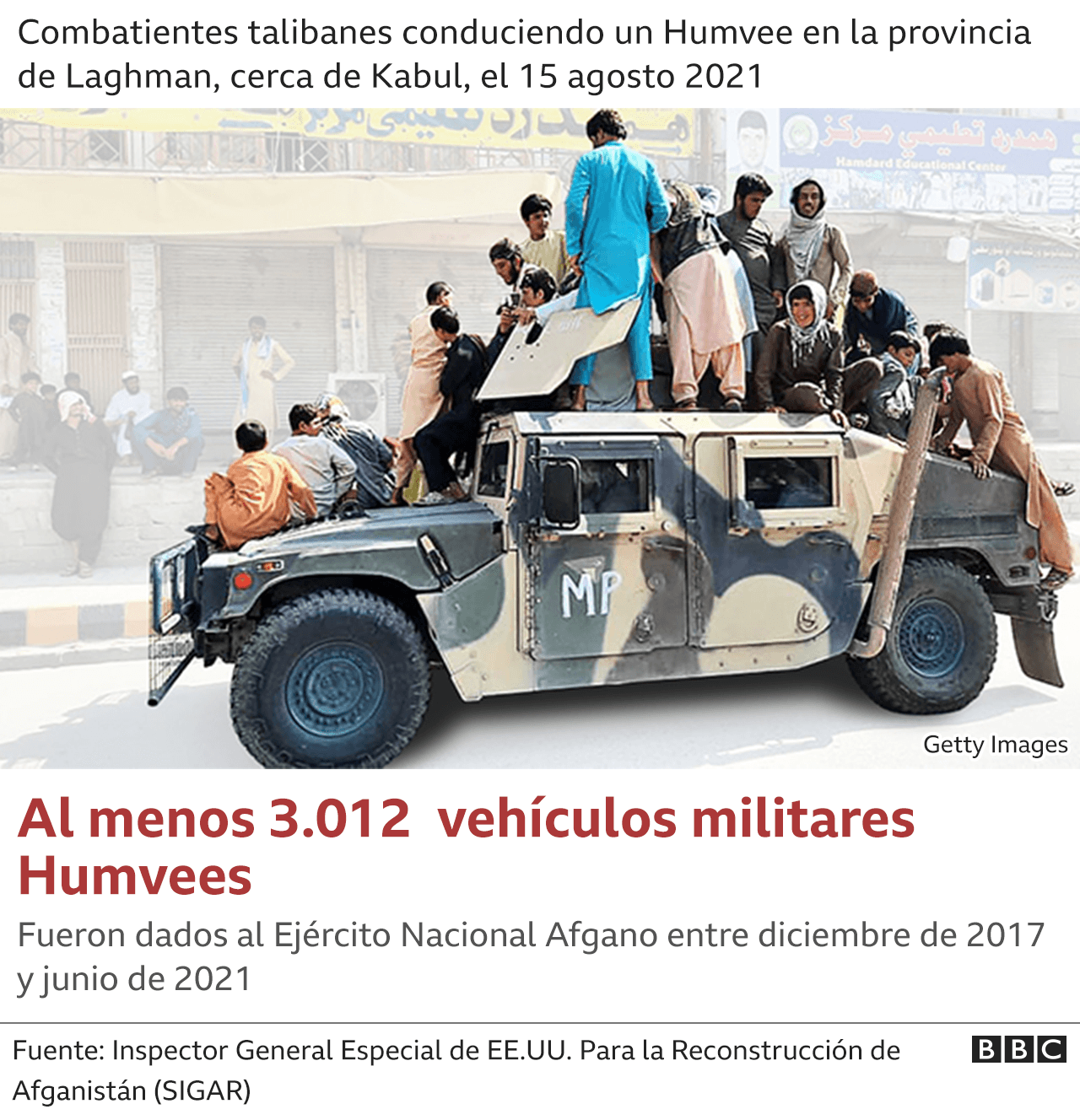 ---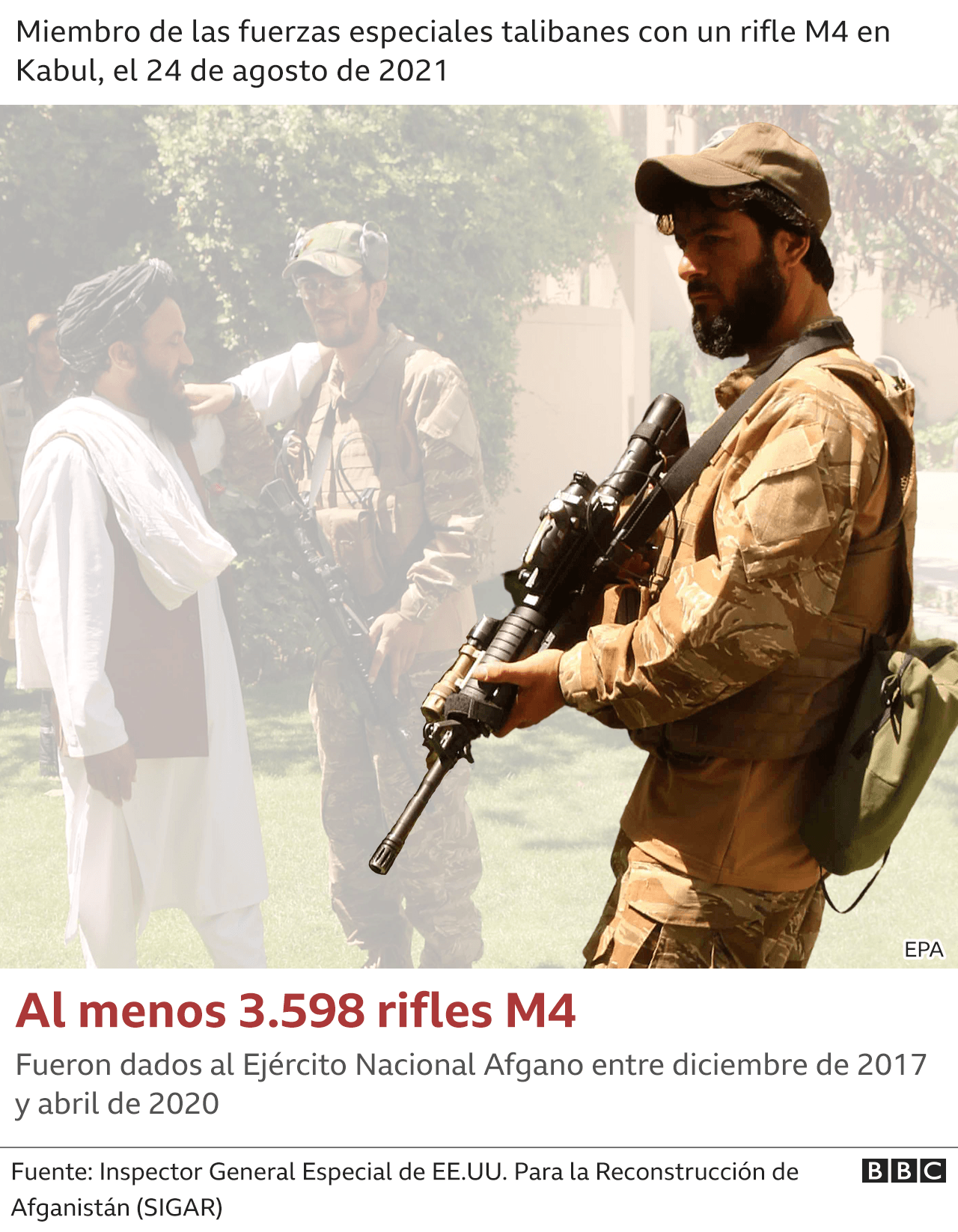 ---
The Afghan army also had vehicles from its mobile strike force, which it used for short-planned operations. These 4x4s can be used to transport people or equipment.
What could the Taliban do with their new arsenal?
It depends on what they have.
Taking over the aircraft may be easy for the Taliban, but operating and maintaining them will be difficult.
This is explained by Jonathan Schroden, director of the CNA consulting group, which advised US forces in Afghanistan. This expert points out that these aircraft need checks and repairs that were carried out by groups of specialized technicians in each type of device.
Parts often need to be repaired, and sometimes replaced, and an air force relies heavily on the team of technicians who work to maintain the airworthiness of the fleet.
For Jodi Vittori, professor of global politics at Georgetown University, it is true that the Taliban do not have the experience to ensure that these aircraft remain operational.
"So there is no immediate danger", He points out.
However, the Taliban will try to coerce some former Afghan pilots to make these planes fly. This is pointed out by Jason Campbell, a researcher at the Rand Corporation and former director of the Afghanistan Office of the US Department of Defense.
"They are going to threaten them and their families. It is possible that some of these devices will fly, but in the long term this is not seen as a clear threat", Explain.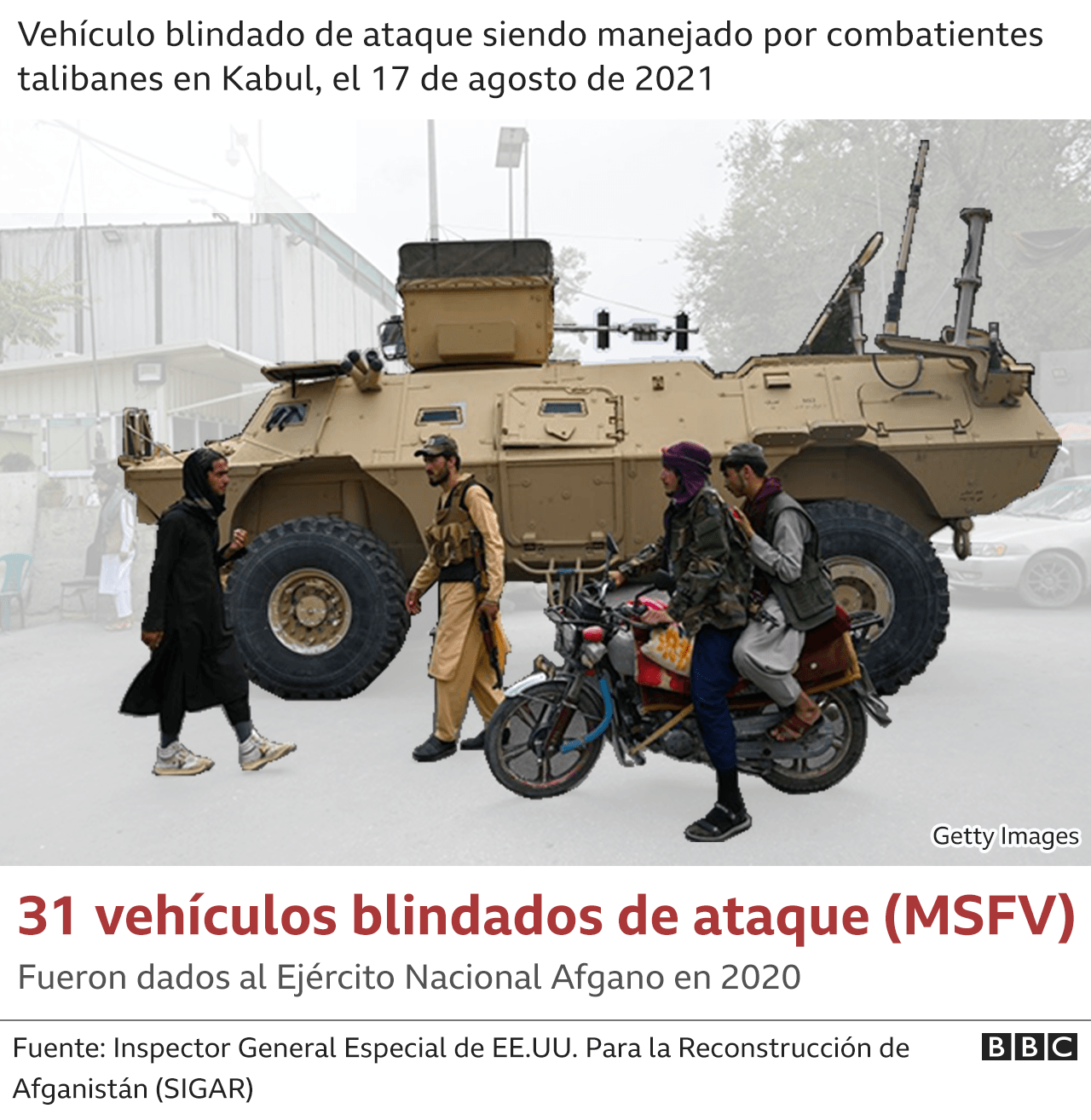 Black market?
And the Taliban will likely be able to operate the Russian-made MI-17s that have been in the country for decades. Otherwise, they may seek help from other countries for maintenance and training.
Now, ground weapons will be much easier for the insurgents to handle. Even the soldiers Taliban infantry seem comfortable with the equipment they have seized.
Over the years, with some facilities taken and some deserters from the army who have brought them experience, they have come into contact with these types of weapons.
That the taliban have access to such modern weapons is a "colossal failure", says Michael Kugelman, deputy director of the Wilson Center in Washington.
But the effects will not be limited to Afghanistan. It is feared that small arms may start to appear on the black market and to feed other insurgencies around the world.
It's not an immediate risk, Vittori says, but a supply chain could develop in the coming months. The responsibility for stopping this rests with neighboring countries such as Pakistan, China and Russia.
For their part, Campbell notes, the Taliban seem willing to project a responsible image, although they will find it difficult not to support ideologically similar groups around the world.
The unity among the taliban it is another crucial factor that will influence the way these weapons are used.
Vittori points out that there is a possibility that groups within the Taliban alliance may decide to leave, taking their weapons.
So much will depend on how the leaders hold the group together when the initial euphoria of taking control of Afghanistan subsides.
Additional reporting from David brown
---
Now you can receive notifications from BBC News Mundo. Download the new version of our app and activate them so you don't miss out on our best content.