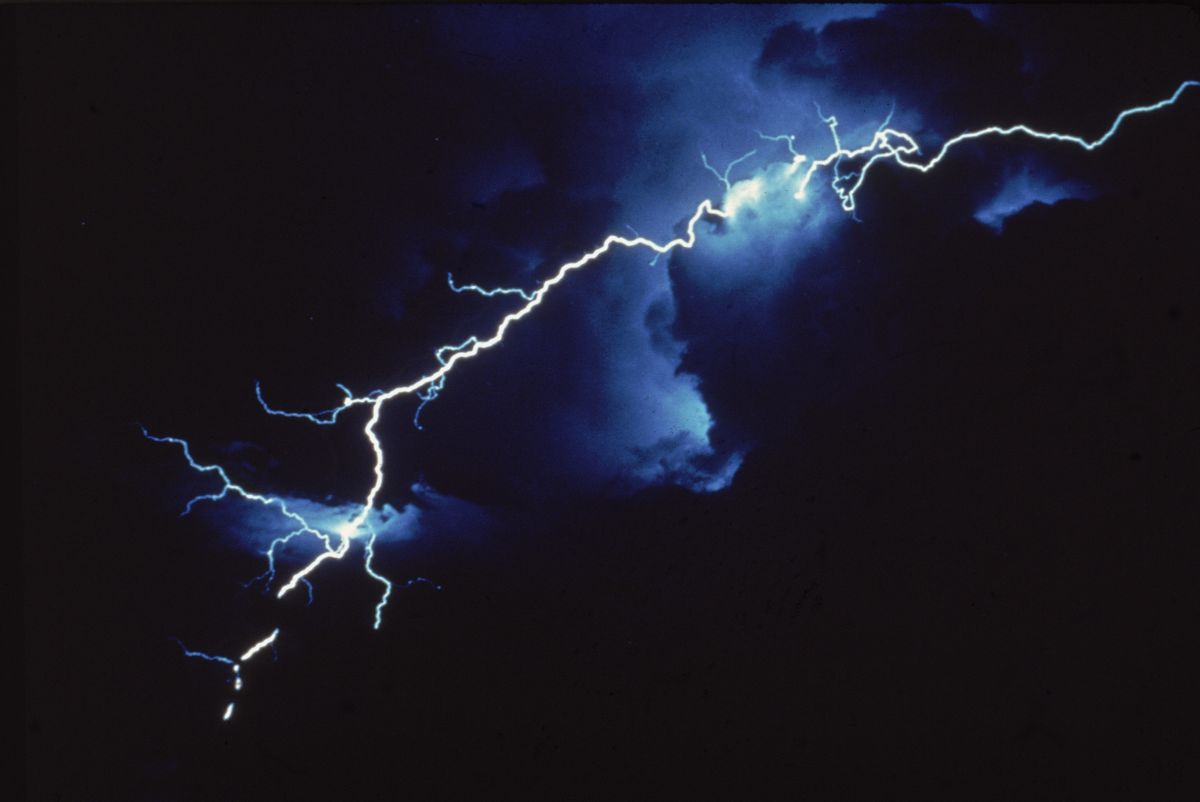 Photo: Hulton Archive / Getty Images
Several people were injured in North Carolina around noon Friday after lightning struck a popular mountain.
At least seven people were injured by the lightning, which occurred at MacRae Peak on Grandfather Mountain, WECT reported. Grandfather Mountain is located southwest of Boone, North Carolina.
There was an incident on Grandfather Mountain earlier today when a storm came up abruptly and seven hikers around MacRae Peak, which is located in the backcountry of the mountain, felt the effects of a nearby lightning strike. pic.twitter.com/ZLDSoHnItt

– Grandfather Mountain (@GrandfatherMtn) August 13, 2021
Grandfather Mountain officials reported that seven hikers who were in the vicinity of MacRae Peak felt the effects of the nearby lightning after an abrupt thunderstorm broke out.
#DidYouKnow that @NOAA's #GOESEast and #GOESWest satellites have a Geostationary Lightning Mapper (#GLM) instrument that detects lightning?
Check out all the flashes it saw yesterday across North America!
We can also see Tropical Depression #Fred near Cuba. pic.twitter.com/pcEJnKJEdI

– NOAA Satellites (@NOAASatellites) August 13, 2021
Authorities said the hikers sustained injuries, but the seven were able to evacuate the trail on foot.
One person who fell and seriously injured his head was able to make it out of the way to the ambulance, where they were evaluated and taken to a nearby hospital.
Another person was burned by the lightning. All other injuries from this incident were considered "minor."
The incident occurred on the Grandfather Mountain State Park property, but a team of people from the Grandfather Mountain Stewardship Foundation (the nonprofit that runs the adjacent attraction) assisted with the incident, as well as several other local management groups. emergencies.
MacRae Peak reaches an elevation of 5,844 feet and features some sections that leave hikers exposed to the elements, although it is unclear where exactly the seven people were located when the lightning struck.
A severe thunderstorm warning was not issued for this storm, but a thunderstorm does not need to be severe to be dangerous.
According to the National Weather Service, a severe thunderstorm is a storm that has the potential to generate hail the size of a quarter or wind gusts of at least 58 mph.