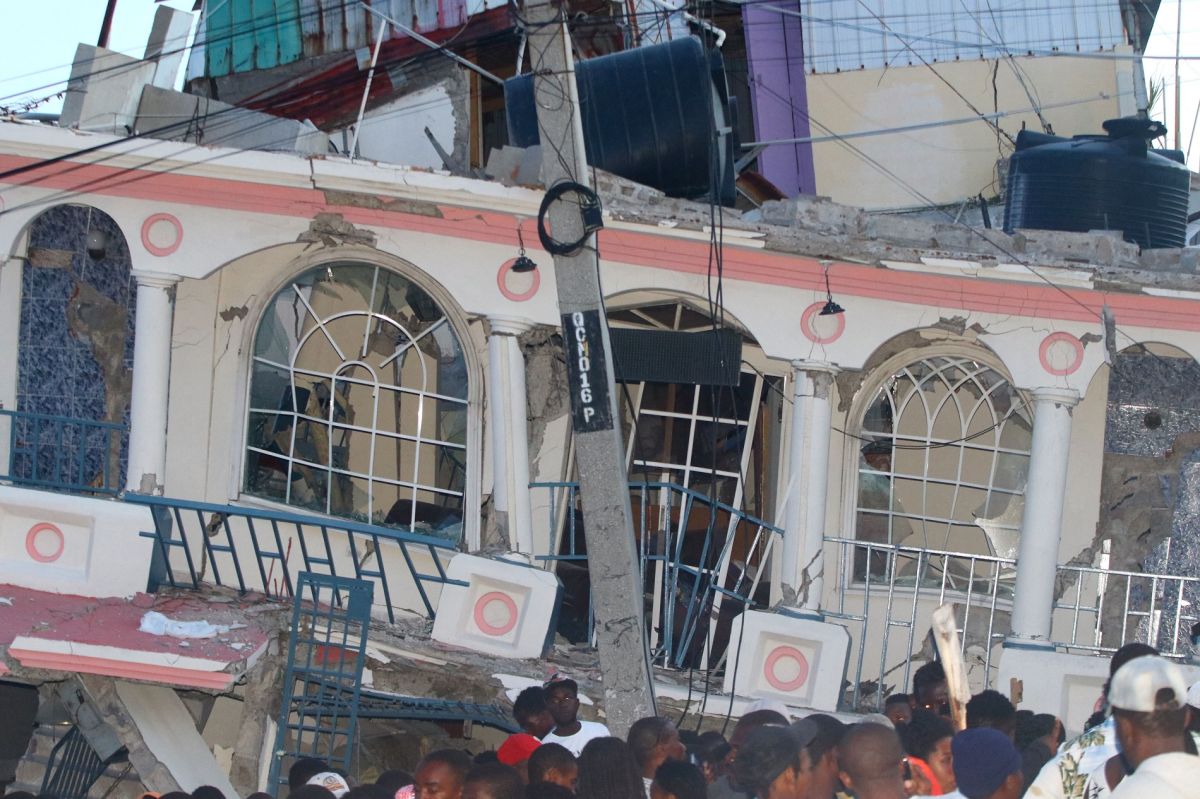 Photo: STANLEY LOUIS / AFP / Getty Images
The death toll from the earthquake in Haiti reaches 724, according to local authorities, but the program for the rescue of people and recovery of bodies could be complicated by the arrival of Tropical Storm Grace, in addition to the threat of local gangs.
Heavy rains are expected on Monday, leaving rescuers in a difficult situation to continue their work, supported by US experts, while the death toll barely doubled in 24 hours.
The US Agency for International Development (USAID) deployed a 65-member search and rescue team, but the situation is difficult in the country, as "violent gangs" are hindering rescue efforts, acknowledges a United Nations report.
On Saturday, the USAID administrator, Samantha Power, He said he spoke with the Prime Minister of Haiti, the Dr. Ariel Henry, after the 7.2-degree earthquake, and this Sunday relief actions were reported.
"Today, at the request of the Government of Haiti, USAID is deploying an urban search and rescue team to join the Disaster Assistance Response Team.", the agency said in a statement
He adds that the team includes 65 first responders and 4 canines who will join the search operations.
"The team is being deployed with 52,000 pounds of specialized tools and equipment, including hydraulic concrete breakers, saws, torches and drills, along with advanced medical equipment to assist them in search and rescue operations," it was noted.
Five additional members of the Fairfax County Fire and Rescue Department were also dispatched to provide technical support to the United Nations Disaster Assessment and Coordination Team amid the threat of the tropical storm.
"Tropical Storm Grace is rapidly approaching and is expected to reach Haiti in 48 hours, which could expose people to further devastation in a matter of days.", the Biden Administration acknowledged.
The US efforts were in response to the Ambassador's request, Bocchitt Edmond, who said there are dozens of people under the rubble and it is possible to help them.
"We have news that in some parts of the country there are probably people under the rubble and we want to give them a chance," Edmond said, quoted by the The Washington Post.
Saturday's earthquake is the strongest, but having been far from the capital, the death toll so far is much lower than the 222,000 reported in 2010.
In addition to the 724 confirmed deaths, at least 2,800 people were injured and nearly 7,000 people were left homeless.
Rescue operations include the deployment of teams to clear roads and bridges that were damaged by the earthquake or blocked by landslides.
Rescuers are also focused on securing medical supplies and food to disaster sites, although hospitals face shortages to care for the injured.
At least three urban areas in the southern region, Jeremie, Les Cayes and Baradères, were reported to have suffered significant damage. Dozens of families have had to sleep on the streets.