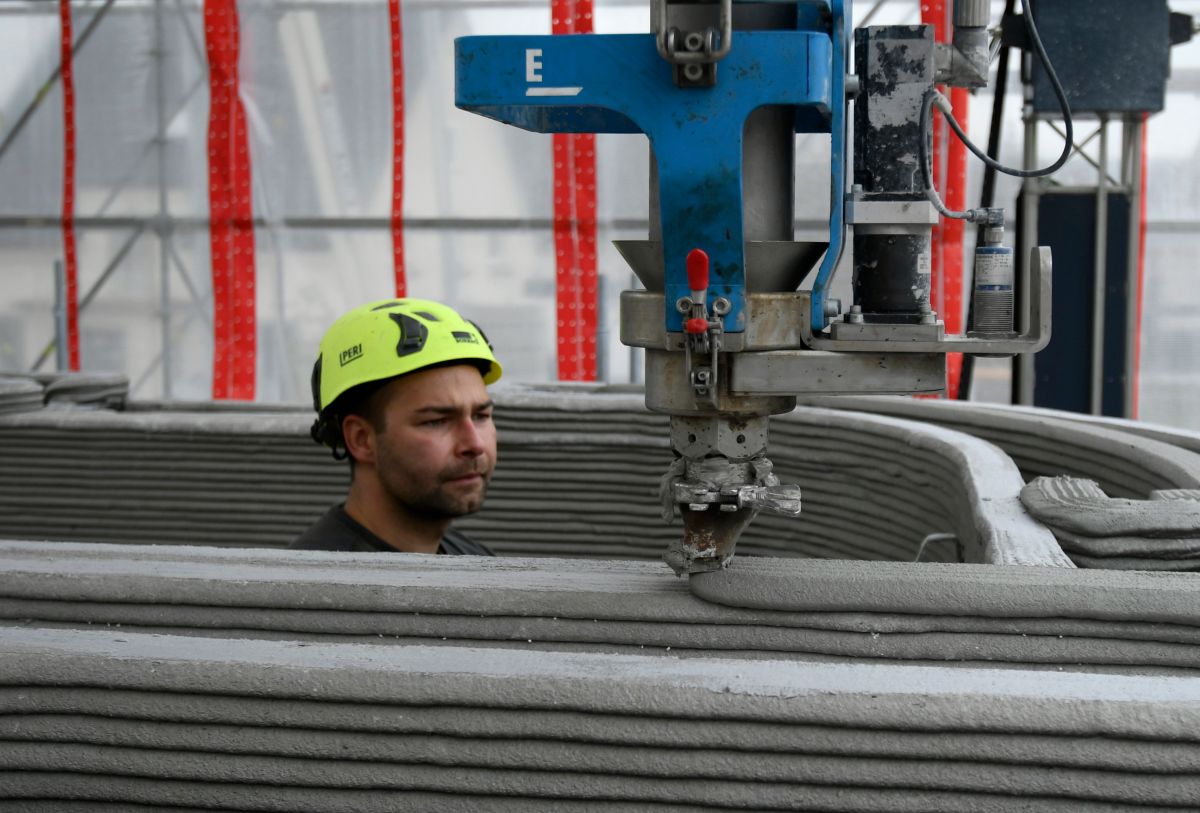 Photo: INA FASSBENDER / AFP / Getty Images
A non-profit organization, associated with a Mexican and an American company they are building a whole community of 500 houses on the outskirts of Nacajuca, Tabasco using a large format 3D printer.
Each new 500-square-foot (46.5-square-meter) home it will have two bedrooms, a finished kitchen and bathroom and interior plumbing.
All these houses are built with an 11 foot tall 3D printer.
New Story, a San Francisco non-profit organization focused on providing housing solutions to communities in extreme poverty, in partnership with Throw it out, a social housing production company in Mexico, and Icon, a construction technology company. in Austin, Texas they are in charge of the project.
Ten of the homes in Nacajuca were made with a Vulcan II printer from Icon, a construction technology firm.
When New Story began building the village in 2019, it was called the world's first community of 3-D printed houses.
Two years and a pandemic later, 200 houses are under construction or have been completed, 10 of which were printed on-site by Icon's Vulcan II printer.
Plans are being prepared for roads, a soccer field, a school, a market and a library.
"Single-family homes are a good testing ground for the durability of 3-D printed construction because they are small and offer a repetitive design process without much height," Henry D'Esposito, who heads the New York Times, told the New York Times. construction research at JLL, a commercial real estate firm.
They can also be built to tolerate natural disasters, as Nacajuca is in a seismic zone and the houses there have already withstood a 7.4 magnitude earthquake.
In Nacajuca, build a house with Icon's Vulcan II printer It looks a lot like a huge soft serve ice cream cone: Layers of lavacrete and the company's proprietary concrete mix are poured one after another in long swirls.
The printer is controlled by a tablet or smartphone, requires as few as three workers and can complete a home in less than 24 hours.
"We know that being able to build faster, without sacrificing quality, is something we have to make big strides in if we are to make a dent in the housing issue in our lives," said Brett Hagler, CEO of New Story and one of the four founders.
Échale, who has been operating in Mexico for 24 years, helped New Story select residents for the new homes as needed.
He decided to sign the titles of each house not to a whole family but to the woman of the house.
"It's to protect the family," said Francesco Piazzesi, Échale's CEO. "A man will sell a house if he needs it. A woman will do whatever she has to do to save her children's home and her family. "
Échale hires local workers to build their own communities, so placing a 3D printer from an American tech company in the heart of a rural village was a game changer.
After a pandemic-related boom from printing objects like test swabs, protective gear and respirator parts, the 3D printing market is forecast to be worth $ 55.8 billion by 2027, according to Smithers, a technology consulting firm.
Related topics
* Father and son print their own Lamborghini in Third Dimension (3D)
* The first family to move into a house built with a 3D printer
* How are the 3D houses that are printed and built in 48 hours




Source-laopinion.com