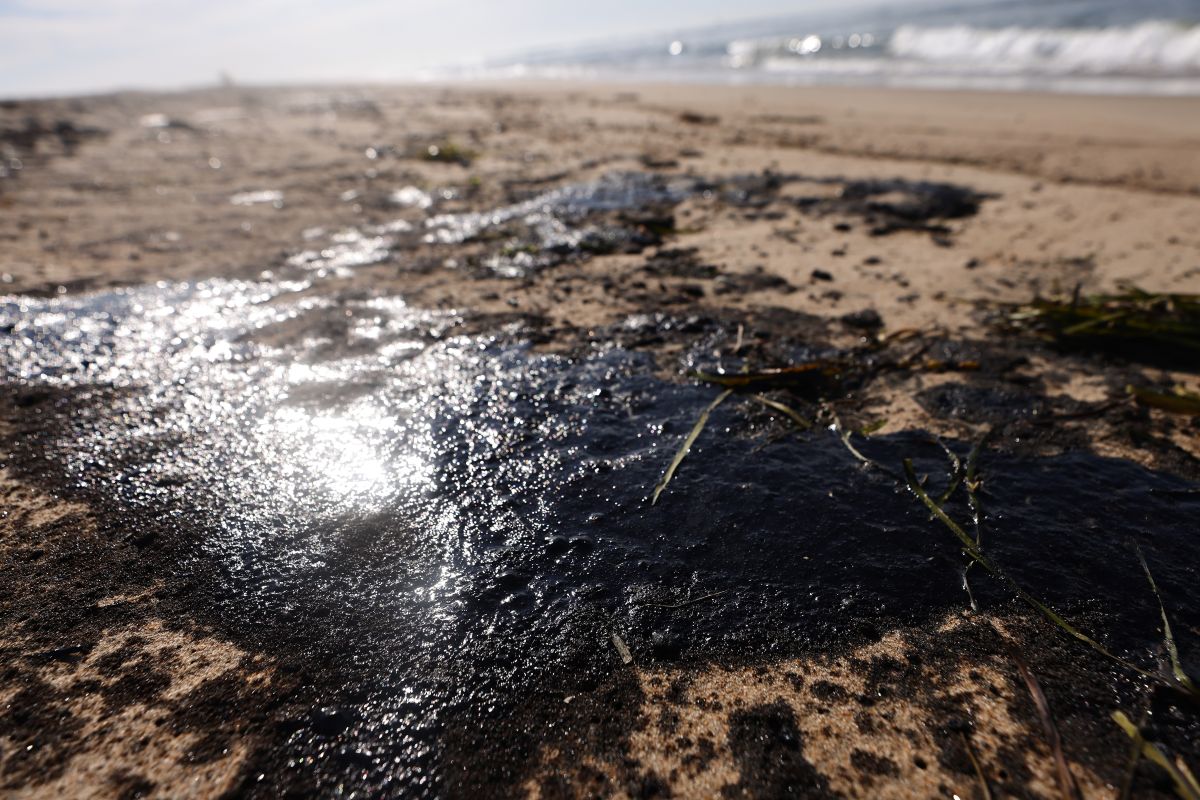 Orange County Prosecutor Todd Spitzer on Monday demanded that an independent investigation be conducted to identify the cause of the weekend's massive oil spill that spanned about 13 square miles between the Huntington Beach and Newport Beach piers. .
The leak, reported Saturday morning, was at least 126,000 gallons of crude.
Spitzer made this claim on Monday after speaking with Martyn Willsher, president of the Amplify company to which the pipeline belongs. Willsher said he was already conducting an investigation and his divers were going to try to determine the location of the pipeline rupture.
"If that's not done independently, it's a sham," Spitzer stressed. "That company should not be responsible for leading its own investigation into the hundreds of millions of dollars devastation it did to our environment and our economy. We are going to feel the impacts of this oil spill for generations. "
By Sunday afternoon there were already 14 boats conducting oil recovery operations and three boats from the Coast Guard, which led the response to the spill. A safety zone was imposed at 1,000 yards (914 meters) around the oil spill canisters and by air, four planes assessed the damage and progress.
So far some 3,150 gallons of oil have been recovered from the water and 5,360 feet of barrier has been deployed to control the spread of the fuel.
Spitzer said Willsher estimated the break was likely caused by an anchor, which he doubts. He indicated that each ship has a GPS to inform its location and that is why a "legal, complete and transparent" investigation is needed; it must also be supervised by Coast Guard divers or Orange County Sheriff's Department divers.
"[Amplify] You shouldn't get anywhere near that pipe. They are biased, they are self-interested and they are going to do everything they can to try to reduce their damage, "Spitzer said. "No one from that company should touch that pipe."
The Beta company has been cited 125 times since 1980, according to a database from the Office of Environmental Safety and Compliance, the federal agency that regulates the offshore oil and gas industry, the Associated Press reported.
Regulatory records show that the company has been fined a total of $ 85,000 for three incidents. Two of them occurred in 2014, one when a worker not wearing the proper protective equipment was shocked with 98,000 volts of electricity, and another when crude oil was spilled through a barrier where a safety device had been passed through. high incorrectly.
Collateral damage
One of the biggest concerns caused by this weekend's massive Orange County oil spill is the damage it is causing to life at sea.
Michael Ziccardi, director of the UC Davis-based Oiled Wildlife Care Network, said only four oil-contaminated birds have been collected so far but warned that the numbers could still rise dramatically.
Of the four birds, one brown pelican had "chronic lesions" and had to be euthanized, Ziccardi said.
Oiled Wildlife Care Network is the state program charged with collecting and caring for wildlife injured by oil spills.
Ziccardi said that typically, in spills of this nature, the group stays for several weeks or months to continue responding to calls from affected animals. Some may have the oil on their wings and still be able to fly which makes it more difficult to catch them for cleaning.
Although the massive oil spill has not directly affected seafood companies, the owners also continue to monitor the situation.
Such is the case of Michael Ungaro, director of San Pedro Fish Market, a chain of seafood restaurants in different cities in southern Los Angeles County, including San Pedro and Long Beach.
"At this point, we do not anticipate any direct effects," Ungaro said. "The locally caught shellfish that we transport is very north of the spill area."
Ungaro said that if there were to be any changes at the local level they have seafood alternatives
"Fortunately, our planning will be useful if the oil spill causes an unforeseen shortage in the local supply of seafood," he said.
Through a statement Amplify Energy Corp., confirmed that its Beta Offshore subsidiary observed and notified the United States Coast Guard on Saturday of an oil shine approximately four miles offshore in Southern California; at that time its Oil Spill Prevention and Response Plan began.
Additionally, Amplify sent a remotely operated vehicle (ROV) to investigate and attempt to confirm the source of the leak and assured that as a precautionary measure, all the Company's production operations and pipelines in the Beta Field were closed.
The solution
Marce Gutierrez-Graudins, executive director of Azul, an environmental justice organization that works to conserve oceans and coasts, said that the impacts on the community are going to be very extensive starting with the closure of the beaches. Additionally, both tourism and fishing could be affected.
"It is too early to know the extent of the damage but unfortunately we already have experience in this and we know that it will affect and will be quite a big damage to marine fauna, fish and birds," said Gutierrez-Graudins.
He added that as long as oil extraction continues, this type of danger will continue to exist.
"We have to think about what types of energy strategies we are going to use and there we talk about solar energy or wind energy that do not cause these types of spills," said Gutierrez-Graudins.
The director encouraged everyone to call their congressional representatives to support the West Coast Ocean Protection Act proposed by Senator Diane Feinstein and co-sponsored by Senator Alex Padilla.
That proposal would prohibit the complete extraction of oil and gas in federal waters off the west coast; California, Oregon and Washington.
"It is important to talk about these coasts because they are things that usually happen in federal jurisdiction, so in California from the coast 3 miles away it is state property and outside there it is federal," said Gutierrez-Graudins. "So we have to talk about a coordination between the local, state and federal government to get that kind of protections."
Alexandra Nagy, director of Food & Water Watch in California, called on California Governor Gavin Newsom to end all new permits for fossil fuel drilling to protect Californians from future disasters.
"It is time for a just transition away from dangerous fossil fuel infrastructure, whether on land or at sea," Nagy said. "The harsh truth is that fossil fuels create bigger disasters as our climate warms. The Huntington Beach oil spill is the worst in recent times. "
Ziccardi said they are not looking for volunteers at the moment, but they are asking people who see fatty birds not to try to catch them on their own.
"It is not safe for animals because oil can be a toxic substance," Ziccardi said.
Instead he asked that when they see these birds immediately call his hotline at (877) 823-6926.
Closed beaches
So far the beaches of Huntington Beach, Newport Beach and Laguna Beach remain closed.
Beaches from Seapoint Drive south in Huntington Beach to the Santa Ana River Jetty-Newport Beach will also be closed, said Supervisor Katrina Foley, who represents the area.
"The health and safety of our community is the primary concern of our office and residents are advised to avoid affected beaches and wetlands," Foley said.
To know the update visit: socalspillresponse.com/


Source-laopinion.com