Several Afghan women have started a campaign on social media to protest against the strict dress codes that the new Taliban government has imposed on female students.
Using hashtags like #DoNotTouchMyClothes (don't touch my clothes) and #AfghanistanCulture (culture of Afghanistan), many are sharing photos and claiming their colorful traditional dresses.
Sodaba Haidare, a journalist for the BBC, spoke to the woman behind the initiative, Afghan academic Bahar Jalali.
If you Google "traditional Afghan clothing", you may be overwhelmed by the result: dozens of images of multi-colored clothing.
They are unique, with handmade embroidery and colorful designs, small mirrors carefully placed around the chest, long and pleated skirts, perfect for spinning during the Attan, national dance of Afghanistan.
Some women wear embroidered hats, others heavy headdresses, depending on which region of Afghanistan they come from.
In the last 20 years, dozens of women have worn the simplified version of this everyday outfit to go to college or work, sometimes replacing skirts with jeans, hats for handkerchiefs.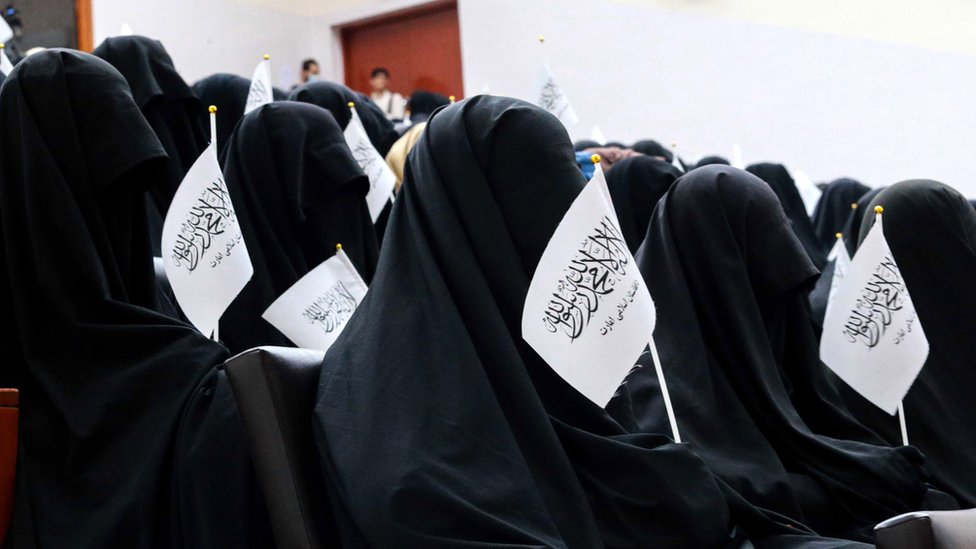 But the images from last weekend in Kabul have been a stark contrast.
To support "the orders of the Taliban," several women wore long black abayas and they completely covered her face and hands.
Also, several women demonstrated in favor of the Taliban in Kabul, and through a video some of them said that those who wear makeup and modern clothes "do not represent Muslim Afghan women."
To which they added that they do not want "the rights of foreign women in disagreement with sharia", referring to the strict version of Islamic law promoted by the Taliban.
It was not long before the response of dozens of Afghans from around the world, who joined the campaign started by Jalali, a former professor at the American University of Afghanistan, on social networks.
"It is not our identity"
Jalali says he started this campaign because one of his "biggest concerns is that the identity and sovereignty of Afghanistan are under attack ".
Jalali posted a photo of herself on Twitter in a green dress and urged others to follow her example to show "the true face of Afghanistan."
"I wanted to tell the world that the outfits that have been seen in the media (referring to those worn by pro-Taliban women) are not part of our culture. They are not our identity, "he said.
---
Break with tradition
Many were taken aback by the way women had dressed at the pro-Taliban rally.
For many Afghans, fully covered faces and hands are a strange concept. They are used to the colorful and kaleidoscopic traditional dresses.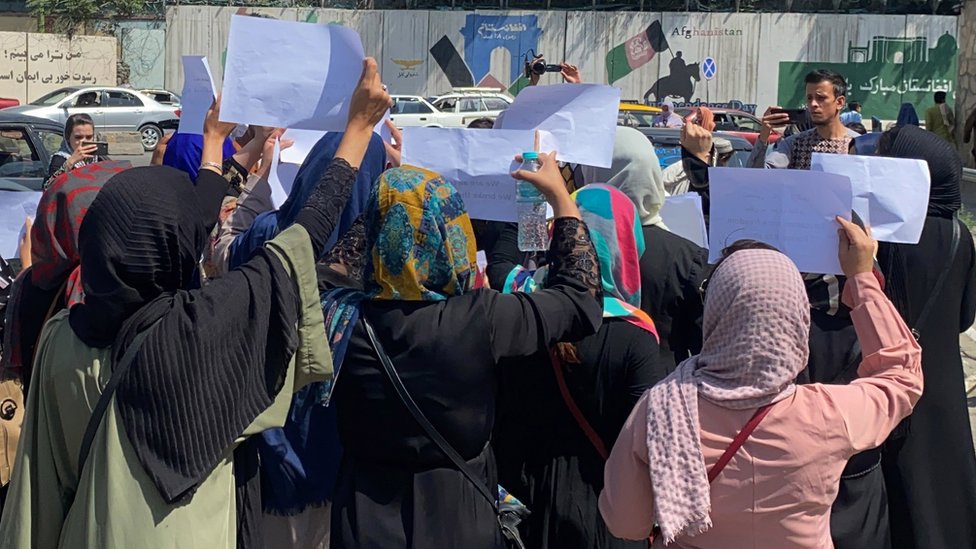 Each region in Afghanistan has its own traditional dress, but they have in common the color, the use of mirrors and the embroidery.
And these women also share a thought: that their dresses are part of their identity.
"This is the authentic Afghan dress. The Afghan woman wears colorful and modest outfits. The black burqa has never been part of our cultureSpozhmay Maseed, a human rights activist in Virginia, United States, tweeted.
"For centuries we have been an Islamic country and our grandmothers have modestly worn their traditional clothes, not the chadari invented blue and the black burqa, "said Maseed.
"Our traditional clothing represents our rich culture and 5,000-year history that makes every Afghan proud."
Even those who lived in the most conservative parts of the country say they have never seen women wear the niqab, a black garment that covers the face.
"I posted that photo because we are Afghan women, we wear our culture with pride and we think that a terrorist group cannot define our identity. Our culture is not dark, it is not black and white. It is colorful and there is beauty, art, crafts and identity ".
So says Lima Halima Ahmad, a 37-year-old Afghan researcher and founder of the Afghan Association Paywand, which focuses on women's issues.
---
Increasing pressure
Ahmad has lived and worked in Afghanistan for the past 20 years.
"Women they could choose. My mother wore a long and large veil and some chose to wear a smaller one. Dress codes did not apply to women, "says Ahmad.
"We had not seen situations in which the woman was completely covered, with a kind of gloomy uniform, in which the eyes are not even seen. It seems to have been specifically ordered like this, like a form of displayAhmad added, referring to the pro-Taliban demonstration.
Malali Bashir, an Afghan journalist living in Prague, also participated in the Twitter campaign.
He says that in the town where he grew up, "the burqa, white or black, was never the norm."
"The women wore their traditional clothes. The oldest wore a black veil and the youngest wore colored shawls. The women greeted the men by shaking hands ".
"Recently there have been increasing pressure on Afghan women so that he changes his attire and culture, covers himself completely and disappears from public view, "he continues.
"I uploaded my photo and shared one of my paintings in which Afghan women wear our traditional dresses and dance the national dance known as Attan".
---
Strict dress rules
Taliban officials say women will be able to study and work according to sharia law and traditional local culture, though strict dress code will apply.
Some Afghan women have already begun to dress more modestly and the chadari, the blue garment that covers the entire body and leaves a rectangle of mesh in front of the eyes, has returned and more women have been seen wearing them in Kabul and other cities.
The Minister of Higher Education, Abdul Baqi Haqqani, announced this Sunday that universities will be segregated and that veils will be mandatory for all students.
Although it did not specify if this means that the head or face will be covered on a mandatory basis.
You are interested in:
Pregnant Afghan Police Killed In Front Of Her Family By Taliban
What is Bacha Bazi, the practice of abuse in Afghanistan that disguises itself as tradition
---
Now you can receive notifications from BBC Mundo. Download the new version of our app and activate them so you don't miss out on our best content.
Do you already know our YouTube channel? Subscribe!