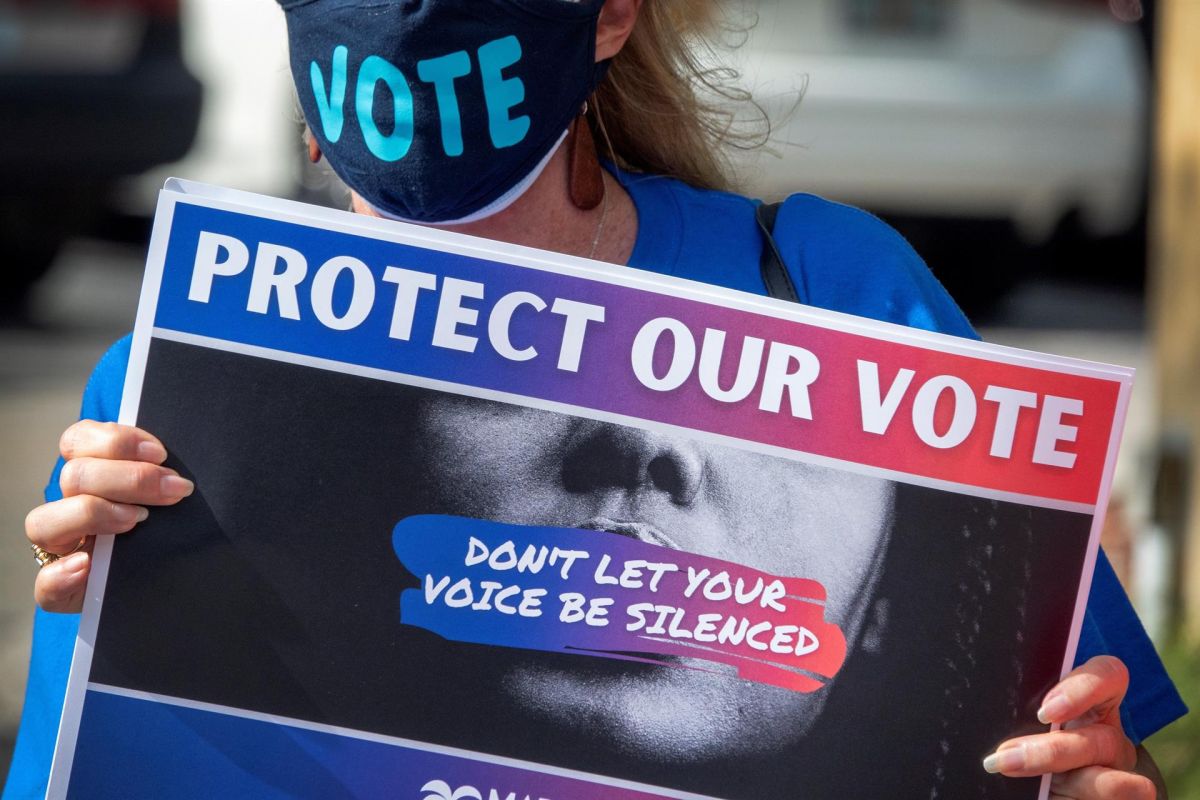 Photo: Cristóbal Herrera-Ulashkevich / EFE
In Washington DC and other US cities. thousands of people marched this Saturday to claim the right to vote, where some states controlled by the Republican Party passed laws that would restrict minority suffrage.
This demonstration took place on the occasion of the 58th anniversary of the historic speech of the defender of civil rights Martin Luther King Jr. "I have a dream", made in 1963.
The focus of the demonstration in the capital of the country passed in tone vindictive, as well as festive, with various dances and songs on the streets of the city center until it leads to the Lincoln Memorial.
Banners with messages in favor of civil rights were displayed. "It's 2021, why do we still have to fight for the right to vote?"read one of the posters.
This protest seeks to put pressure on the Senate to get the approval of the John Lewis Civil Rights Advancement Act, which would give rise to the increase in the power of the federal government to block the legislation that they consider discriminatory, reported the EFE agency.
According to the March On website, they believe their voting rights are under attack. In January, they say 48 states introduced bills that would lead to voter suppression. #MarchOnWashington #VotingRightsMarch pic.twitter.com/mctcABfNB9

– 7News DC (@ 7NewsDC) August 28, 2021
The Low camera This week saw the proposed bill with good eyes; however, in the High camera, with a Republican majority, they have opposed it being carried out.
Similarly, many conservative-led states have approved Legislation that would be restricting the vote of minorities, as well as what was done by the state of Texas, when on Friday the Lower House approved a rule that warns that it would limit the right to vote for African Americans and Latinos.
Meanwhile, Martin Luther King III, son of the historic pastor, referred to the limitations of voting mechanisms that directly affect minorities.
"How do you stop certain people from voting without explicitly saying they can't vote? You reduce the suffrage by mail, you reduce the voting centers, the hours to vote. Then you make the vote on weekdays ", noted Luther King III.
It is estimated that by 2022 the mid-term elections in the US will be held, in which the two houses of the US Congress will be renewed.
Demonstrations in favor of the right to vote without discrimination were also held in cities such as Atlanta Georgia; Houston Texas; Miami, Florida and Phoenix, Arizona.
Although the organization of the marches has been carried out without setbacks this Saturday, there has been evidence of the decrease in people with respect to 2020, which occurred in the framework of the protests over the death of the African American George Floyd to officer's hands Derek Chauvin in Minneapolis.
You may also like:
Speaker of the Texas House of Representatives banned the word "racism" in full debate on electoral law
Texas Lieutenant Governor Blamed Unvaccinated African Americans for Increase in COVID Cases in State
"Biden is no different than Trump, Americans have no shame": Iran's Supreme Leader on stalled nuclear deal