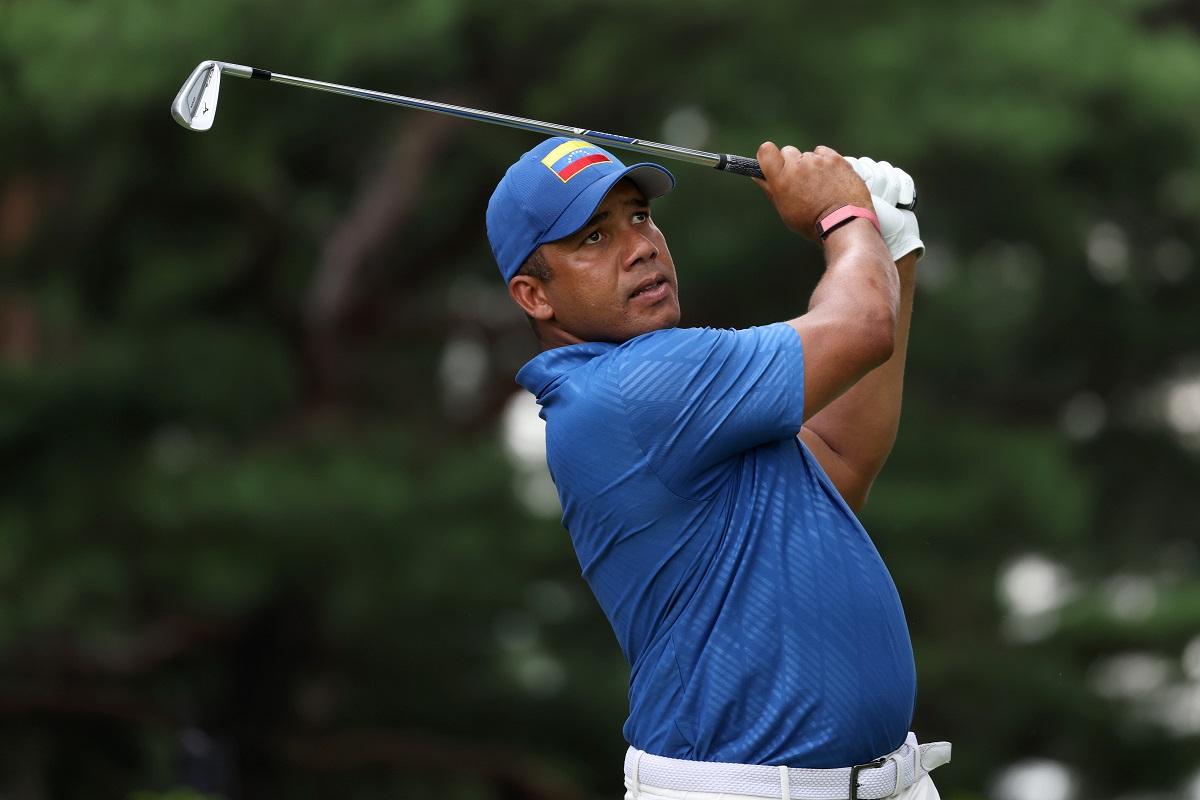 Mexico and Venezuela say present in the golf of the Tokyo 2020 Olympics with Carlos Ortiz Y Jhonattan vegas, who on the first day of competition finished spectacularly to be among the top five of the 60 participants who aspire to hang the three medals.
Carlos Ortiz was the 10th golfer to appear at the Kasumigaseki Country Club alongside the French Antoine Rozner and the Italian Guido Migliozzi. The Guadalajara native finished his first 18 holes with 65 strokes and -6 under par, to be tied for third with Belgian Thomas Pieters. Made a total of seven birdies and a single bogey.
Jhonattan Vegas officially performed after 8:40 PM on Wednesday ET (and Thursday morning in Japan) on Tee Time 12 on the first day. The goal was to rank among the best golfers in the first 18 holes of the competition.
The 36-year-old Venezuelan landed 66 shots and finished at -5 under par, three shots behind leader Sepp Straka (AUT), who finished at -8. Made six birdies and three of them were on holes 16, 17 and 18. The others that finished above Vegas were: Jazz Janewattananond (-7), Thomas Pieters (-6) and Carlos Ortíz (-6). Joachim Hansen and Vegas finished with the same result.
This is the table of the leaders of the competition #Golf

Are there any medal chances? For this beginning, yes. But the favorites are:

Morikawa 🇺🇲
Thomas 🇺🇲
Schauffle 🇺🇲
Reed 🇺🇲
McIlroy 🇮🇪
Matsuyama 🇯🇵
Hovland 🇧🇻
Casey 🇬🇧
Fleetwood 🇬🇧

⛳ Kasumigaseki Country Club# Tokyo2020 pic.twitter.com/dlyxB364Qd

– Raúl Zambrano Cabello (@ RaulZambrano7) July 29, 2021
Sebastián Muñoz, the Colombian representation, finished eighth with 67 strokes -4 under par. And the Mexican Abraham Ancer culminated in the T20 with 69 strokes and a -2 under par. All the competitors had to overcome a long interruption due to a thunderstorm on Japanese soil.
GO MEXICO! 🇲🇽

Carlos Ortiz finishes with 65 strokes in his Olympic Golf debut.

At this time, the Mexican golfer finishes in the T2 place, the other participants need to finish.

The second round will be tomorrow 8:00 pm

LET'S GO FOR THE MEDAL! 🥇

📸 Clear Brand#Golf pic.twitter.com/pvbifbvM5J

– RECORD JOURNAL (@record_mexico) July 29, 2021
Follow the competition on day 2
This Thursday at 6:30 pm (east) the Olympic golf day will continue with the following 18 holes of the 72 in total that the competition for the medals has. In Japan it will be Friday morning, and Latin Americans will seek to remain among the best positioned.
Jhonattan Vegas will be the fourth baton player to make his presentation in the second round, as he is framed in Tee Time 2 and he is the first out of the next three. Sebastián Muñoz is on Tee Time 13 and Carlos Ortíz on 14. That is, they are at the bottom of the list.
Read also: Novak Djokovic ignited the controversy: "If you want to be the best in your sport, you must learn to cope with pressure"