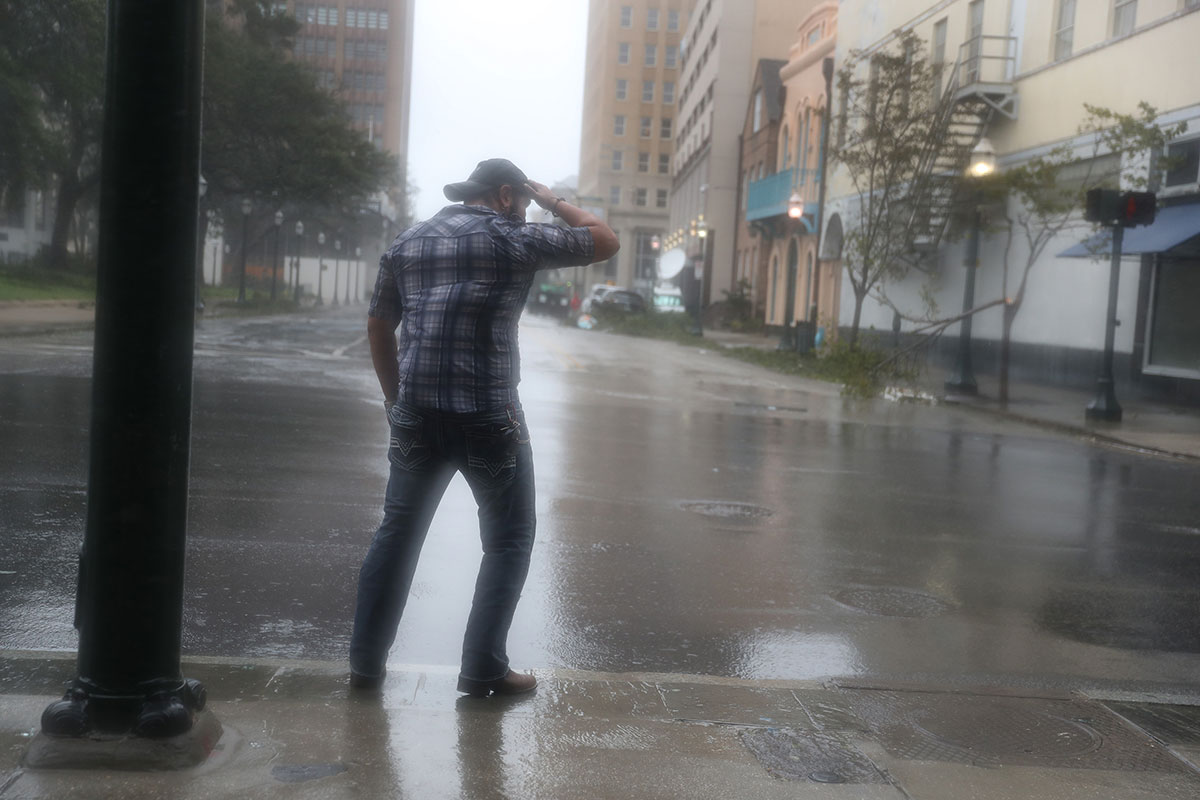 Photo: Joe Raedle / Getty Images
Tropical Storm Grace formed Saturday morning in the Atlantic Ocean and has grown stronger, while Fred weakened to a tropical wave as he headed east to the Gulf of Mexico.
Both systems were expected to bring heavy rain and flooding. Fred, a former tropical storm, could regain that strength Sunday, according to the National Hurricane Center (NHC).
Remnants Of #Fred Advisory 21: Remnants of Fred Moving West-Northwestward Across the Southeast Gulf of Mexico. Forecast to Re-Develop On Sunday Over the Gulf of Mexico. https://t.co/VqHn0u1vgc

– National Hurricane Center (@NHC_Atlantic) August 14, 2021
Fred's remnants are found 50 miles (80 km) west of Havana, in Cuba, and 125 miles (205 km) southwest of Key West, in the extreme south of Florida, where heavy rains were recorded this Saturday.
According to the US National Hurricane Center (NHC), the system is moving west-northwest with a travel speed of 12 mph (19 km / h) and has maximum sustained winds of 35 miles. per hour (55 km / h).
The tropical storm warning for a stretch of the Florida Keys between the Seven Mile Bridge and the Dry Tortugas has been discontinued.
The system has tended further to the west so During this weekend it is expected to move over waters of the Gulf of Mexico and not near the coast of southwest and west Florida, as planned and that they were also with alerts and warnings.
Once in waters of the Gulf of Mexico, the remnants of Fred could re-develop as a tropical depression and later a tropical storm, according to the NHC bulletin at 11.00 local time (15.00 GMT).
On the forecast route, Fred is expected to "move inland over the northern Gulf Coast Monday night," when possibly reaching the coasts of Alabama or northwestern Florida, as pointed out by the meteorological center, based in Miami (USA).
Tropical Storm Grace is heading for the Lesser Antilles
Grace, the seventh tropical storm of the current hurricane season in the Atlantic and which formed this Saturday morning, continues its route to the east of the Lesser Antilles somewhat stronger, with maximum sustained winds of 45 miles per hour (75 km / h).
The NHC said in its 11 a.m. EDT advisory that Grace was about 265 miles east-southeast of the Leeward Islands and it could reach the Lesser Antilles by Saturday night. It was moving west at 23 mph with maximum sustained winds of 45 mph, up from 40 mph earlier in the day.
The United States and British Virgin Islands, Puerto Rico, Antigua and Barbuda, Anguilla, St. Martin and St. Bartholomew are under storm warning, as well as Saint Kitts and Nevis, Monteserrat, Saba and Saint Eustatius.
The NHC noted that parts of the north and south coast of the Dominican Republic should be vigilant for the possible passage of Grace.
Here are the 5 PM AST, August 14th Key Messages for Tropical Storm #Grace.

Latest Info: https://t.co/yogJDcfFzg pic.twitter.com/vPEMoCwMVW

– National Hurricane Center (@NHC_Atlantic) August 14, 2021
The storm is moving west with a velocity of 23 miles per hour (37 m / h) and its center is expected tonight to move over the Windward Islands and over the Virgin Islands and Puerto Rico on Sunday, to arrive in the Dominican Republic on Monday.
To Monday night or Tuesday morning, Grace is forecast to arrive in Haiti, which has suffered a powerful deadly earthquake on Saturday.
With information from EFE