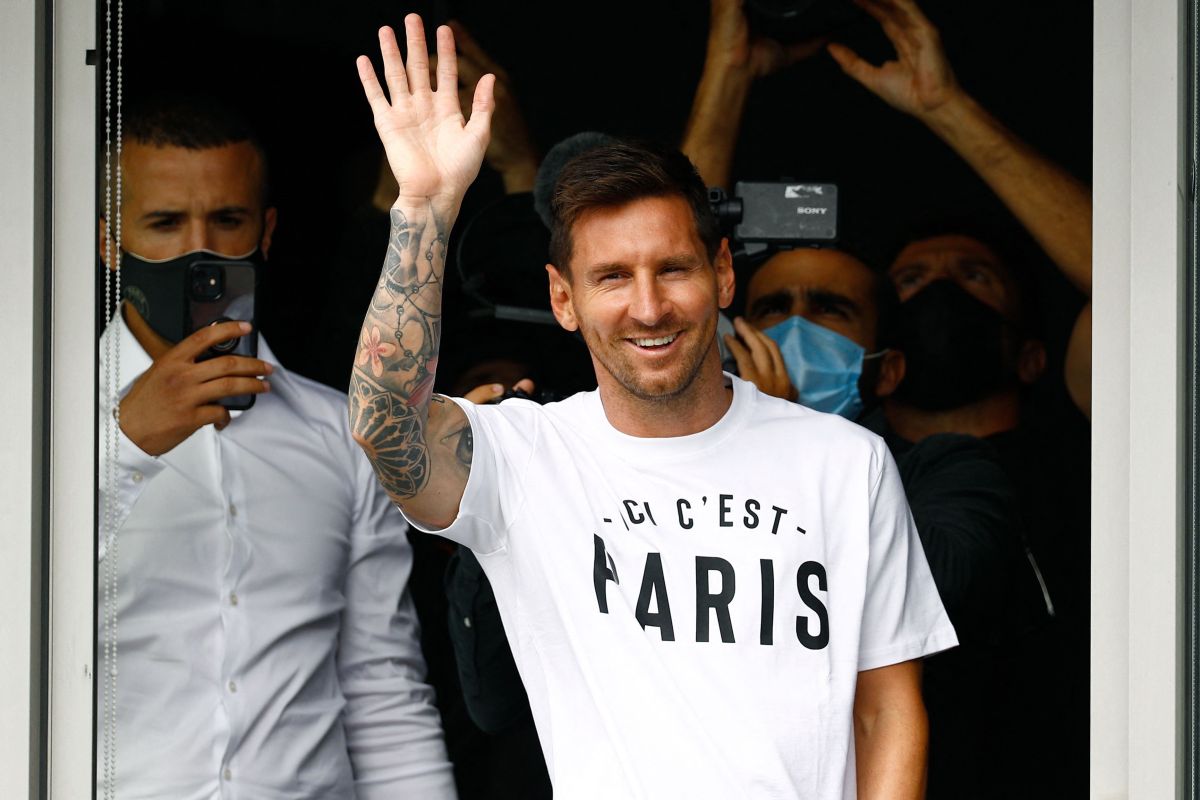 Photo: SAMEER AL-DOUMY / AFP / Getty Images
The story between FC Barcelona and Lionel Messi is over. The Argentine footballer arrived in the French capital to close his agreement with him Paris Saint-Germain. After so much uncertainty of a possible negotiation with the Catalan team, Jorge Messi, father and representative of "La Pulga", confirmed it. Lionel Messi will be a new PSG player.
🚨🚨🚨 Messi appears in a window and madness breaks out among the PSG fans present at the airport: "Ici c'est Paris", read on Leo's shirt https://t.co/LsAGkifDgi pic.twitter.com/4SdZBRC9cC

– BRAND (@marca) August 10, 2021
The former Barcelona player arrived in France on a flight that departed from El Prat airport. The Argentine left with his family and received him in the French capital a huge crowd of people eagerly awaiting the official announcement of the hiring of Lionel Messi.
… And here's Leo Messi on the plane together with his wife Antonela, heading to Paris. Time to have medical and sign as new PSG player. ✈️🇫🇷 #Messi #PSG

Historical day. pic.twitter.com/cOrK1Aej1f

– Fabrizio Romano (@FabrizioRomano) August 10, 2021
Without a doubt it is the bomb of this summer that is a few hours away from being activated. The arrival of the striker in the French capital reaffirms all the reports that linked him as new partner of Neymar, Di Maria, Icardi, Sergio Ramos and company.
In this sense, it is expected that Lionel Messi undergoes medical evaluations so they can proceed with the presentation. The announcement of the footballer is expected to be made in an event at the Eiffel Tower.
PSG published a video to present it
The French team has left nothing to the imagination. In a short 12 second video clip Paris Saint-Germain made it very clear that they are only missing a few minutes for Lionel Messi to be officially announced as a new player for the Parisian team.
– Paris Saint-Germain (@PSG_inside) August 10, 2021
Lionel Messi's contract with Paris Saint-Germain
According to the latest reports from the journalist, Fabrizio Romano, Lionel Messi would stamp his signature on a contract that would last for two years, with the option to extend it up to June 2024. Now, with respect to the famous salary, one of the culprits of his departure from Barcelona, ​​the Argentine would receive € 35 million euros ($ 41 million), per season.
You may also like:
Jorge Messi confirms that his son will play for PSG
They deny a last offer from Barcelona for Lionel Messi and in PSG they already welcome him
The reactions in the world of football to the divorce between Messi and Barcelona