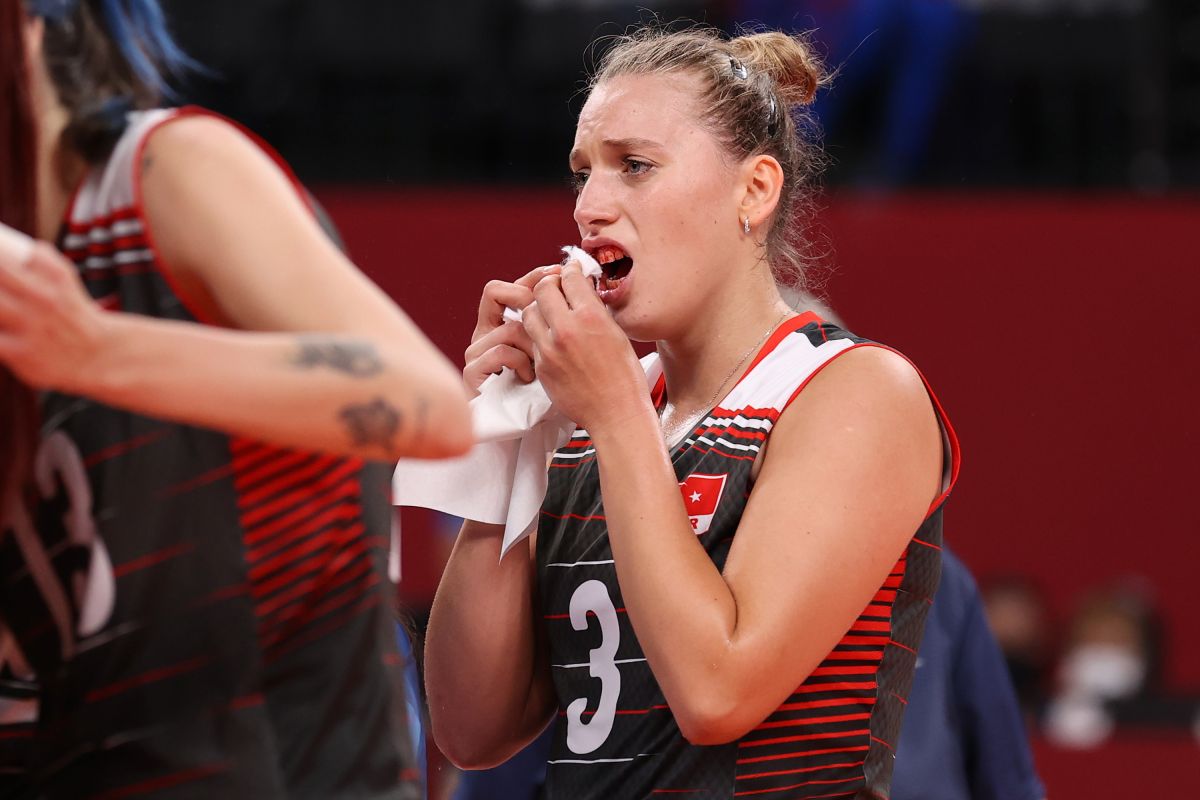 Photo: Toru Hanai / Getty Images
Undoubtedly, curiosities have not been lacking in these Tokyo 2020 Olympic Games. On this occasion, a clash between two female volleyball players, from Turkey, caused Meliha Ismailoglu to lose a pair of teeth during the development of the meeting between Turks and Russians.
The incident occurred during the fifth set. The party corresponded to Group B of the ballroom volleyball. Meliha Ismailoglu and Cansu Ozbay went to save a split ball, but neither noticed the other's arrival. This produced that both athletes had a strong clash, in which Meliha took the worst part.
Meliha İsmalioğlu ile Cansu Özbay, talihsiz bir şekilde çaprıştı. 😰

Oyun durmuş durumda. pic.twitter.com/n3OfnGNoCV

– Alan Savunması (@alansavunmasi_) August 2, 2021
Both players were treated, but Melinha could not re-enter the court. The athlete had to wait on the bench before the medical efforts that they were trying to stop the bleeding inside his mouth.
Meliha İsmailoğlu ve Cansu Özbay sakatlanmalarına rağmen oyundan çıkmak istemedi ve mücadeleye devam etti.

Teşekkürler Kızlar.

🇹🇷❤️💐# FileninSultanları #OlympicsTokio2020 # OlimpiyatOyunları #OlympicGames #Olympics pic.twitter.com/fV6NAUyLDV

– VOLEYBALL AŞKI (@VoleybolAski) August 2, 2021
Finally, the Turkish woman reported that, unfortunately, lost a pair of teeth. However, he explained that he is already in treatment with a specialist.
"Thank you very much for your good wishes. Fortunately, nothing serious happened. Unfortunately my front teeth broke, but I'm fine, I'll be fine. Above all, after we obtained an important victory as a team today ", expressed the player through her social networks.
Rusya Olimpiyat Komitesi ile oynanan maçta Cansu Özbay ile çarpışan Meliha İsmailoğlu, sağlık durumu ile ilgili açıklama yaptı. 👇🏻

Geçmiş olsun Meliha. 🙏🏻 pic.twitter.com/VkdoCrqxQa

– TRT SPOR Yıldız (@trtsporyildiz) August 2, 2021
You may also like:
Jessica Fox and the condom that gave her the bronze medal in Tokyo 2020 [Video]
Video: boxer was disqualified for trying to bite his opponent's ear at the 2020 Tokyo Olympics
Controversy in the Olympic Village: photos of Luka Doncic and his companions were leaked in the middle of a party