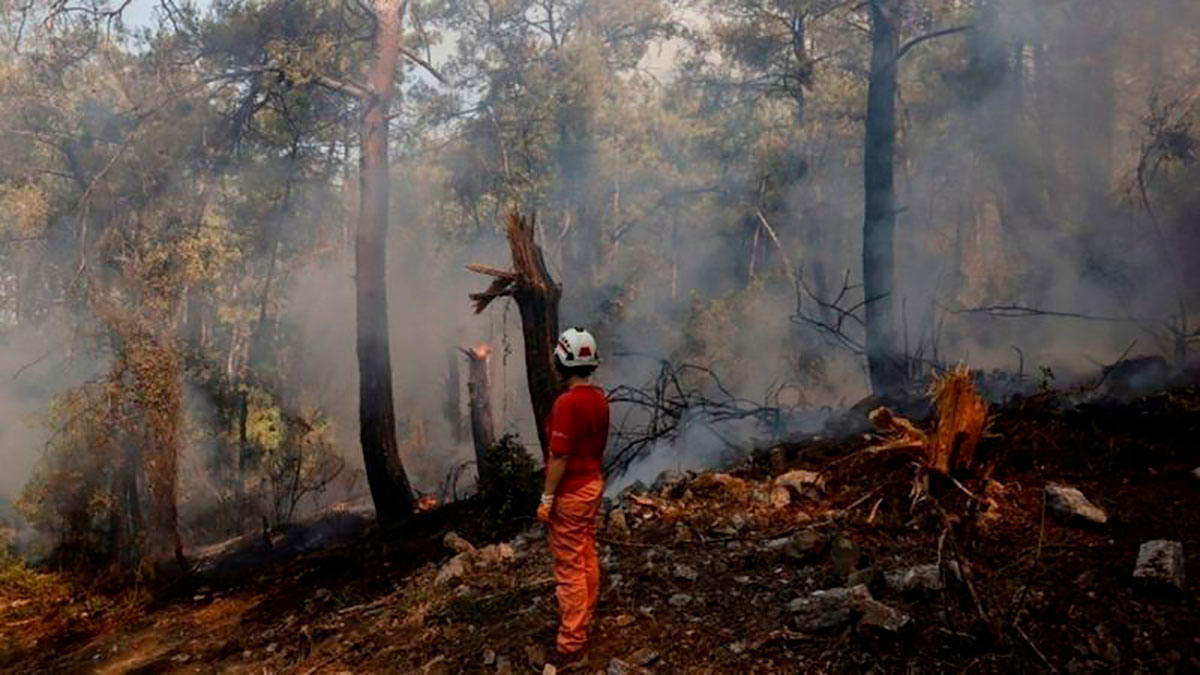 Photo: REUTERS / copyright
The eastern coast of the Mediterranean is experiencing the country's worst heat wave in more than three decades.
Temperatures have reached 47.1 ° C in some areas of northern Greece.
These unusual and extremely high temperatures are behind the 150 fires that have been registered in the area, mainly in Turkey and Greece, in recent days, fueled by windy sources.
"We continue to fight a titanic battle on many fronts," said Deputy Minister of Civil Protection Nikos Hardalias during a briefing.
"The next few days will be more difficult."
A dozen villages were evacuated near the western region of the Peloponnesus, in Greece, where the ancient Olympics were held.
"We are doing everything we can to save this holy place," local mayor Panagiotis Antonakopoulos told Open TV.
"After human lives, our priority is to save our history."
Meanwhile, in the capital, Athens, firefighters tried to control the flames after thousands of people were forced to flee their homes.
The city remained shrouded in smoke throughout Wednesday, and residents with respiratory problems were told to stay indoors.
The air in the city was loaded up with 465 micrograms of fine powder per cubic meter, with 50 micrograms being the limit established by the European Union.
On the island of Evia, 200 kilometers north of Athens, dozens of people fled by boat as wildfires quickly spread, burning everything in their path.
"It was burning all night. The forest was destroyed, the villages were burned. We left our houses behind, we left our pets, "Christina Katsini, a local resident quoted by Reuters, told Skai TV.
"I have never seen this devastation"
Turkey has been fighting the same problem for several days in a row.
Last weekend, tourists and residents had to be evacuated in the south of the country after more than 130 fires raged through forests and houses for six consecutive days.
Turkish Coast Guard vessels, assisted by private boats and yachts, were deployed to take tourists to safety, local media reported.
The fires killed eight people.
"We have had small fires before. But I have never seen this devastation, "a woman tells the BBC.
"Now (fire) is everywhere."
The worst fires have occurred along the coasts of the Mediterranean and the Aegean Sea, a major tourist region.
Satellite photos showed vast forests burned after the llamas consumed nearly 100,000 hectares.
Hundreds of people have sought medical treatment in the wake of the hundreds of fires, most of which have been discharged from the hospital.
The fires have been the most intense on record in Turkey, a European Union atmosphere monitor said.
With temperatures still on the rise, more fires and smoke pollution are likely in the Mediterranean region.
Another affected area has been Pescara, in Italy, where at least five people were injured after a fire forced hundreds of resorts and homes to evacuate.
Experts say that climate change increases not only the frequency but also the intensity of fires.
---
Now you can receive notifications from BBC Mundo. Download the new version of our app and activate them so you don't miss out on our best content.