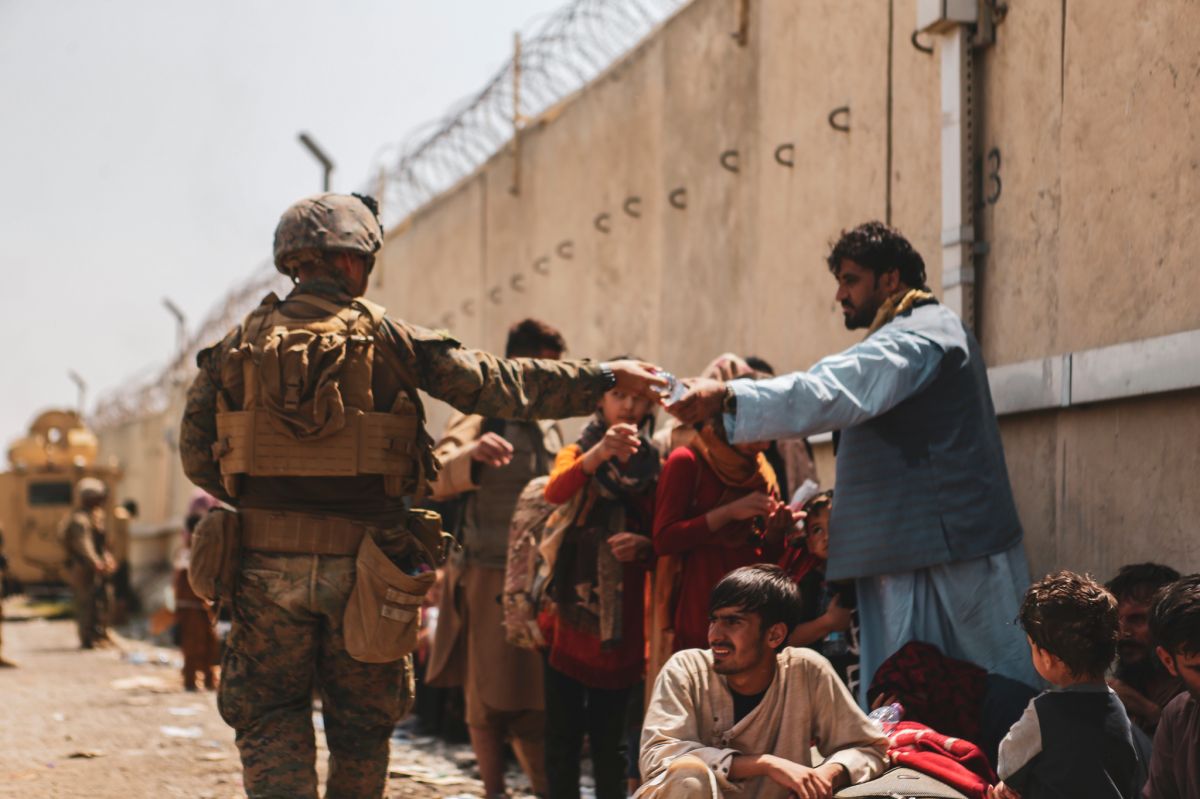 Photo: Isaiah Campbell / US Marine Corps / Getty Images
A lieutenant colonel of the United States Marine Corps was relieved of his duties this Friday after a video on Facebook this Thursday hold the top military leadership responsible for the deaths of 13 marines in the attack on the airport in Kabul, Afghanistan, this Thursday.
Stuart Scheller questioned Defense Secretary Lloyd Austin and others with more power than him in the Armed Forces for not raising their hands and accepting responsibility for the attack claimed by ISIS-K that left 170 dead and another 150 injured.
"The reason people are so upset on social media right now is not because the Marines on the battlefield left someone behind. People are upset that their senior leaders left them behind, and none of them are raising their hands and accepting responsibility or saying, 'We screwed this up,' "Scheller is heard saying on the recording that by this Saturday he was over half a million. of reproductions.
In the entry, Scheller says that knows he's risking his 17-year military career which includes work in Iraq and Afghanistan.
"I have been fighting for 17 years. I am willing to throw it all away to tell my senior leaders, 'I demand accountability,' "continues the American.
"I think that what you believe can only be defined by what you are willing to risk," argues the soldier.
"So I think that gives me a high morale base to demand the same honesty, integrity, and accountability for my senior leaders," says the man who classified as a great strategic error not having secured the Bagram air base before to start evacuations in Afghanistan.
As Scheller himself anticipated, his words led to the withdrawal of the confidence of his superiors and was relieved from the line of command.
Major Jim Stenger, a spokesman for the US Navy, told the Daily Mail that David Emmel, Officer-in-Charge of the Infantry School-East, will fill Scheller's position, due to a loss of confidence in his ability to command.
"This is obviously a very emotional time for many Marines, and we call on anyone currently struggling to seek counseling or speak to other partners. There is a forum where Navy leaders can express their disagreements with the chain of command, but it is not through social media, "Stenger said.
In a subsequent post on Facebook, the whistleblower said he was confident of new beginnings to come.
America continues to be the bright light in a mist of chaos. When my military career comes to an end, I look forward to a new beginning ", reads the message on the social network.
"My purpose in life is to make the United States the most lethal and effective diplomatic instrument. While my days of hand-to-hand violence may be ending, I see a new light on the horizon, "he anticipated.
It may interest you: