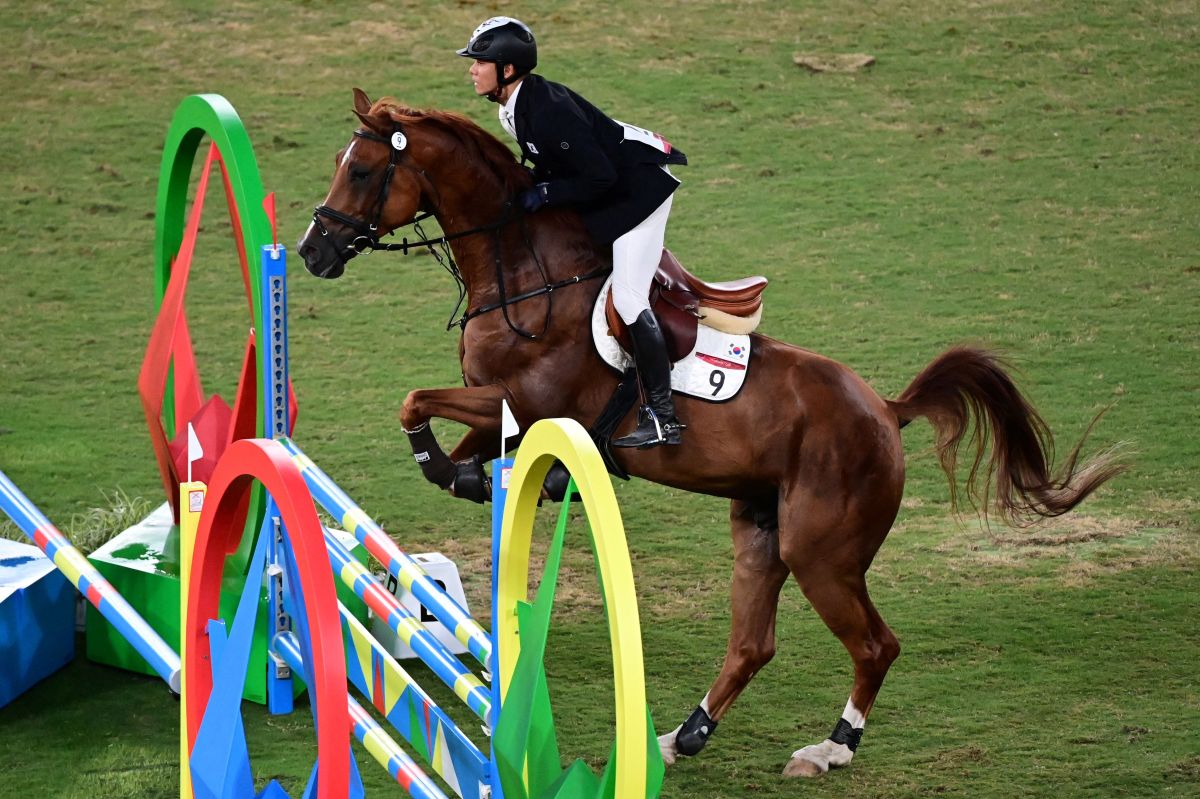 Photo: PEDRO PARDO / AFP / Getty Images
A gesture from a German coach generated the rejection of the spectators and outrage in the modern pentathlon of the Olympic Games Tokyo 2020. Kim Raisner was disqualified with a black card after beat his horse because he refused to go out to compete. The German finished in tears.
Germany's modern pentathlon coach Kim Raisner has been thrown out of the Tokyo Olympics after punching a horse.

Raisner punched a horse during competition as German athlete Annika Schleu struggled to control it.# Tokyo2020 #Olympics pic.twitter.com/xRv0kxKM1t

– DW Sports (@dw_sports) August 7, 2021
The coach's frustration was exploited in the worst way. Saint Boy (the horse), refused to compete in the women's final of the modern pentathlon. This caused Kim Raisner to explode into the specimen and punch him. The images were widely disseminated on social networks and generated outrage from users.
Clearly the horse is in distress as Annika Schleu of #GER in tears struggling to control him. Then her coach Kim Raisner violated the rules by punching the horse. Coach has now been disqualified from # Tokyo2020. Poor horse. #ModernPentathlon

– 𝗔𝘆𝘀𝗵𝗮 𝗥𝗶𝗱𝘇𝘂𝗮𝗻 (@ayshardzn) August 7, 2021
In this sense, International Union of Modern Pentathlon (UIPM) disqualified the German with a black card. In this sense, the coach was left out of the competition and ended her participation in the Tokyo 2020 Olympic Games.
German team coach Kim Raisner has been thrown out of the Tokyo Olympics for hitting Saint Boy after the horse refused to jump. #ModernPentathlon # Tokyo2020 pic.twitter.com/p90rvIt12S

– Football & All (@FootballAndAll) August 7, 2021
"Your action is considered a violation of the UIPM competition rules applicable in all competitions recognized by the organization, including Olympic Games", Expressed the Executive Committee of the UIPM, in a statement.
You may also like:
Tokyo Olympics: the fury in China over the unusual interview with a "manly" gold medalist
Quan Hongchan, a 14-year-old diver who won the gold medal and dominated the diving world
Gold and prizes at Tokyo 2020: Indonesian athletes will be rewarded with cows, money and coffee for life