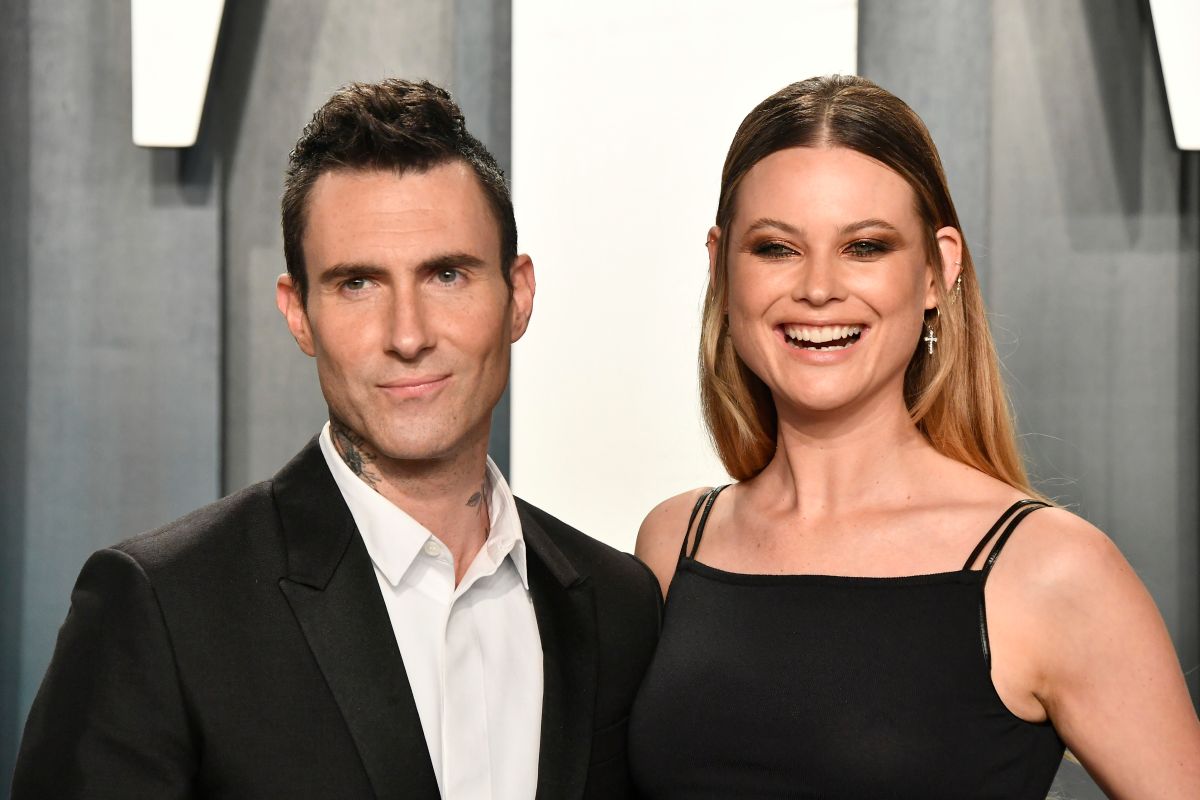 Photo: Frazer Harrison / Getty Images
The couple made up of Adam Levine Y Behati Prinsloo opened the doors of his beautiful Pacific Palisades, California home, to Architectural Digest magazine, where they decided to move because they were tired of the hustle and bustle of Beverly Hills.
In a video, lasting almost 10 minutes, the interpreter and the model showed off some of the rooms in their cozy ranch-style residence that was designed in the late 1930s by architect Cliff May.
The property, built on one floor, does not have the dimensions that celebrities are not used to, but it does have what is essential so that they can feel the warmth of their home in the company of their two daughters, Dusty and Gio.
Living room
The tour of their house began with one of its rooms, where they have very comfortable brown sofas, chairs, two chocolate-tone coffee tables, a fireplace and various works of art.
Among those pieces of art is a very picturesque painting by African American artist Rashid Johnson, who is famous for producing post-black concept art.
Kitchen
The kitchen is quite spacious and semi-open. It is equipped with a cream-colored cupboard, with high-end appliances, with a central island that can function for preparing food and as a breakfast area, as well as a breakfast table with room for eight people and a series of plants.
As with the room, the works of art are the main protagonists of that space, being the painting of a hammerhead shark, made by Sage Vaughn, the one that steals all the spotlights.
In addition to showing the shark in all its splendor, that painting also served Adam to transfer what was captured there to the cover of 'Jordi', Maroon 5's most recent album.
Cinema
The cinema room is made up of a large screen, comfortable orange and wine-colored sofas, a coffee table and a ping pong table for those who want to hang out but not watch a movie.
There are also two Pac-Man and Street Fighter arcade machines, two of the most iconic games of all time.
Office
The office is a multipurpose room, as it not only has a desk and a computer, but it has also been used by Adam as a recording studio.
On one of its walls it has an incredible photograph of a rhinoceros that was taken by Andrew Zuckerman. This work of art was the birthday gift for Behati, who is a fervent protector of rhino conservation.
The room is completed by the most diverse musical instruments and by a piñata with the image of the renowned vocalist.
Master bedroom
The master bedroom has a large bed with gray bedding and headboard, a stool, two coffee-colored side tables, a wall-mounted television and a very striking painting by Raymond Pettibon.
The bedroom also has access to the garden, with two large dressing rooms and a spacious bathroom with double vanity, with a transparent shower and bathtub, as well as a sauna.
Dinning room
The dining room is made up of a rectangular chocolate-tone table with space for 10 people, a large bookcase, a fireplace, plants and various windows that allow natural light to pass through.
Pub
The bar, considered to be Behati's favorite room, has a canteen with a very large collection of bottles, as well as various black and white photographs, a gray sofa, two silas, a coffee table and a large recessed television screen to the rear. Wall.
From the bar area you have access to a comfortable terrace area, where you can enjoy various outdoor furniture and a wide variety of plants of all types and ecosystems.
Other amenities
They also have a small trophy room, a gym, a sports court, a swimming pool with its respective spa area, a guest house, a bonfire and extensive green areas, an element that they value very much, since they love to see their two run. daughters in their gardens.
Keep reading:
They threaten to sue Cristiano Ronaldo for controversial expansion of his penthouse
Mexican restaurant chef sells his luxurious Malibu mansion for $ 18 million
Harry makes funny cameo in video that Meghan Markle filmed from his mansion
Video: We take you inside the new and simple house of Gomita