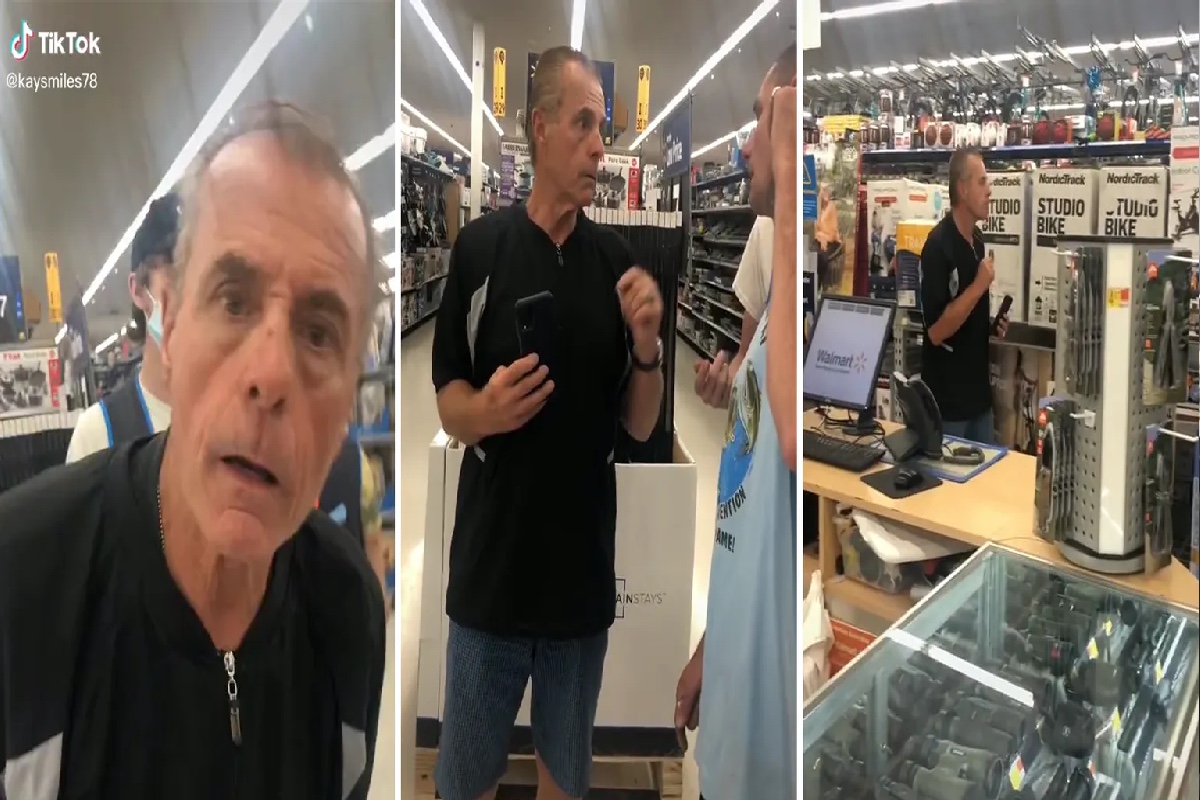 Photo: Video Capture: @ Kaysmiles78 / Courtesy
A video circulates on social networks that shows a suspected ex-firefighter being racist and xenophobic after hearing a worker speak a language other than English at a Walmart in Lincoln, Nebraska.
The images were shared by a user identified as @ kaysmiles48 who recorded and published the scenes showing the altercation inside the supermarket.
@ kaysmiles78

Part 1 cornered Walmart employee yelling at her for not being American & not speaking English. Yes I got between them and involved. #lincolnnebraska

♬ original sound – kaysmiles78
– Read also: VIDEO: "Come back to your brown country", a racist woman shouts at a Hispanic family
"A uniform does not give you the right to be a racist," the Walmart employee tells him.
The subject claimed that they disrespected him because he was not wearing a uniform and told the woman: "When you are in the United States, you better learn our language."
When asked why he behaves with Hispanics, the man gives a rather strange answer:
"Why they murdered 343 of my fellow firefighters "(…) that is why, on September 11, 2001, therefore".
And then he shouted: "Learn English, it's America. It is not Spain and it is not Mexico".
@ kaysmiles78

Part 2: watch part 1 for description #lincolnnebraska #racist

♬ original sound – kaysmiles78
– Read also: VIDEO: "Where is your US identification, has a Green Card", racist harasses Mexican and restaurant employees
"When someone doesn't speak English, we can't communicate in Los Angeles, guess what happens, honestly? People die, "he apparently says, referring to the fact that, according to him, those who do not speak English in the United States are more likely to die during emergencies because first responders cannot communicate with them.
It was then that another man appeared and told the racist to calm down.
"I am a retired firefighter, police officer, and I am trained in MMA (mixed martial arts)," the subject told him.
"Have you heard of Chuck Liddell? We train guys like that. What about Conor McGregor? Get out of me.
"Seriously? You're talking to the best in Los Angeles (…) get that guy off me; he probably has a gang history judging from those tattoos. "
He later claimed that he belonged to the Aryan Brotherhood.
@ kaysmiles78

Part 3: watch part 1-2 for description. #lincolnnebraska #lafiredepartment (you missing a crazy come get him) #racist #walmart

♬ original sound – kaysmiles78
– Read also: VIDEO: "Get out of the country", he shouted racist at the family and threw spice at a 5-month-old baby
"Amen. Go. God bless you anyway. Jesus died on the cross for you, "he said later.
To which the man who confronted him replied, "Thank you for your service."
However, the ex-firefighter told him: "Stay away from me! Because you do not know it! I'm wearing baggy clothes, but this is 200 pounds of (inaudible). Get away from me. "
"You don't want to know what these eyes have seen," he said at the beginning of the third video in which he continued to justify his racist behavior.
All while the people who saw what was happening said they were surprised, and even one of them is heard saying: "I wonder how many people decided not to save because of their racism."
-Read also:
VIDEO: Subject threatens to kick young man inside Walmart and hurls racist insults at him
· VIDEO: Fight in a Mexican food restaurant; Policewoman beats subject and knocks out lady
· VIDEO: "Where is your US identification, you have a Green Card", racist harasses Mexican and restaurant employees