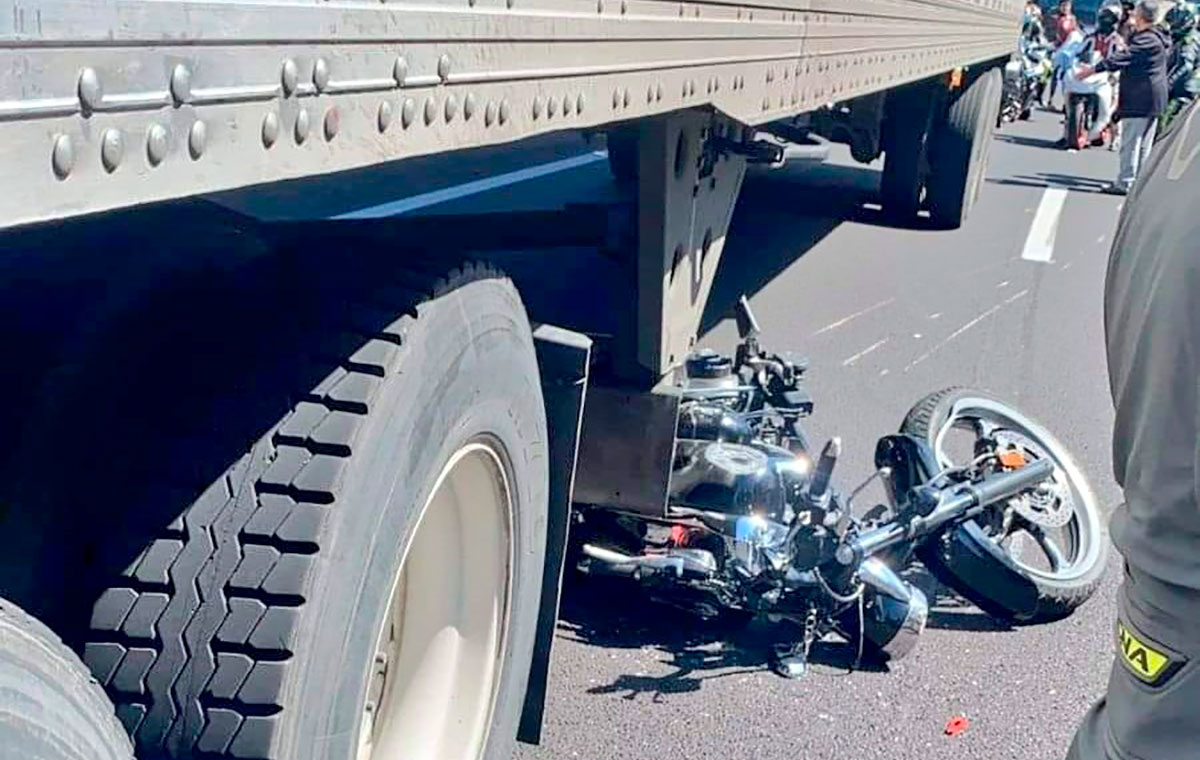 Photo: Twitter @SUUMA_CDMX / copyright
At least three motorcyclists died and four more were injured after a fatal accident that occurred on the Mexico-Cuernavaca highway at kilometer 51 in Cuajomulco, in the direction of the State of Morelos, in Mexico.
According to the first reports, motorcyclists, apparently traveling in a group, were speeding down the highway, causing the accident.
It was almost at the height of the area known in Mexico as Tres Marías where motorcyclists, when changing lanes, lost control and they hit two cargo vehicles that were circulating in the area.
⚠️ Strong images ⚠️
This morning there was an accident on the Mexico-Cuernavaca highway at km. 51 direction south-north, which involved a trailer and a convoy of motorcyclists. Mobility has been stopped so far. pic.twitter.com/9ZXta86OHq

– Michelle Onofre (@MichelleOnofre) August 15, 2021
Another version of witnesses points out that one of the cargo vehicles spun out of control and ran over motorcyclists and some cars.
It was around noon this Sunday when paramedics, state police and forensic personnel went to the scene of the accident to treat the deceased and injured.
#Urgent warning: strong images! A fatal accident that occurred at km 51 of Mexico-Cuernavaca before three Maria left several motorcyclists injured and at least five dead. Information in process. #Cdmx #Cuernavaca pic.twitter.com/SqE7LT552C

– FernandoCruz (@ FernandoCruzFr7) August 15, 2021
Due to rescue maneuvers, The México-Cuernavaca highway, heading to the State of Morelos, was closed for several hours by personnel from the Federal Roads and Bridges (Capufe), This caused a huge road congestion from the Tlalpan toll booth, located in the southern part of Mexico City.
⚠️ IMPORTANT NOTICE⚠️# AutMexicoCuernavaca, km 51, direction Cuernavaca. The closure to circulation due to incident attention continues. For the safety of users, the Tlalpan toll plaza will remain closed at that address. Take your precautions.

– CAPUFE (@CAPUFE) August 15, 2021
Unfortunately, there are 2 dead motorcyclists and 4 injured on the highway México Cuernavaca km 51.

🚨Closed circulation continues ⚠️ pic.twitter.com/uQWM3iYLvX

– SUUMA Volunteers 🚑 (@SUUMA_CDMX) August 15, 2021
The area where the motorcycle accident occurred is approximately one hour south of Mexico City.
Tragedy in Mexico-Cuernavaca

At least six motorcyclists died and several more were injured in an accident with two trailers

P.M pic.twitter.com/p6oieRdbOo

– 88.9 News (@ 889Noticias) August 15, 2021
Continue Reading: AMLO offers "immediate help" for Haiti after the 7.2 magnitude earthquake