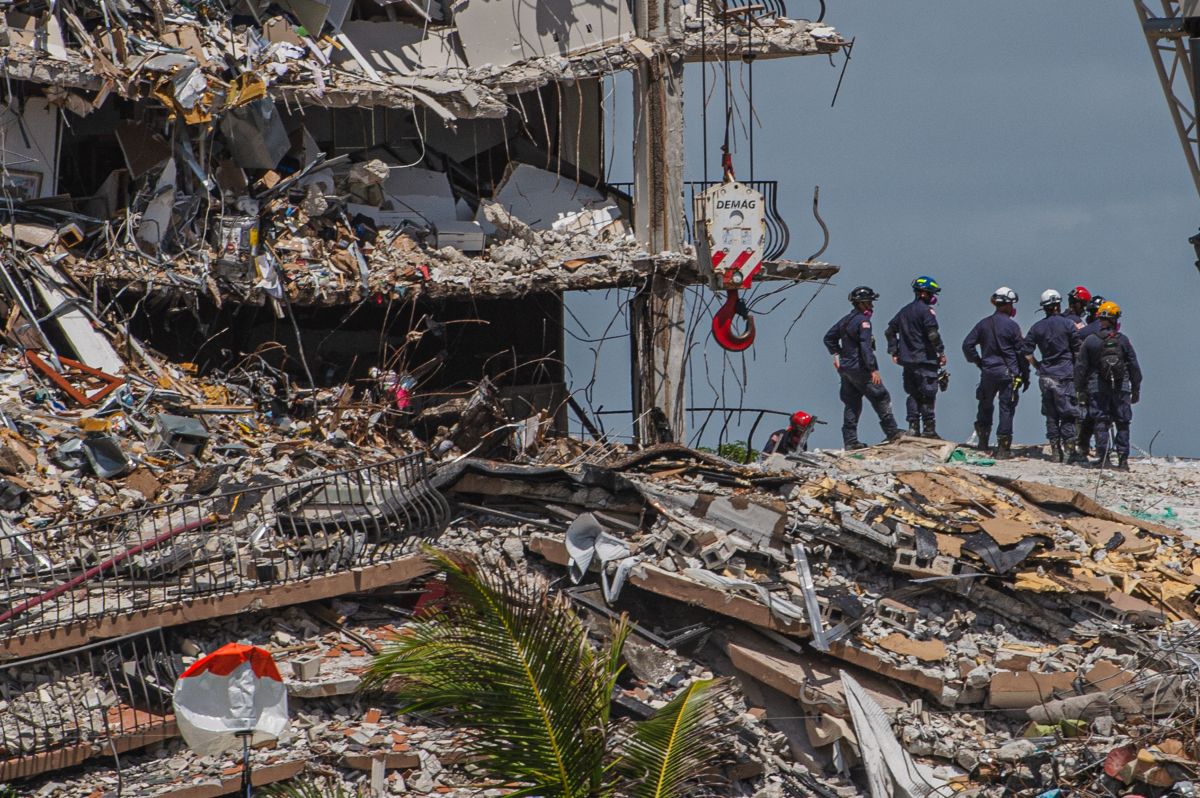 Photo: Giorgio Viera / AFP / Getty Images
One person was charged with steal identities of the victims ofhe Surfside condo collapse in South Florida that left 98 people dead.
Authorities revealed that the person responsible for the crime was Nelson Ronaldo García-Medina, 20-year-old, who was arrested on Wednesday; However, he has been the fourth person to be involved in a similar case, as the Miami-Dade state attorney, Katherine Rundle, had reported three other Surfside-related arrests.
The other three people arrested were Betsy Alejandra Cacho-Medina, sister of Nelson Rolando García, 30, Kimberly michelle johnson, 30 years old and Rodney Choute, 38. All will face charges between 15 to 30 years in prison.
Media reported that García-Medina will be tried for assuming the identity of someone who died in the collapse of Champlain Towers South to buy some Air Jordan shoes that had a cost of $ 130 dollars, reported ABC News.
"These people seem to be very skilled identity thieves; they are professionals "said prosecutor Rundle in her statement, adding that "except for their names, almost nothing else about them appears to be true."
The illegal activity of the detainees was first reported to the police on July 9, when the sister of one of the victims contacted Surfside police after noticing changes to the victim's bank account and credit card passwords, plus a change of addresses and contact information.
Authorities assured that the new addresses matched the thieves' residence. They used some delivery locations, the researchers reported, and they added that this corresponded to a strategy commonly used in fraud schemes.
The agencies involved in this investigation included the Miami-Dade Police, Surfside Police, Aventura Police, the US Secret Service, US Postal Inspection Service, and the Marshals Service. .
Last June 24, the city of Miami and the rest of the country woke up early with the news of the collapse of the Champlain Towers South building suddenly, this despite warnings about the situation of the residential complex.
About 35 people were able to be rescued from the part of the building that did not collapse and only two were rescued in the rubble. The body searches went on for weeks, reporting 98 deaths and 11 injuries until the last registration on July 27.
You may also like:
Rest of Champlain Towers in Surfside, Miami-Dade demolished
Bodies of 3 relatives of Paraguayan first lady found in collapsed building in Florida
The bodies found in the rubble of the Surfside building rise to 32 shortly before the arrival of Storm Elsa