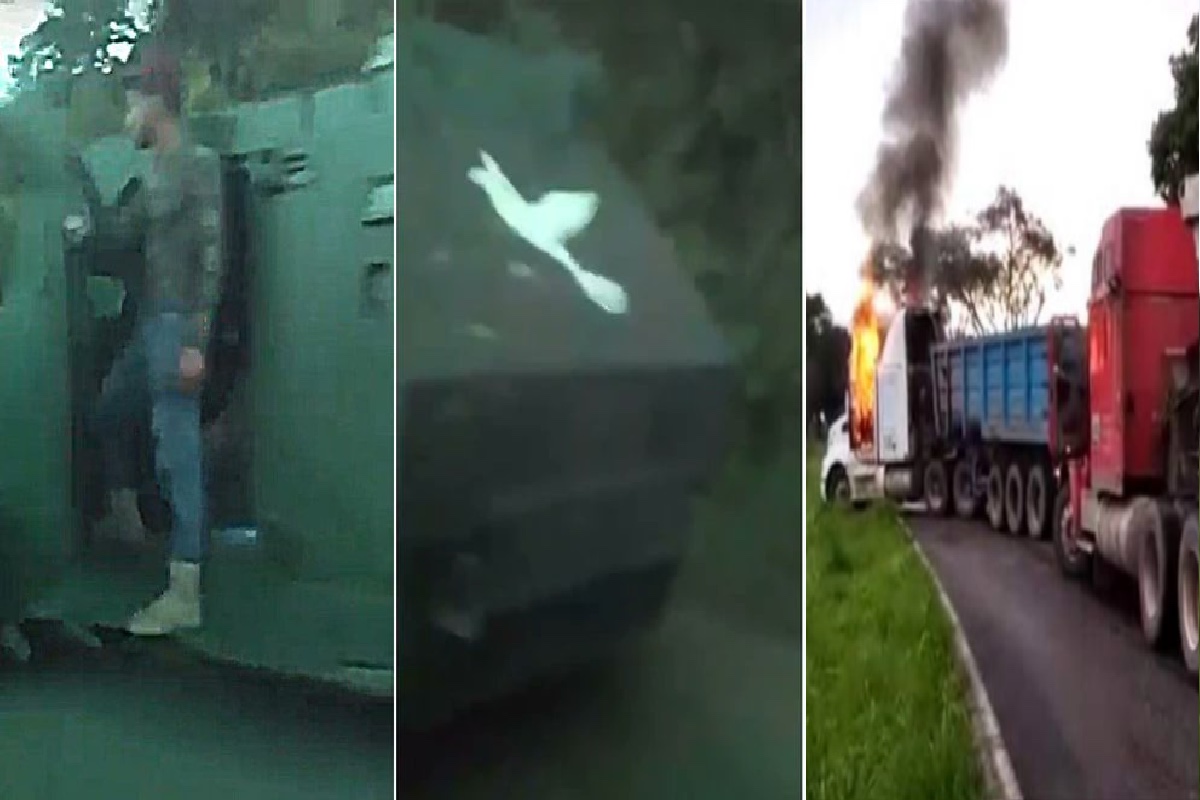 Photo: Video capture / Courtesy
In social networks they denounced that several monster trucks of the Jalisco New Generation Cartel (CJNG), a drug trafficking group headed by Nemesio Oseguera Cervantes alias El Mencho, the Lord of the Gallos or the Gallero, invaded the municipality of Coalcomán in the state of Michoacan in Mexico.
In addition, roadblocks, shootings and fires of vehicles caused by armed groups were reported. The inhabitants of the area denounced that everything was caused by armed civilians who arrived aboard the armored vans and the self-defense groups, many of them related to United Cartels (CU).
They tell me that this is the situation in Michoacan. To what extent will the Government of Q4 continue to refuse to recognize the terrible reality that we are experiencing? While the Palace Toad is choking on tlayudas, the CJNG is taking the boundaries of Coalcoman. pic.twitter.com/0Rp7uXlqFK

– Hector Morales (@leducdfoix) August 4, 2021
Read more: Chapito sends a message to AMLO and treacherous // VIDEO: Narcos persecute people who cross the US-Mexico border // Emma, ​​La Catrina and La Cholita, dead or in jail that's how the narco women ended up // Photos of the dead Chinese Anthrax in the morgue // VIDEO: Hitmen are filmed while murdering a young girl // Porn actress reveals the extreme sexual tastes of El Chapo's children
One of the videos shows how several of the trucks arrive in the region and heavily armed men appear in them.
According to local media, the Jalisco Cartel New Generation iHe entered in armored trucks and clashed with self-defense groups from Coalcomán in the community of La Estanzuela, near a municipal garbage dump.
Once again, a vehicle burn was recorded in #Michoacan; members of the United Cartels allegedly set fire to a trailer on the highway that leads from Coalcomán to #Tepalcatepec. pic.twitter.com/TC9Z6706G9

– Azucena Uresti (@azucenau) August 4, 2021
Given this, trailers were burned in the area and despite the impressiveness of the images, no deaths or injuries were officially reported.
In addition, shootings were also recorded on the road leading to Tepalcatepec, with the presumed objective of preventing the advance of the Jalisco New Generation Cartel, something that has been a constant in recent weeks.
No authority has ruled on the matter, but according to Mexican media, federal forces have already moved to Michoacan to prevent the confrontations from continuing.
-You may also like:
VIDEO: Hitmen are filmed while murdering a young girl
El Kalimba, the criminal who beat women and ended up dismembered
· Hitmen hang entire family; girl among the victims // VIDEO: CJNG dismembers woman alive
Narcos threaten doctors for coronavirus // Porn actress reveals the extreme sexual tastes of El Chapo's children
The actor who gave life to Gohan in Dragon Ball is shot to death
· VIDEO: They kill a narcocorrido singer with 100 bullets; that's how his truck was
VIDEO: The last moments of the CJNG's Catrina, she had a gunshot wound to her neck