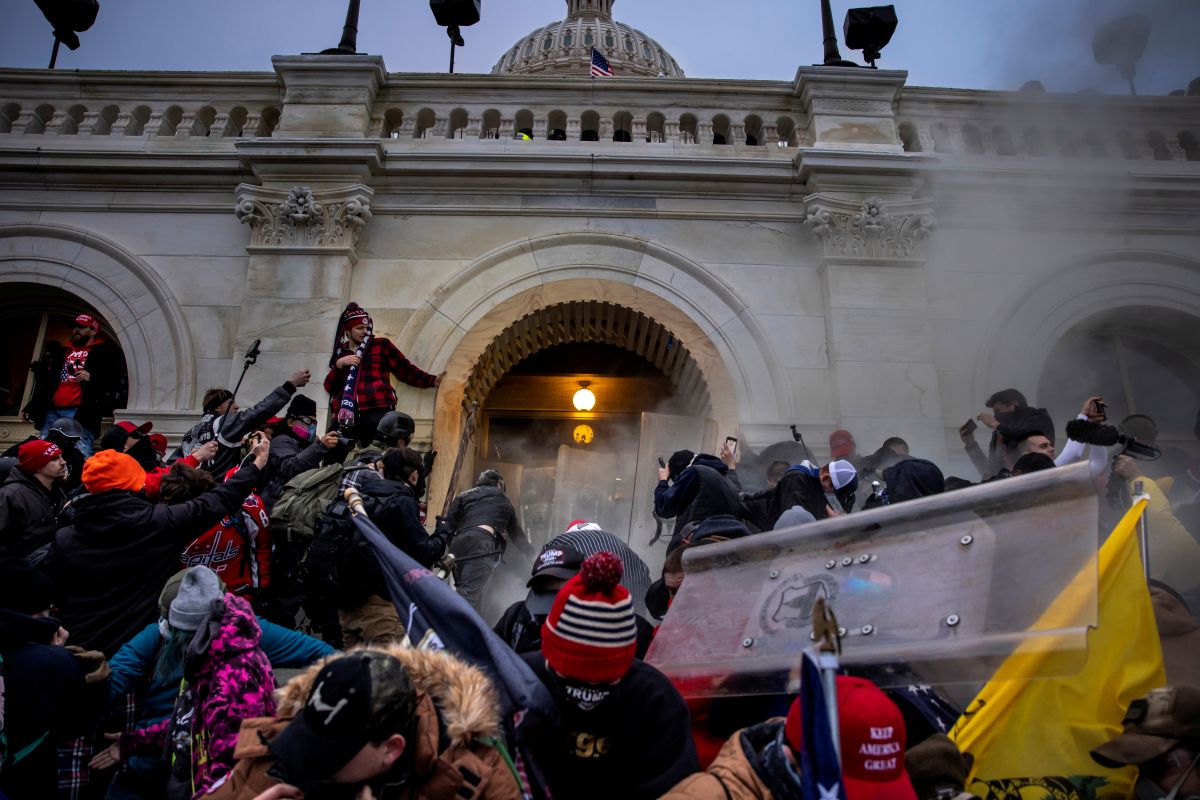 Photo: Brent Stirton / Getty Images
A college student from W.V. who was seen near the Senate chambers after entering the United States Capitol in the insurrection of January 6, pleaded guilty after a misdemeanor count before a federal judge in Washington dc
Gracyn Dawn Courtright, from Hurricane, West Virginia, pleaded guilty by conference call for entering and staying in a building that represents a restricted area.
It was known that November 16 was the date set for the sentence and It is estimated that he could face a sentence of six months in prison, in addition to a fine that would reach $ 9,500 dollars. He is currently free on personal recognition bond.
The 23-year-old defendant was seen in the midst of the euphoria by supporters of Donald Trump in the taking assuring that they were "making history" and that the situation was "brilliant"the FBI stated in an affidavit in support of a criminal complaint and arrest warrant.
The defendant informed the judge that she was studying mathematical economics at the University of Kentucky and that after the accusations had to withdraw from the campus.
According to statements from prosecutors, Courtright was kept inside the Capitol for 24 minutes and a witness testified that he saw a video of the defendant on Capitol Hill, for which he sent her a message on Instagram asking if she was there and received a "yes" for an answer.
The witness added that upon seeing that affirmative answer, he replied that he felt ashamed to see her in the Capitol, to which Courtright wrote: "I'm not ashamed, so you shouldn't be."The Associated Press reported.
Faced with the forceful response, the witness accused her of treason, while he received as a reply that she "He did not know" what was treason, he manifested
As part of the affidavit, it was evidenced that before Courtright deleted his Instagram account he had written in a post with his selfie that "Infamy is as good as fame. Either way I end up being better known. Hugs and kisses".
The FBI had indicated that the defendant was wearing a black coat and a hat with a yellow band when she was captured on Capitol Hill by surveillance cameras, and she was carrying a sign that read: "Members only", moments before an officer confiscated it.
Moments of tension were experienced in the vicinity of Capitol Hill when a group of protesters in favor of former President Trump had stormed the headquarters of Congress, causing extensive damage and registering the death of five people, including officer Brian Sicknick. Recently it was known that four policemen who contained the demonstration had committed suicide.
You may also like:
Investigators of the Capitol uprising search social media logs to find conspiracies
There are four policemen who commit suicide after an attack on the Capitol by Trump supporters
Police were acquitted for causing the death of a Trump supporter who promoted the seizure of the Capitol in January