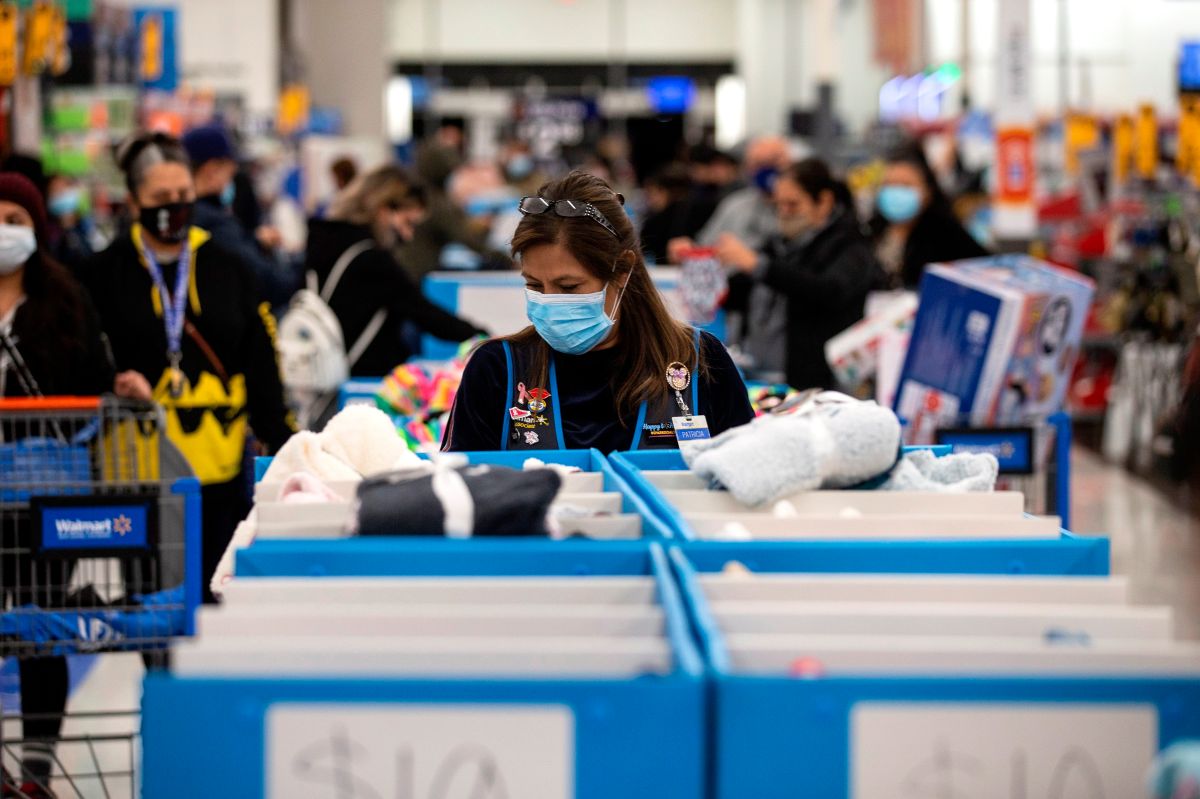 Photo: ETIENNE LAURENT / EFE
Stress, impotence from earning low wages, fear of catching Covid-19 and having to put up with consumers who refuse to wear a face mask are some of the situations that Walmart employees must face every day. the length and breadth of the United States.
With the arrival of the Covid-19 million Americans were confined to their homes to protect themselves from the virus, it was not the case of Walmart employees, who have continued to work and are exposed to infections despite the fact that many have already been vaccinated.
The adversities that the workers of the retail giant face are numerous, for this reason there is enormous mobility of personnel. The external majority in their resignations that there is no good treatment from the bosses, from clients and wages is low.
Examples of employee discontent are everywhere, Peter Naughton, a cashier at Walmart in Baton Rouge, Louisiana, is one of many workers living with fear of being infected by Covid-19. Naughton did not hesitate to tell The New York Times that working there is "terrifying."
Last week, La Opinion reported that a Walmart employee, named Beth McGrath, at the Lafayette, Louisiana branch, resigned from the company in the middle of the workday, arguing that employees are treated poorly and that the salary they receive da is extremely low.
According to official data, Walmart is the private company in the United States that has a workforce of close to 1.6 million workers, this figure makes it the largest private employer in the country. In Louisiana alone, the company has 35,954 people working.
The business model that Walmart has established throughout the country has had an impact on its profits being large, but despite the profits it generates, these are not reflected in the protection of its workforce, according to labor rights activists .
Organizations such as United for Respect, a labor defense group for Walmart workers and Amazon, through Bianca Agustín, director of responsibility, told The New York Times that thousands of Walmart employees have been forced to "bear wages of poverty while going through a deadly pandemic ".
In April, United for Respect unveiled Human Impact Partners, a public health organization, that it found that Walmart could have prevented 7,618 Covid-19 cases and saved 133 lives with a stronger paid sick time policy. United for Respect has estimated that 125,000 Walmart workers nationwide likely contracted the virus between February 2020 and February 2021.
In contrast to what is happening, a few weeks ago, Walmart has announced that it seeks to make massive hires for its supply and logistics areas with minimum hourly wages that can reach $ 20 dollars per hour, as well as the company is willing to give weekly bonuses for up to $ 200 dollars.
You may also like: Walmart: 565,000 employees will receive at least a $ 1 raise per hour


Source-laopinion.com