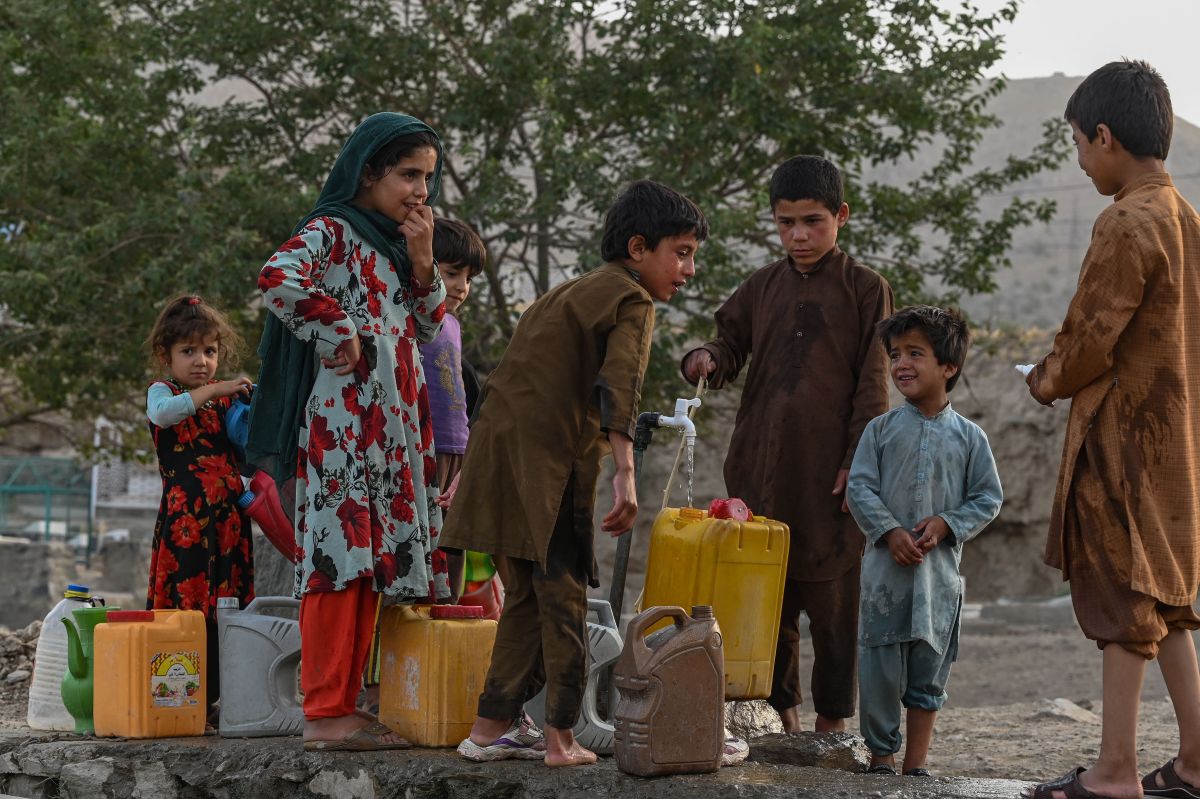 Photo: SAJJAD HUSSAIN / AFP / Getty Images
The eyes of the world are focused in Afghanistan, after the so-called Taliban invasion occurred and this has led to thousands of people try to flee their country, Either way, regardless of whether they put their lives at risk.
The theme of Taliban control over Afghanistan makes the rights of its inhabitants, particularly women and girls, are violated, despite the good intentions made known by their spokesperson, Zabihulla Mujahid, who assures that they will seek to maintain cordiality in the conquered territories and their promise to guarantee the well-being of Afghan women while they comply with Islamic law.
The future of the female population in Afghanistan is completely uncertain, as the record of the Taliban government from 1996 to 2001 is not the best. In that period, no woman could work or leave home without her "guardian"; They were forbidden to study, to wear clothes that showed their ankles, they could not laugh out loud and they had to always wear the hijab. In addition to being condemned to stoning if they sustained an affair outside of marriage, on many occasions agreed and obliged.
But women are not the only ones at risk under the Taliban regime; children are also unprotected Due to some practices exercised against him that put his life at risk and above all, he violates his rights by meddling with issues of his sexuality, in particular with those who come from families with limited resources.
Bacha Bazi, the abuse that is disguised as tradition in Afghanistan
The so-called Bacha Bazi (which in English are known as Boy Play), sadly are minors who are victims of sexual abuse by Afghan or military adults. They are generally small that they live in family nuclei with little or no economic resources to live.
The Bacha Bazi are part of a system of prostitution of minors and according to War Child International, an NGO that watches over the care of minors living in the midst of armed conflicts, wealthy or powerful adults take advantage of those children who, forced by their family or precarious situation, are forced to go out in search of food or money.
Many adults take advantage of the vulnerability of children to offer them money in exchange for sexual favors in disguise, such as at dances. A practice that, without a doubt, is sexual slavery.
Generally, the Bacha Bazi usually attend social events, where they dance before a circle of men dressed and made up as women. After the dances, many of them are forced to do some kind of sexual practice on their "owners", with whom they usually spend most of the day, which prevents them from going to school.
The worst of all is that It is a practice well known by national and international authorities and sadly, it is legitimized because the perpetrators are not considered or tried as criminals. In fact, they are not reported because children fear reprisals that they may exercise against them.
In fact, an investigation by another NGO called the Afghanistan Independent Human Rights Commission (AIHRC) in 2014 found that exploiters bribed prosecutors or judges to silence them. That is why the Bacha Bazi have become a practice linked to the culture of Afghanistan.
It wasn't until 2017 that Afghanistan's new Penal Code put an end to the legitimization of these practices. Specifically, articles 579 to 586 of Chapter 5 of this regulation protect children from sexual abuse and penalize many practices of violence against them, including those that are used as mere entertainment for adults and by the Afghan National Security Forces (ANSF). ).
Despite the prohibitions, a year after this regulation was enacted, an increase in the number of cases of sexual exploitation of minors was observed, according to Wali Mohammad Kandiwal, who specializes in the impact of the new law, whose study was published by the Unit. of Research and Evaluation of Afghanistan.
You are interested in:
VIDEO: Afghan mothers throw their babies over a wire fence for British soldiers to take them away
Afghanistan: the key dates of a 20-year conflict