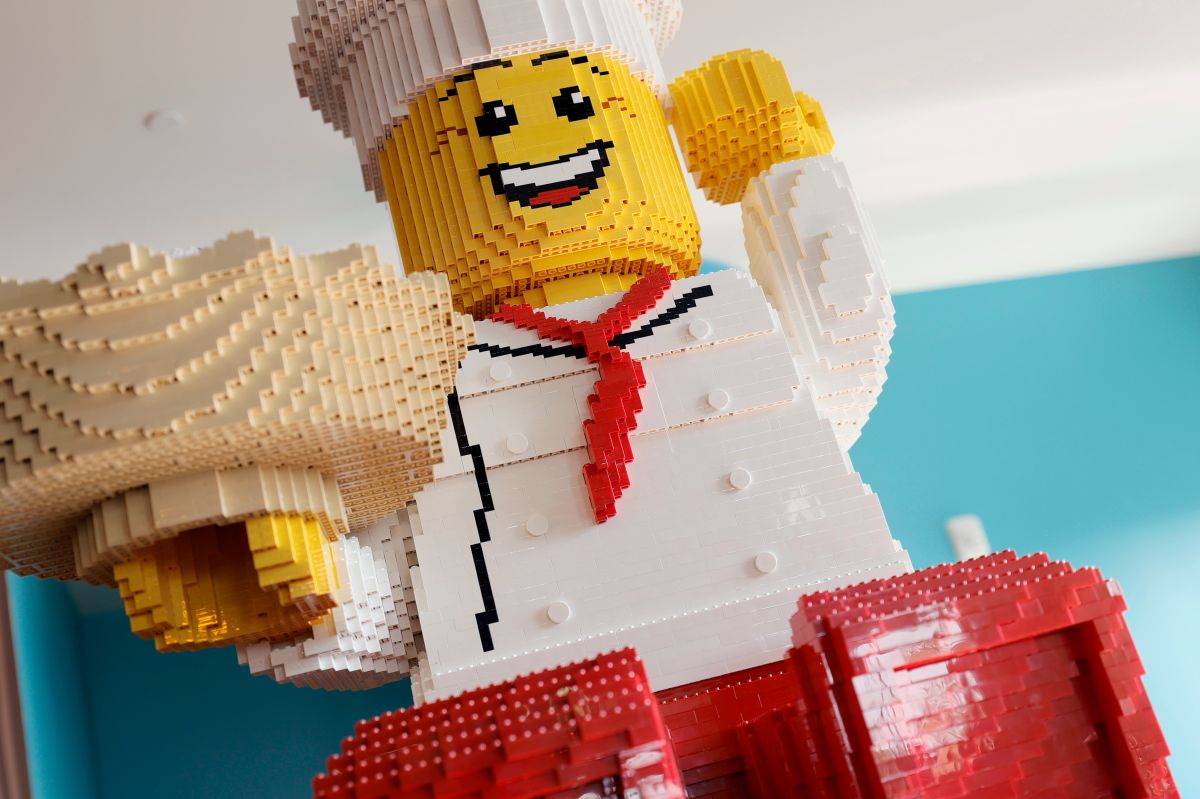 Photo: Michael Loccisano / Getty Images
The Lego taco at his taco stand al pastor It is the latest genius from the famous block brand. The proposal has conquered social networks with a highly creative idea in the market, published Mercad2.0.
The strategy of the Lego store in Santa Fe, in Mexico City, is simple but original, since it has assembled a taquero with a blue cap, who gives the appearance of serving the popular dish on white plates, while cutting a meat top with its traditional pineapple and an extensive line of trays that give the impression of containing vegetables that combine onion and coriander, as well as a great variety of sauces that these places usually offer.
The LEGO taquero does exist, with everything and its top al pastor, tortillas, onions, even the green and red sauce. 🌮🌮🌮 pic.twitter.com/TYz71IHYiD

– trendo.mx (@trendomexico) August 24, 2021
The cute doll shown in the display case has given rise to an important conversation in networks and the recognition of the brand that took up a cultural element of the Mexicans, to transform it into their best branding occurrence.
Just as a taco armed with Lego blocks has become a great public relations strategy for the brand, various brands have activated the genius in networks with simple public relations actions.
One aspect that cannot go unnoticed about the Lego taco is the cultural factor., to which the brand bet for this original activation.
Lego has had a great success, since identifying with the consumer seems to be the most effective way to interact in a market, in which the demand for experiences is permanent and the opportunities to trigger conversation on social networks are wide, especially when a simple taco Lego, as it has been nicknamed in networks, ends up conquering the consumer.
A damn dream, the Lego taco from the Santa Fe store … pic.twitter.com/Ui5z4WZGYP

– Mauricio Cabrera (@macafut) August 30, 2021
Lego is currently a well-known brand internationally and its popularity is due to the ability you have had to build various strategies, around something as simple as small plastic blocks that transform into anything with the help of imagination and creativity.
For Mercad2.0, the Lego business case is a lesson in how good idea management becomes the best work guideline, to achieve the growth of a business from a simple and small block of plastic.
You may also like:
Amazon overlooks drivers smoking marijuana in order to become workers
Ikea tests used furniture sales in Pennsylvania, with plans to expand
Labor Day: US cities with the most visitors this long weekend