Over the weekend, Yailin "La Más Viral," a singer from the Dominican Republic, set social media aflame once again with rumors of a romantic involvement with the American rapper, Tekashi 6ix9ine. This was after she posted a message telling him that she missed him.
The American rapper of Latino descent promptly replied to her message with a video he took at an airstrip amid a storm. His response was, "How did I get to you?"
In a surprising turn of events, on Monday, he posted another video, this time featuring some cards and tagging the Dominican singer who was about to celebrate her actual birthday.
Both artists, who collaborated on the song "Pa ti," shared a post that depicted Yailin blindfolded on a landing strip in front of a Rolls Royce with a giant gift bow on the hood.
The gift was 6ix9ine's present to Yailin 'La Más Viral' for her 21st birthday, which fell on July 4. He showcased the gift to his followers and the general public via Instagram.
Along with the extravagant gift given to the 'Narcisista' singer by the rapper, what stood out was the message he wrote in his rudimentary Spanish: "Go see if you find someone like me," he penned, peppering the message with several laughing-crying emojis.
Tekashi then wrote, "Happy Birthday @yailinlamasviralreal this continues! You lack another tomorrow ❤️ Welcome to MIAMI bby," hinting that there would be more surprises for the Dominican singer on Tuesday.
More on this topic:
Yailin posted her luxurious Rolls Royce gift on her Instagram stories but added a pointed message to her legal husband, the Puerto Rican Anuel AA. She wrote, "This one is not taken from me."
A few weeks prior, a quarrel ensued between Yailin, Anuel, and 6ix9ine. Yailin disclosed that the gifts from her daughter's father were taken back as soon as they were given.
She also revealed that the singer of "Better Than Me" physically abused her when she was pregnant with their daughter.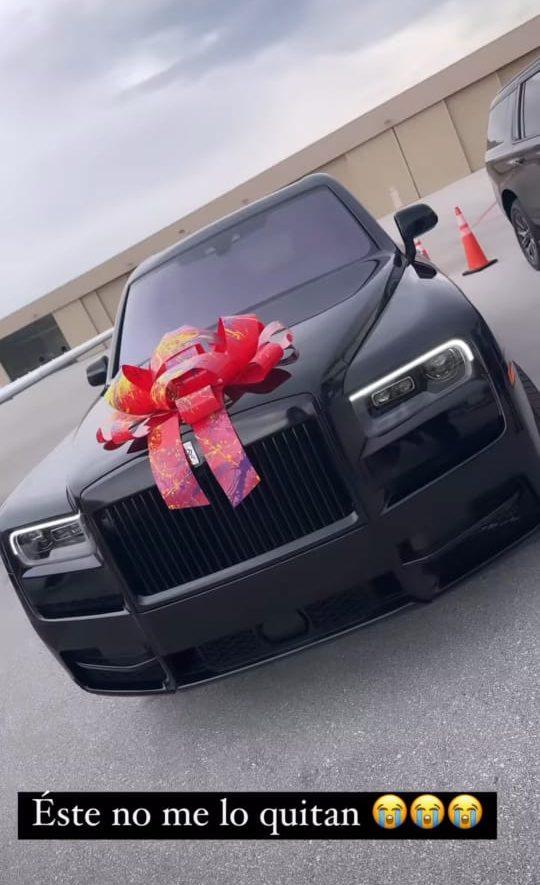 Born Jorgina Guillermo, Yailin 'La Más Viral' turned 21 on July 4. However, she spent her birthday in a hospital after several cosmetic surgeries aimed at refining her figure following the birth of her first daughter, Cattleya. The child is the product of her marriage to Anuel AA, a reggaetonero from Puerto Rico.
Yet, it was 6ix9ine who visited her after her surgery, bringing with him a variety of gifts.
Entering the room with a bouquet of roses, a Rolex, and 21 bundles of money (each containing $10,000), the rapper brought a total of $210,000 as a birthday gift for the Dominican artist. The number of bundles represented each year of her life.
Unsurprisingly, this caught the attention of his followers, as the rapper's expensive gifts to 'Chivirika' have been a consistent feature of their ongoing "collaboration."