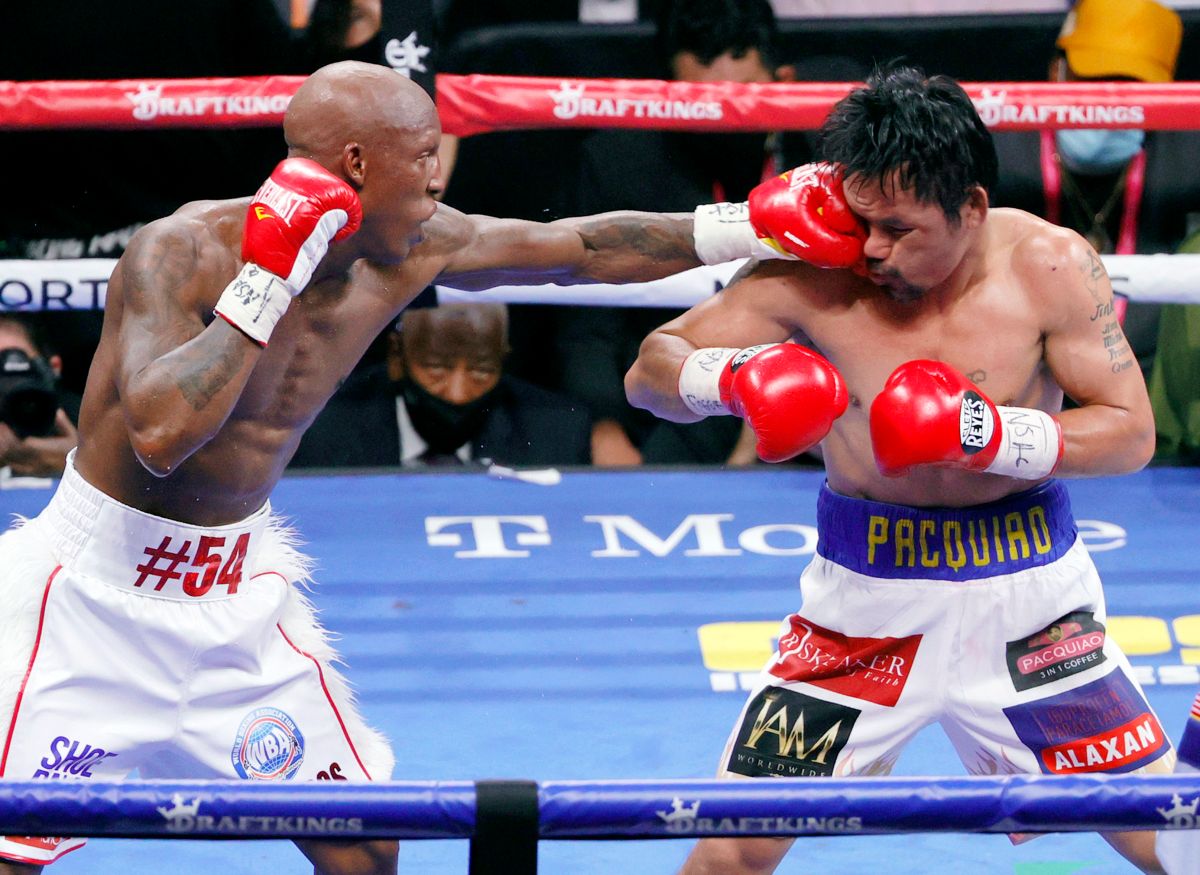 Photo: Ethan Miller / Getty Images
Yordenis Ugás (27-4) took the world welterweight title (WBA) when it was vacant, a title that came to belong to Manny pacquiao (62-8-2). And this Saturday the Cuban showed that everything happens for something: Ugás defeated the Filipino by unanimous decision (116-112, 116-112 and 115-113) and retained the title with authority before a living legend of the sport.
"I told you I am the champion of the WBA and I showed it tonight." 🗣 – @YordenisUgas after his win against Manny Pacquiao

Buy #PacquiaoUgas PPV: https://t.co/fEC2fmRrAv pic.twitter.com/0UvaAW3zPD

– FOX Sports: PBC (@PBConFOX) August 22, 2021
The Cuban accepted the fight less than two weeks after it took place. The injury of Errol Spence Jr., Pacquiao's original rival, changed plans. "54 miracles", as he is nicknamed, did not disappoint: he came face to face with a very intelligent fight in which the effectiveness of his blows made the difference.
Manny pacquiao he threw 815 punches, landing just 16% of them (130). For its part, the effective Yordenis Ugás added 151 connections of the 405 attempts it had (37%).
Yordenis Ugás beat Manny Pacquiao in their welterweight showdown by unanimous decision. Ugás, who took the fight on 11 days' notice after Errol Spence Jr. had to withdraw due to injury, retained the WBA "super" welterweight title. Scores were 115-113, 116-112, 116-112. pic.twitter.com/IJcysdgHHT

– Major Sports Alerts (@sports___alerts) August 22, 2021
For Pacquiao it could be the last fight of his career. At 42 years old and in the middle of a political career in the Philippines, his level is not the same as it was in the past. He gave a great boxing display, but it still fell short. And hardly try again.
After more than 25 years in professional boxing, it looks like Manny Pacquiao is ready to hang up his gloves.

FULL STORY: https://t.co/8WJIZ1fSM3 pic.twitter.com/dYWK1V1A1s

– ABS-CBN News (@ABSCBNNews) August 22, 2021
With his overwhelming – and surprising – triumph, Ugás wrote a beautiful page in the history of Cuban boxing. But it should be noted that this is not the first time he has done this. The boxer represented Cuba at the Beijing 2008 Olympic Games.
He reached the Olympic fair as a national champion and a Pan-American champion. In China he failed to reach the final, but with his ticket to the semifinals he secured his medal at the Olympics, a bronze quite commendable.
Two years later, he began his professional career with a streak of 11 consecutive victories. In 2019 he lost one of the most important battles of his career, as he fought for the WBC title.
Later he chained four consecutive victories – including this one over Pacquiao -, winning the previously mentioned belt.
At 35, he still has many more challenges ahead of him. The next: Errol spencer jr. Yordenis Ugás mentioned it after beating "Pac-Man". He wished the American a speedy recovery, as well as expressed his objective to confront him: "He is next on the list", He assured.
Yordenis Ugás know this is your time. There is still history to write.
"He's the next one on the list." 🗣

WBA Champ @YordenisUgas called out Unified Champ @ErrolSpenceJr

Buy #PacquiaoUgas PPV: https://t.co/fEC2fmRrAv pic.twitter.com/NSs9BvgiTA

– FOX Sports: PBC (@PBConFOX) August 22, 2021